Conservative radio show host Rush Limbaugh revealed on his Monday program he had "been sitting on a story for almost a week" to see if members of the media would cover it.
"I wanted to see if this got any play anywhere," Limbaugh said on his program, according to a transcript posted to his official website.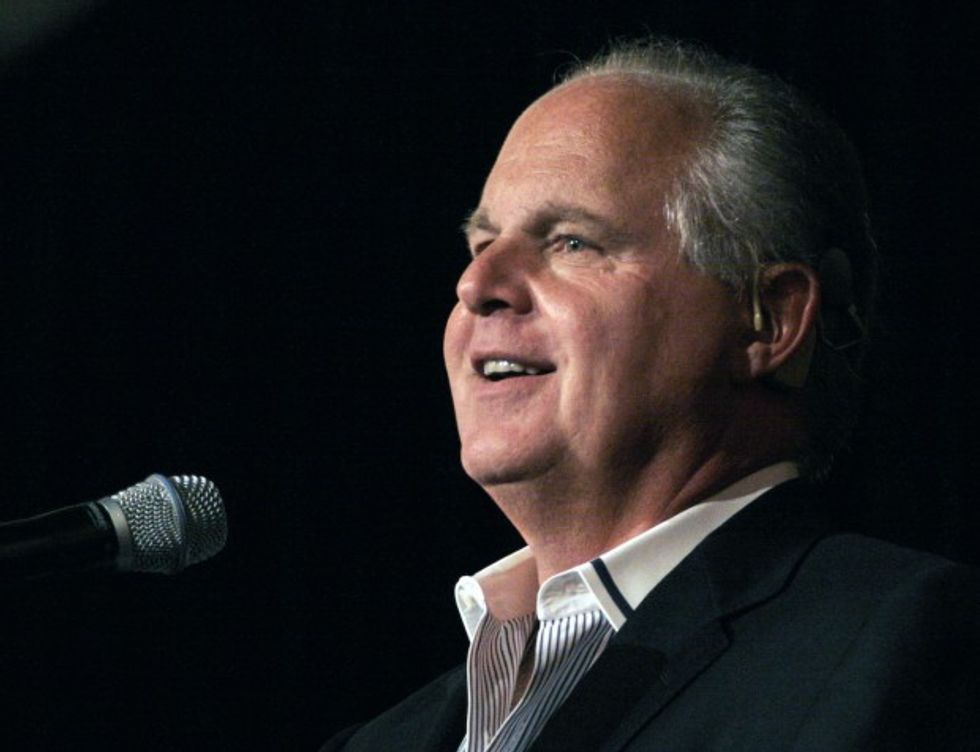 Photo by Bill Pugliano/Getty Images
The story was posted to a conservative news website last week and detailed an interview Mitt Romney recently did for David Axelrod's podcast. In the interview, the former Massachusetts governor suggested some of today's divide in politics was because of the rise of online conservative and liberal media outlets.
"It was out there for everybody to see," Limbaugh said of the story. "It was out there for everybody to react to. And honestly, folks, I didn't see anything on it 'til yesterday. I've been holding this story."
He added, "Mitt Romney is on record in the David Axelrod podcast as lamenting and complaining about the fact that there is now a conservative media, both on talk radio, in print, in broadcast, and on the World Wide Web. Romney told Axelrod that the demise of legacy media had empowered conservative insurgents like this show and others, which has prevented collaboration in Washington."
Limbaugh blasted the former Republican presidential candidate for his comments.
"Same set of facts? How about the same set of lies? How about the same set of bias? How about the same set of disadvantage? The same set of facts?" he rhetorically asked.
Limbaugh did, however, say that he thinks the rise of independent news website has resulted in more divisiveness, but blamed Democrats.
"The divisiveness and the reason there is so much partisanship and mean-spirited, extreme rancor is all on the Democrats, if you ask me, and the media," he said. "They're the ones who have the monopoly. They're the ones that had their way. They're the ones that were in charge of everything the people of this country learned, and they were in charge of everything that was hidden from the American people."
"Those days are over. They have lost their monopoly. They have reacted in extreme ways, complete with anger and frustration and a desire to destroy the upstarts."
—
Follow the author of this story on Twitter and Facebook: