Retired U.S. Marine Brandon Coleman, an outspoken Veterans Affairs whistleblower who exposed problems at a VA hospital Phoenix, offered to take Hillary Clinton a personal tour of various VA hospitals after the Democratic presidential candidate claimed most veterans are "satisfied" with their care.
Clinton made the remarks on MSNBC during a recent interview with Rachel Maddow. She also argued the VA scandal has been overblown by Republicans for political reasons.
"I am prepared to offer her a tour of the Phoenix VA today, whenever she wants to do it — unannounced," Coleman said on "Fox & Friends" on Monday. "I'd like to take her by the urology clinic where 45 veterans were not getting the care they deserved with stage 4 cancer."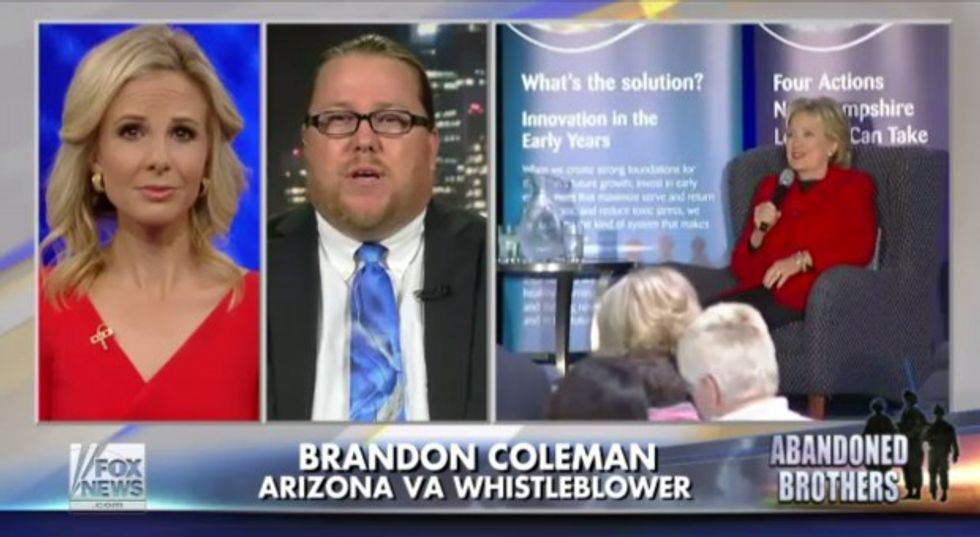 Fox News
Coleman served as a therapist at the Phoenix location, but was removed from his position after exposing serious issues with the hospital's record-keeping practices.
"For Mrs. Clinton to say it's an isolated incident, I'm prepared to meet her wherever she wants to meet," Coleman said. "I'll name some off for her right now: Tomah, Chicago, Minneapolis, we can go to Florida, we can go to South Carolina…Albuquerque, Los Angeles."
"We can talk to frontline employees and I bet you they will have similar stories to mine as to what's going on at the VA," he added. "It's not a right or left issue, it's an American issue."
Watch the segment below:
---