CNN's Don Lemon found himself under intense criticism on Tuesday after he told a former prosecutor people should wait for all the facts to come out before "passing judgement" in the viral arrest of a Columbia, South Carolina, high school student.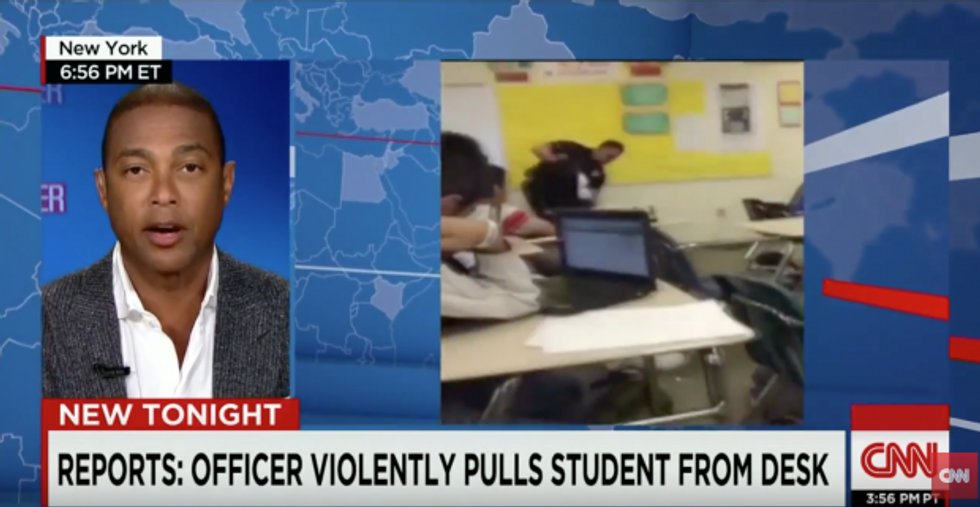 CNN
In a now viral video, a police officer is seen aggressively arresting a female student at Spring Valley High School who allegedly refused to "cooperate." Richland County Sheriff Leon Lott said the "student was told she was under arrest for disturbing school and given instructions which she again refused."
Lemon told former federal prosecutor Sunny Hostin on Monday night that people should "know more before passing judgement."
"Are you guys kidding me?" Hostin said.
"No, we're not kidding. We don't know what happened," Lemon shot back. "You weren't sitting in the room, Sunny. You don't know if she wasn't standing up."
Hostin then argued, "I don't need to know more."
"You do need to know more," Lemon interrupted, "and as a prosecutor, you should want to know more."
Hostin claimed she doesn't need more information because the "law provides that the standard here is whether or not the officer has to use this type of force," which she believes he did not.
"But how do you know without all the information?" Lemon insisted.
Watch the heated segment below via CNN:
Lemon was trending nationally on Twitter Tuesday — mostly due to critics who were calling him every name in the book.
Don Lemon said something uncle tom-ish again. I'm not surprised.

— Ferrari Sheppard (@stopbeingfamous) October 27, 2015
"Was Hitler bad? We weren't there and we haven't heard his side of the story yet so we really don't know." -Don Lemon

— maura quint (@behindyourback) October 27, 2015
don lemon and raven symone are both people, who whenever they start to trend on here, i always think "oh no what did they say now..."

— Calvin (@aurosan) October 27, 2015
Don Lemon has got to shut up. He has just gotta shut up

— Imperator Amazonia (@Blackamazon) October 27, 2015
Yall are acting like Don Lemon wasn't a joke before this...

— Philip DeFranco (@PhillyD) October 27, 2015
Don Lemon's inability to remain objective, particularly on issues involving race and Blackness, illustrate why he's a terrible journalist.

— Khaled Bey (@KhaledBeydoun) October 27, 2015
Don Lemon. Raven Symone. Stacey Dash. All just useless wastes.

— ovie (@reesonabledoubt) October 27, 2015
---