Sam Huang didn't believe the trip he was booked to take would really happen. Not even when he was standing at an airport counter waiting for the agent to issue his ticket.
"They're probably going to see this and ask me what am I doing," Huang told TheBlaze, explaining his thought process in the situation. "I am not expecting this at all to fly. Then, [the agent] smiled and gave me a boarding pass.
"My heart was beating so fast. I had to keep a straight face like, 'It's nothing,' you know? Keep a poker face," he added.
But he didn't quite feel out of the water yet.
The reason Huang was so wary about the success of embarking on his trip was because he was booked for a seat in the Emirates First Class Suite. In luxury, which he explained in a blog post included "unlimited Dom Perignon, wild caviar and a shower spa," Huang traveled to 11 cities in seven countries around the world.
The trip overall was valued at $60,000.
The catch? He only paid $300. The rest was in frequent flier miles.
Feel free to rub your eyes and take a closer look at the difference between those two numbers.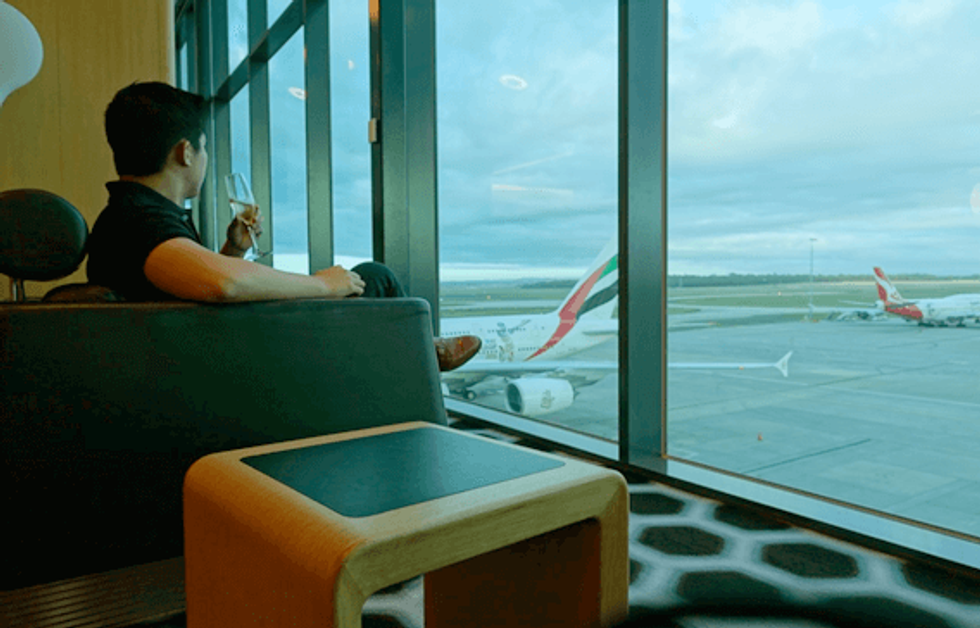 Sam Huang started off his trip in a VIP lounge with a glass of champagne. (Photo credit: Sam Huang/TopMiles)
"I wasn't in clear until I boarded plane," Huang said. "Once I was sitting down on the plane, I started pumping my fist."
Flying Like the '0.01 Percent'
We'll get to just how Huang wrangled this financial feat later, but first, the experience.
He has the whole thing detailed in a blog post on his website TopMiles, but if you really want to see what' Huang's three-weeks of flying first class in one of the top 10 best first-class cabins in the world, you need to watch his five-minute video:
After a champagne breakfast in the sparsely populated first-class lounge in Singapore, Huang wrote on his blog that he thought it was time to board the waiting Airbus A380. He was told, however, it wasn't yet time, but instead of sitting with the rest of masses outside the gate, he was escorted by an attendant to a private waiting area.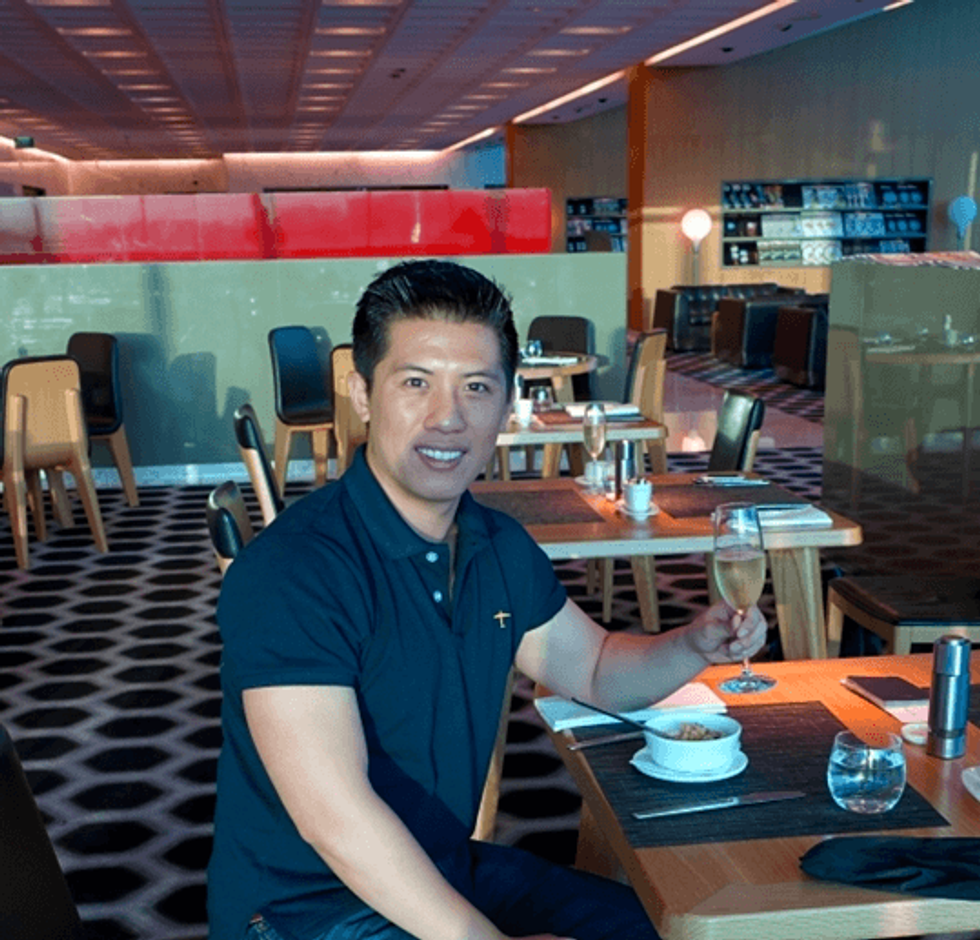 Huang said he was surprised by how private every step of the uber-first-class experience was. (Photo credit: Sam Huang/TopMiles)
When time, he boarded alone, walked down the jetway alone and took his seat (really, a private pod) alone. Of course Emirates staff were all there to guide and help along the way, but Huang noticed that part of the uber-first class experience is one of extreme privacy.
"It's a bit weird," Huang said, noting that he understood the desire though for privacy during travel, especially among some of the elite.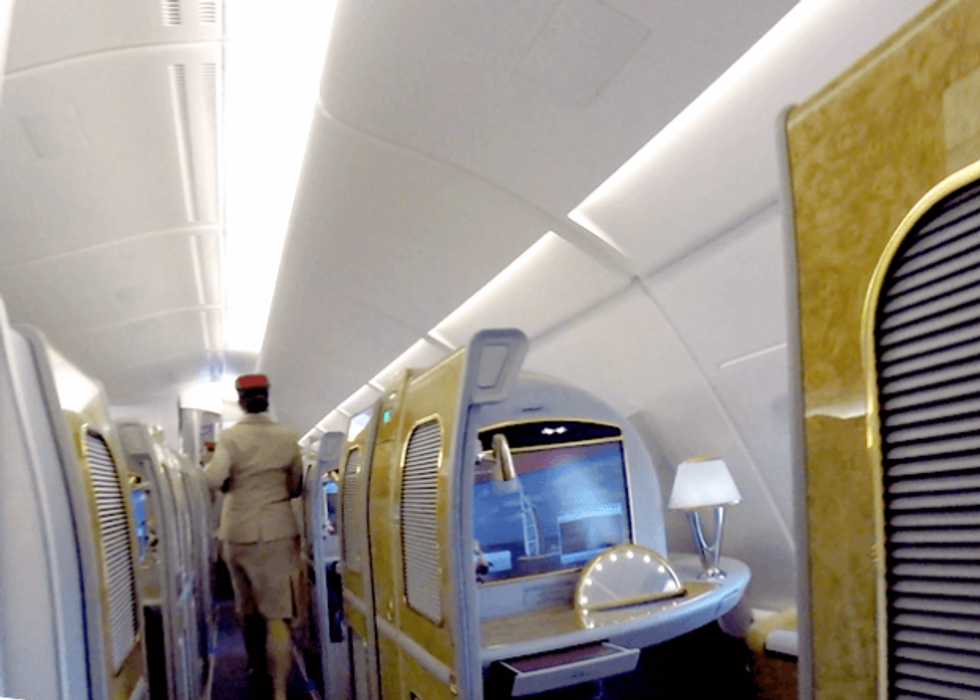 Huang could find nothing to say when asked if there was anything he didn't like or felt was missing from Emirates first class. (Photo credit: Sam Huang/TopMiles)
Without giving away too many spoilers, Huang's experience, even on just three-hour-long jumps in the air, included three-course meals, a sniffer of Hennessy Paradis cognac and a trip to the on-board shower.
"It's mind-boggling. Just look at the shower," Huang said. "Maybe it's a gimmick, but then you take the first shower. The water pressure might be a little but low, but literally it's like taking a shower in your apartment, if not better."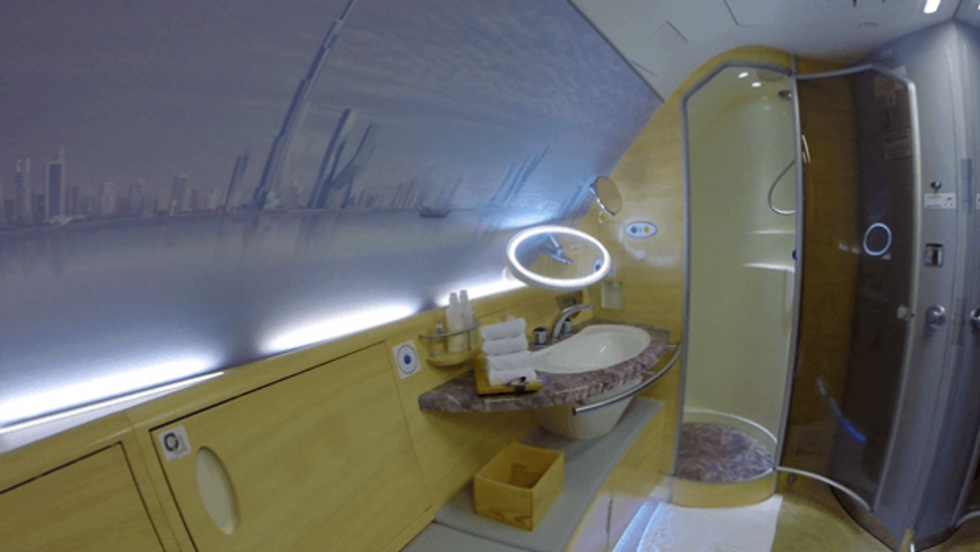 What an Emirates first-class bathroom looks like. (Photo credit: Sam Huang/TopMiles)
When we asked Huang if there was anything he didn't like or felt was lacking about his first-class experience on Emirates, he paused for a good five seconds. Taking the risk of sounding like an advertisement, he said no.
"I am trying to think of something but no," he said.
Capitalizing on a Loophole
Just how Huang managed to fly from Singapore to Melbourne to Auckland to Sydney to Dubai to Milan to New York and then back via a route involving a slightly different set of cities, give or take a few, is "a bit complicated," as he wrote on his blog, and involved "various loopholes."
"Let's just say it was a crazy miles redemption that had never been done before," Huang wrote, but he also gives you tips on how to book your own first-class trip on Emirates here.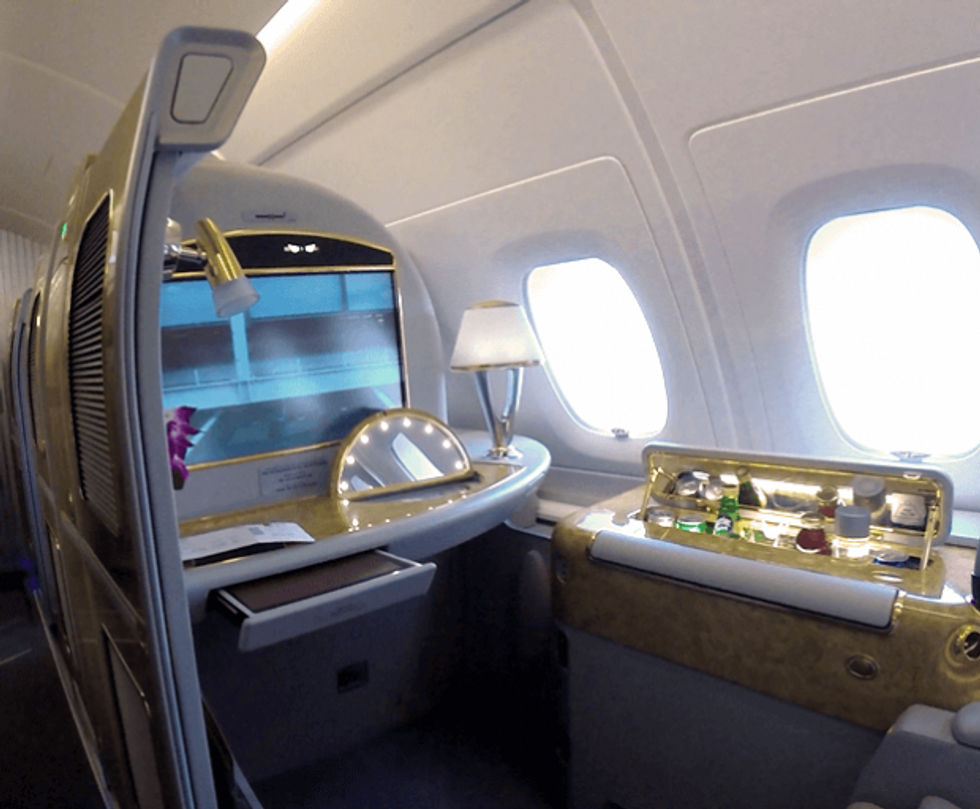 Huang's private quarters. (Photo credit: Sam Huang/TopMiles)
Huang tried to distill some of the complicated loophole that led to his epic, three-week long trip in March for us. Huang said that, usually, airlines have what are called routing rules, which generally require a person flying from point A to point B to do so in the shortest way possible way.
They're in place to "prevent you from doing what I did," he said, which is bouncing from city to city. In his case, Huang thinks it was a glitch or coding error on Alaska Airline's part that allowed him to use his reward miles to book such an unreal trip with Emirates.
"Alaska didn't have routing rules for Emirates flights. I discovered it by accident," he said. "I was just trying to book an Emirates flight ... then I noticed the weird routing."
Huang spent had a less than 24-hour layover in each city where he stopped. And of course he left the airport to explore — that was the point of such a trip.
"The first class is great, it's cool. I love drinking champagne, love eating the caviar, love great service, but at end of the day, it is about the destination," Huang said.
How You Can Do It Too
While you might not be able to book as extravagant a trip as Huang, the whole point of his website TopMiles is to help people figure out how best to use frequent flier mile programs for good deals on airfare and fly for "almost nothing."
Huang said he started the website within the last year to help users navigate through the different programs, finding the best one to join and how to use it to earn the trip they wish to take.
"We guide you step-by-step. We ask 'Where do you want to go?' and then look at which airline is the cheapest in miles," he said.
The site then helps cut down the weeds of the different credit cards and their miles programs, finding the best one to help you meet your travel goals, and guides you through how much you need to spend (and pay off) to earn the miles you need.
Huang noted that he has some Google ads but does not have any revenue coming from credit card companies, which he said allows him to remain unbiased. He has a separate online company that he said helps pay for this endeavor, though he hopes TopMiles will make money on its own someday.
So, in the end, what's the appeal with traveling like this?
"I think everybody, they see the hype, they see all these videos and they think, 'Oh I can't afford it,'" he said. "Then you see someone like me.  ... When you see somebody do a loophole and fly first class around the world, there can be the realization of, 'Oh, I can do that too. It's not impossible.'
"It's just so cool when you see someone not 1 percent crack into the 0.01 percent. I think that's what the appeal is."
And then, you step off the plane and back to reality.
"It's a means to travel in the long run. You're all going to the same place. Once you get off [the plane,] you say, 'Wow that was a fun experience' ... and that's that," Huang said.