The Republican National Committee and a conservative media watchdog blasted CNBC after Wednesday's debate, each releasing scathing statements assailing the network for its conduct.
"While I was proud of our candidates and the way they handled tonight's debate, the performance by the CNBC moderators was extremely disappointing and did a disservice to their network, our candidates, and voters," RNC Chairman Reince Priebus said in a statement. "Our diverse field of talented and exceptionally qualified candidates did their best to share ideas for how to reinvigorate the economy and put Americans back to work despite deeply unfortunate questioning from CNBC."
"CNBC should be ashamed of how this debate was handled," he added.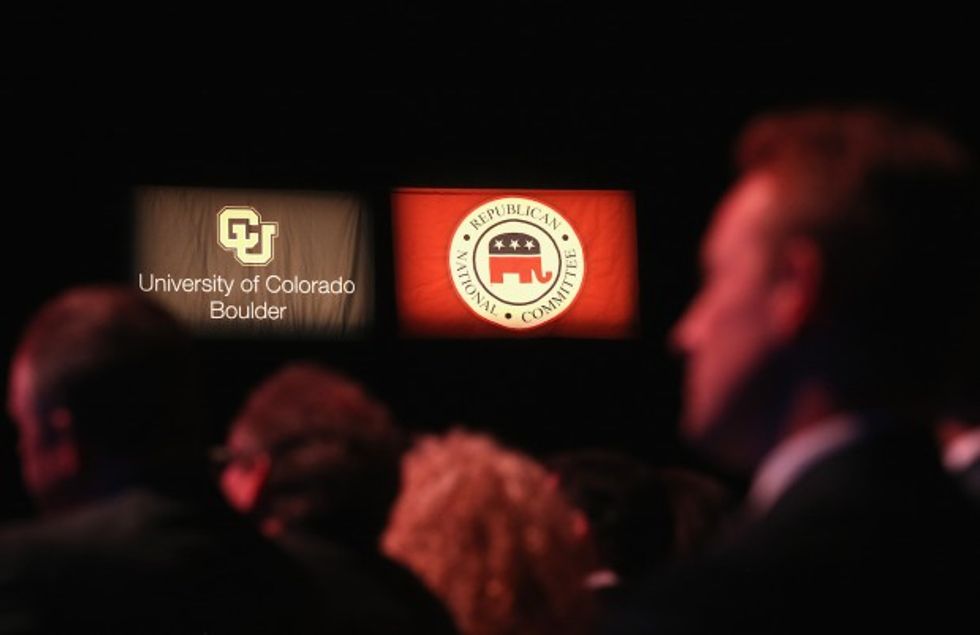 Justin Sullivan/Getty Images
Media Research Center President Brent Bozell had similar harsh words for the financial news network.
"The CNBC moderators acted less like journalists and more like Clinton campaign operatives," he said. "What was supposed to be a serious debate about the many issues plaguing our economy was given up for one Democratic talking point after another served up by the so-call 'moderators.' They clearly war-gamed this thinking that a relentless series of personal attacks on the candidates would somehow drive their ratings and help Hillary Clinton."
"The CNBC debate will go down in history as an encyclopedic example of liberal media bias on stage," Bozell continued. "The audience roared its disdain for these so-called 'journalists,' and all of America heard it. CNBC should be embarrassed for their pitiful display of partisan liberal media bias and apologize to the GOP candidates and the American people."
A CNBC spokesperson had a short response to the criticism:
CNBC spox responds to GOP criticism: "People who want to be President of the United States should be able to answer tough questions."

— Michael Calderone (@Michael Calderone) 1446087494.0
Throughout the debate, the news network came under fire from the candidates — and at times the audience — for the questions from the moderators. In one of the more memorable moments of the night, Sen. Ted Cruz (R-Texas) used his time to slam CNBC's conduct, arguing that it illustrated "why the American people don't trust the media."
—
Follow the author of this story on Twitter and Facebook: