Thanks to a stolen base from Kansas City Royals outfielder Lorenzo Cain in Tuesday night's Game 1 of the World Series, America can enjoy a free breakfast from Taco Bell next week.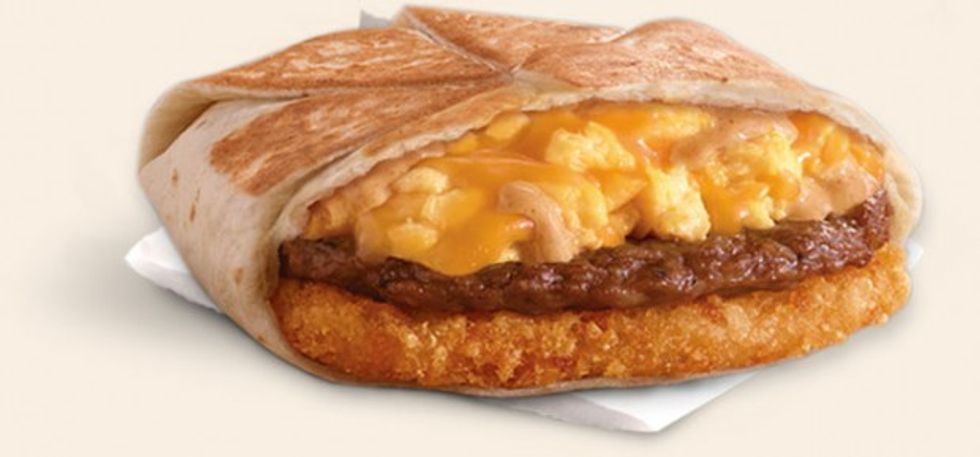 Image source: Taco Bell
If someone steals a base in the World Series, we're giving away free A.M. Crunchwraps to everyone in America. https://t.co/CJamSAoWyH

— Taco Bell (@tacobell) October 27, 2015
The World Series opener was a 14-inning nail biter with the Kansas City Royals taking Game 1 from the New York Mets, 5-4.
For the non-fan, the best news of the night was Cain's successful steal of second base in the bottom of the sixth inning.
Taco Bell announced the accomplishment via Twitter.
A base has been stolen in the World Series! Grab your free A.M. Crunchwrap on November 5th between 7-11 a.m. Rules: https://t.co/yyutdNEGEA

— Taco Bell (@tacobell) October 28, 2015
Cain was also reportedly aware of what he had done.
Lorenzo Cain, after 5 hours of baseball and a crucial stolen base: "I need my Taco Bell before bed. Who wants Taco Bell? It's on me."

— Gabe Lacques (@GabeLacques) October 28, 2015
At an average cost of $2.50 per A.M. Crunchwrap, if every American visited a Taco Bell on the morning of Nov. 5, the cost to the company would be more than $750 million.
However, it is unlikely Taco Bell will be on the hook for that much money. In fact, there are limits on how many free breakfasts can be distributed. Inside the contest's rules and restrictions you can see the three magic words, "while supplies last."
__
Follow the author of this story on Twitter and Facebook: