When Democratic presidential candidate Hillary Clinton appeared on "The Late Show" Tuesday evening, host Stephen Colbert didn't miss an opportunity to bring up something from her past — her stint as president of her college's Young Republicans chapter.
Clinton, who served as the president of the Young Republicans at Wellesley College during her first year, appeared on the show the day after her birthday. As she and Colbert discussed her upbringing, she told Colbert that the "gender-gap in politics" for her began in her home while she grew up.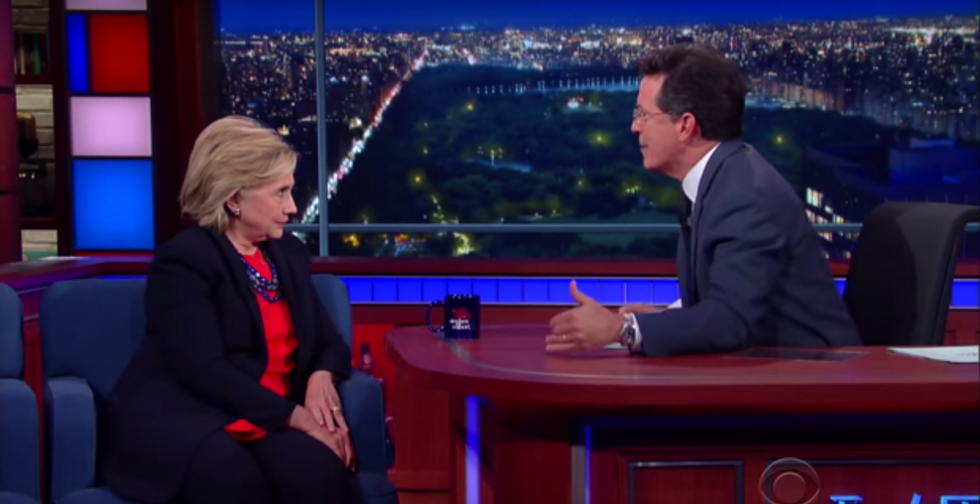 Hillary Clinton speaks with Stephen Colbert on CBS' "The Late Show" on Tuesday, Oct. 27. (Image source: YouTube)
"My father was a small-business man and a Republican, and he was very staunch in his views, and we would have lots of discussions around the kitchen table. My mother, who had a much different upbringing and was just a wonderful person but had been abandoned by her parents and was working as a housemaid when she was 14, so she came at politics in life with a much more broader perspective," Clinton, 68, said. "So I would be in the middle of these great discussions. I went to college on my dad's side, that's right, as a Young Republican, and then one day, I just kind of looked around and thought, 'I need to think about this some more and come up with my own views.'"
Colbert also grilled Clinton, the fifth 2016 presidential candidate to appear on his show, on her financial plans — specifically her plans with big banks. The nighttime talk show host asked her if she would let the banks fail if she were in charge.
"Yes," Clinton said repeatedly.
"They have to know, their shareholders have to know, that yes they will fail," Clinton continued. "And if they're too big to fail, then under my plan and others that have been proposed, they may have to be broken up, because if you can't manage it, than it's more likely to fail."
Clinton told Colbert that she planned, as president, to "reign in the abuses in the financial system, particularly on Wall Street," which she said has contributed to problems within the U.S. economy.