In a small town just 26 miles north of New York City, the Halloween season is bigger than Christmas. And it's all thanks to the legend, almost 200 years old, of an infamous headless nightrider.
A short 40-minute express train from New York's Grand Central transports you to the "drowsy shades of Sleepy Hollow" — previously North Tarrytown, before the good citizens voted in 1996 to rename it to capitalize on the tourist trade. Here, as Washington Irving described him in "The Legend of Sleepy Hollow," a dark-horse-riding specter was "said by some to be the ghost of a Hessian trooper, whose head had been carried away by a cannon ball, in some nameless battle during the revolutionary war…"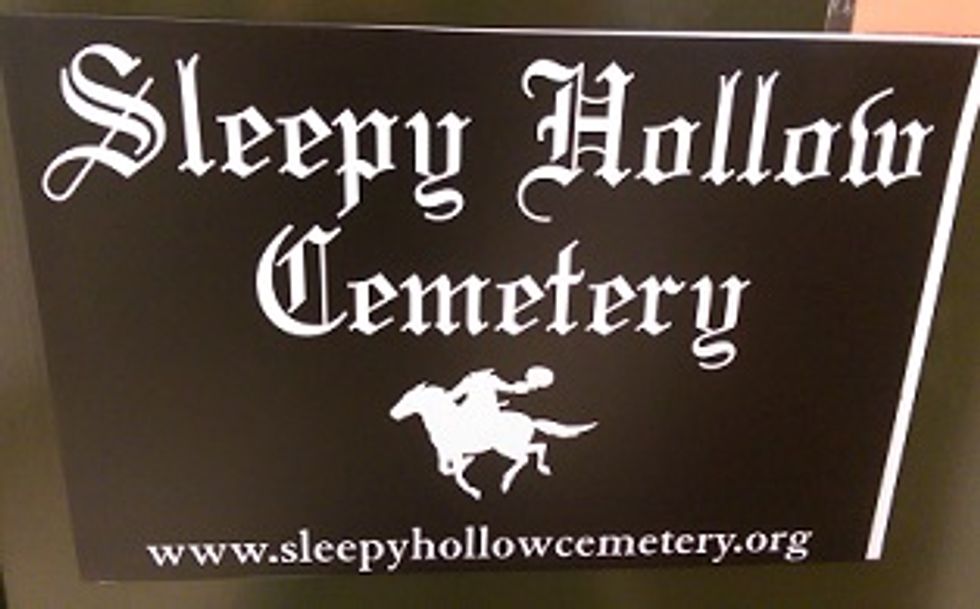 Photo: TheBlaze
Since its first publication in 1819 to 1820 as part of a collection of short stories called "The Sketch-Book of Geoffrey Crayon, Gent." (a collection that included "Rip Van Winkle"), Irving's tale of a headless horseman chasing down a hapless, shaky-kneed schoolteacher has recently gained renewed interest.
The television drama "Sleepy Hollow," premiering in 2013, reintroduced audiences to the tale from a modern-day perspective, against the backdrop of the real-life towns of Sleepy Hollow and neighboring locations, such as Tarrytown.
Of course, like so much of what makes it to the big and small screens, Hollywood storytellers play fast and loose with fact and fiction. Little more than an aerial panorama of the Tarrytown lakes and the Tappan Zee Bridge visible in the background of several shots is filmed in the area. The bulk of the exteriors are filmed in Willmington, North Carolina.
But what about the characters prominent in the story, specifically, the schoolteacher protagonist Ichabod Crane and his love interest, Katrina Van Tassel?
Was There a Real Ichabod Crane?
TV's Tom Mison in the role of Ichabod Crane is tall and lanky, mirroring Irving's original description of the teacher, but Mison certainly plays Crane too suave. Johnny Depp's portrayal in Tim Burton's 1999 loosely adapted film was a bit closer, although his Crane was a detective, not an educator. Then there's the 1949, Bing Crosby-narrated Disney take on the tale that puts the right amount of kid-inspired, scaredy-cat spin on the lead character.
But was there an actual person on whom Washington Irving based his protagonist? A few possibilities exist: One is a man named Samuel Josephs, a teacher and contemporary of Irving's who lived nearby. Josephs' body was laid to rest in the graveyard behind the Old Dutch Church, not far from where the woman on whom Katrina Van Tassel was based is buried.
The other more compelling possibility is a schoolmaster named Jesse Merwin: someone who was a personal acquaintance of Irving's.  In "Hidden History of the Lower Hudson Valley," author and town historian Carney Rhinevault writes:
There can be no doubt that Ichabod Crane was based on Jesse Merwin. On February 12, 1851, when both Irving and Merwin were old men, Irving wrote Merwin [a letter]. On the blank side of one letter page, Irving wrote "Jesse Merwin -- the original of Ichabod Crane.
The name Ichabod Crane, as famous in its oddness as Ebenezer Scrooge, was the name of a colonel in the army during the time that Irving served, and the two crossed paths at Fort Pike in 1814. Irving may have borrowed the name, but that's where the similarity ends. The stoic character of this 48-year Army and Marine veteran did not factor in the slightest into the description of the tale's gullible Ichabod.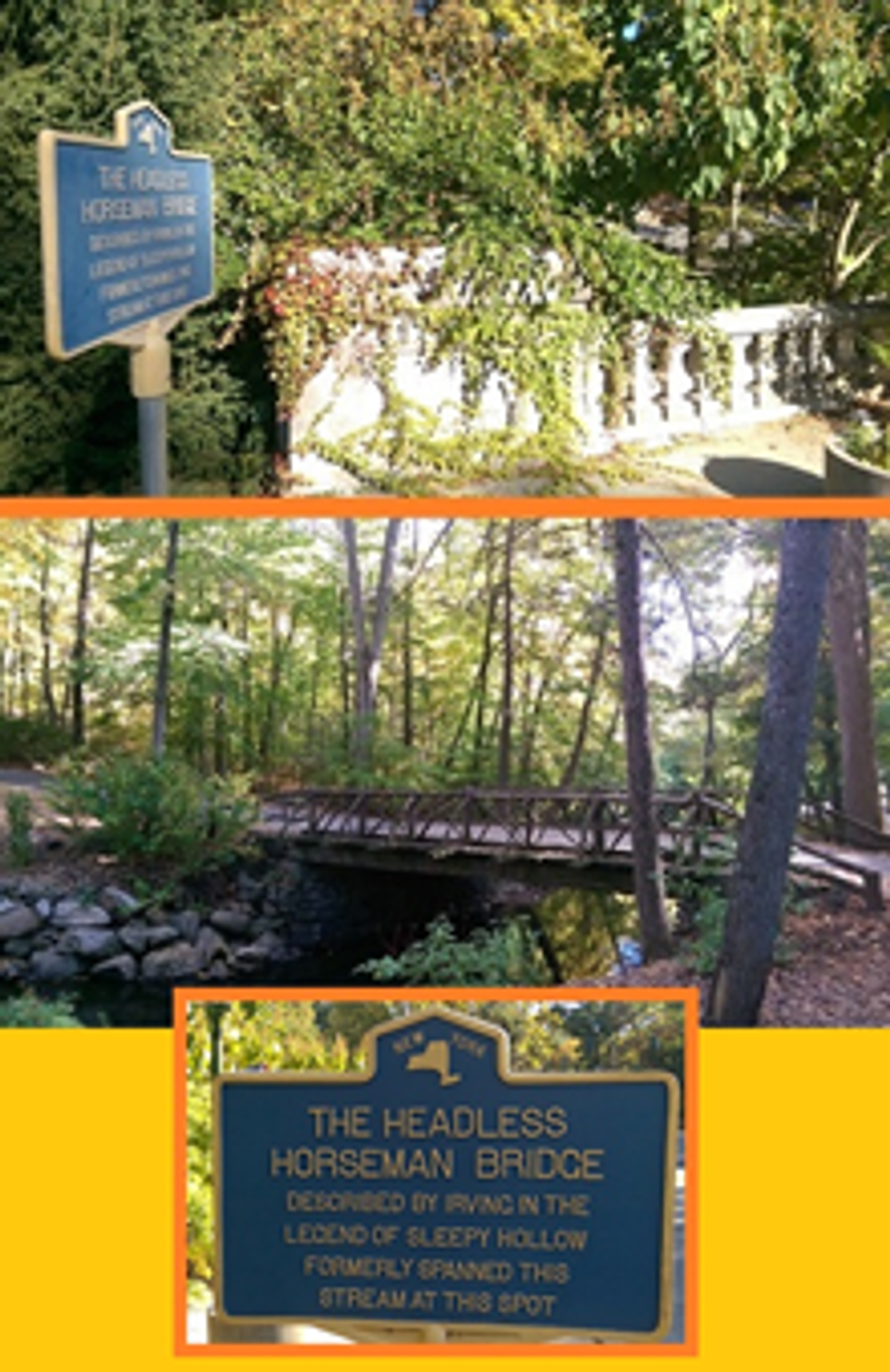 Top: The actual location of the bridge leading to the church. Bottom: The "new" Headless Horseman Bridge, built as a touristy period piece that connects the old sections of the Sleepy Hollow Cemetery with the new. In the "Legend," if Ichabod Crane could make it to the bridge, he would be safe from his adversary. (Photos: TheBlaze)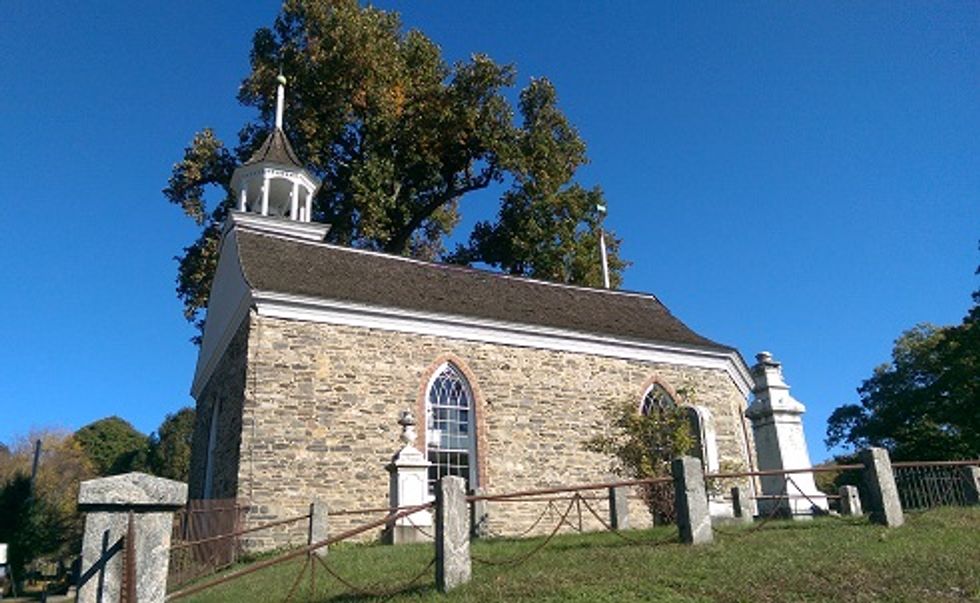 The Old Dutch Church, built in 1685, as viewed from the "safety" of the original bridge. (Photo: TheBlaze)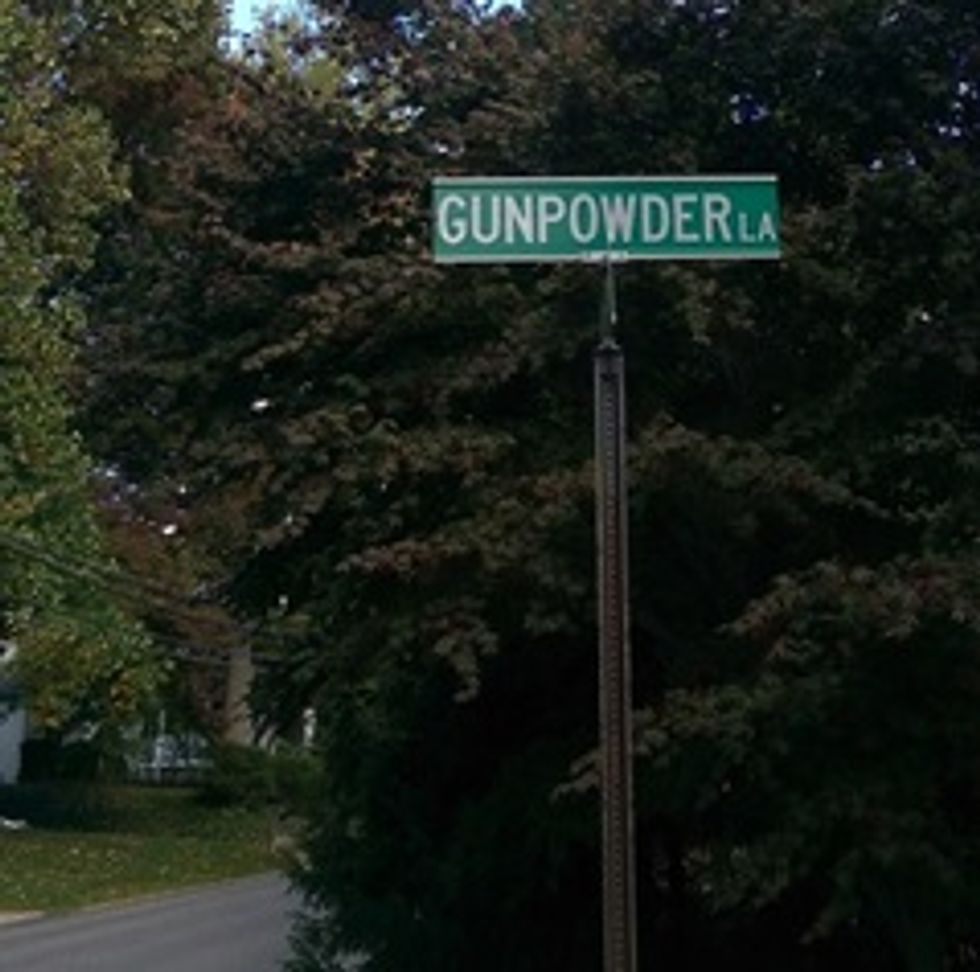 No, it's not a pro-NRA street in this liberal town; Gunpowder is the name of Ichabod Crane's horse. (Photo: TheBlaze)
What About Katrina Van Tassel?
Walking through the cemetery connected to the Old Dutch Church, interested parties will discover the tombstone of Catrina Van Tassel. Catrina was the niece of Eleanor Van Tassel, on whom Ichabod Crane's object of affection, Katrina, was fashioned.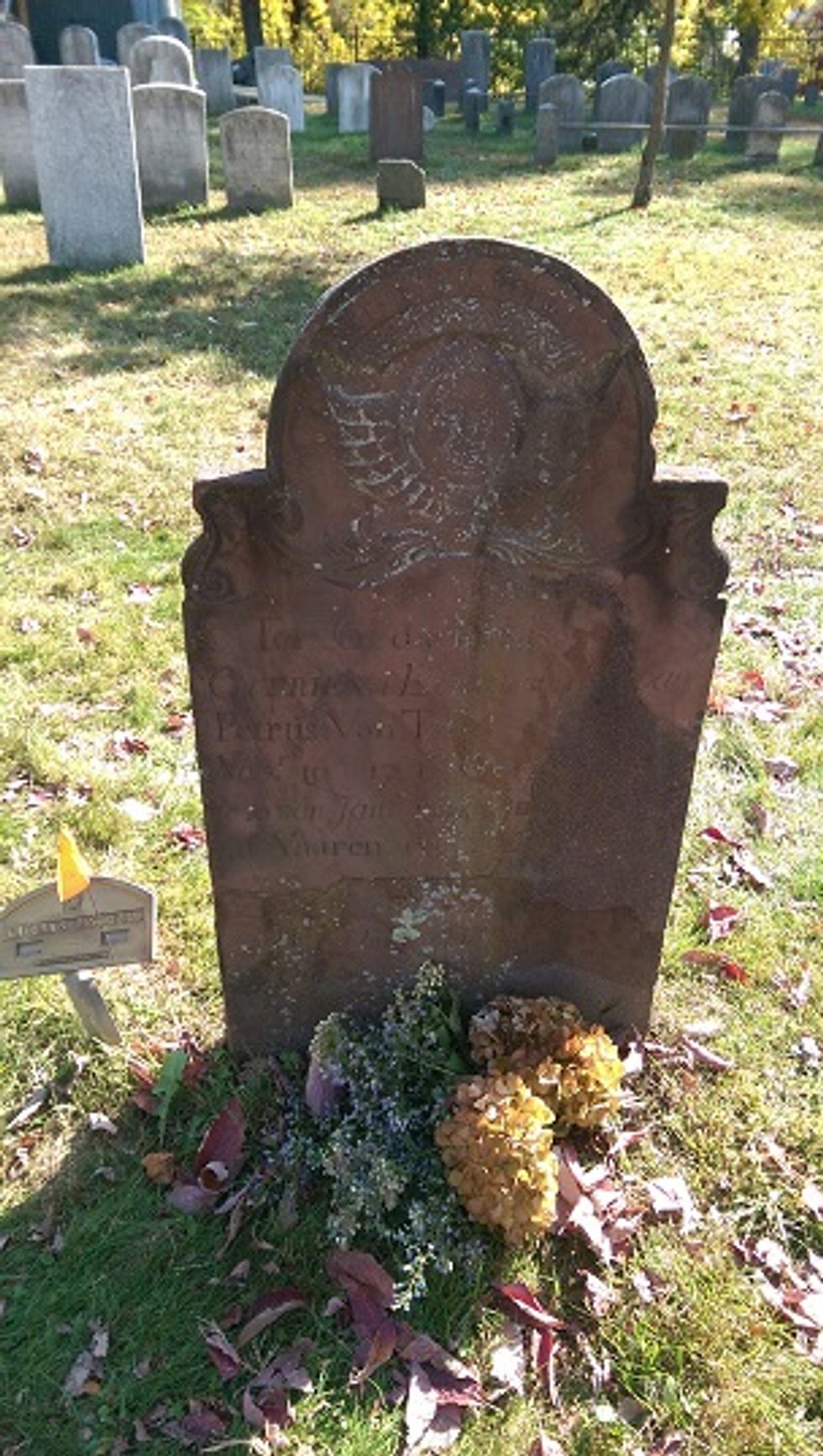 The headstone marking the grave of Catrina Van Tassel in Sleepy Hollow Cemetery. (Photo: TheBlaze)
Today, locations written about in "The Legend of Sleepy Hollow" still exist, and are touted in descriptions on iron plaques. Tourists can visit Sunnyside, the author's beautiful home on the border of Irvington and Tarrytown, or stop by the restaurant in the basement of his former New York City home on the corner of 17th Street and Irving Place.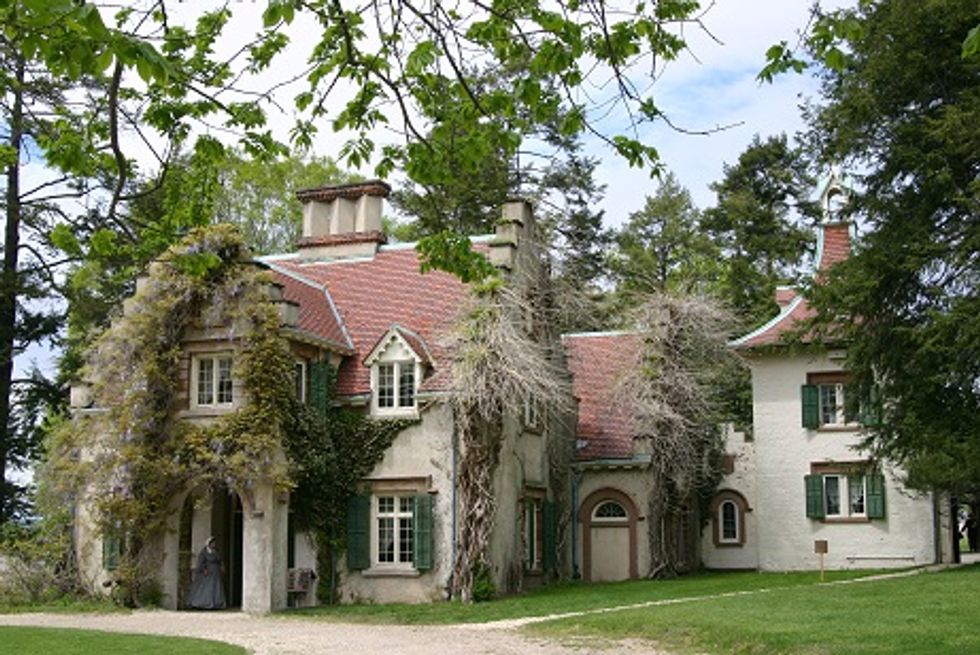 Sunnyside, Washington Irving's home bordering Irvington and Tarrytown, N.Y. (Photo: Karen M. Sharman, HudsonValley.org)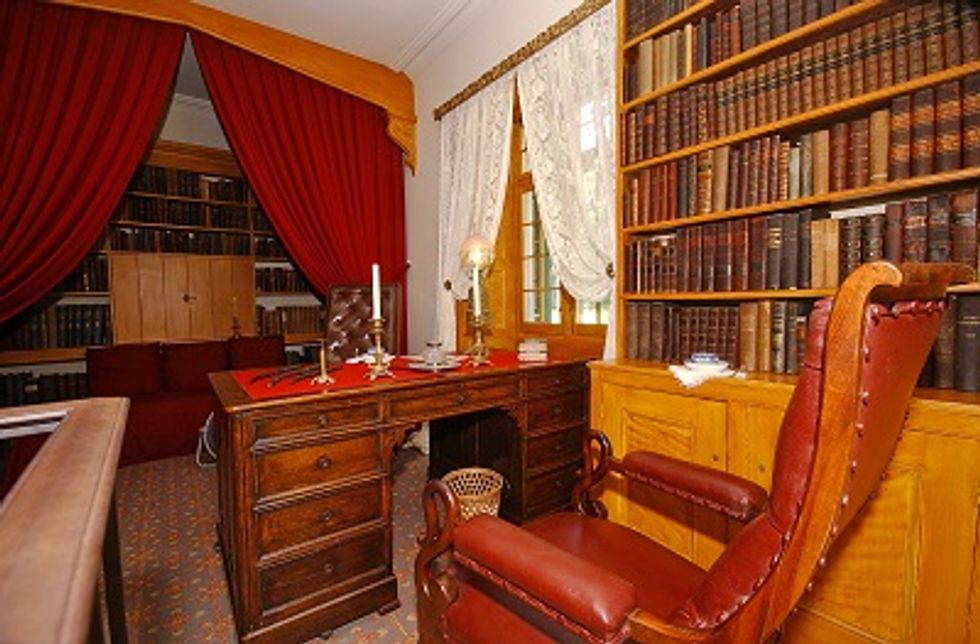 The author's study at Sunnyside. (Photo: Bryan Haeffele, HudsonValley.org)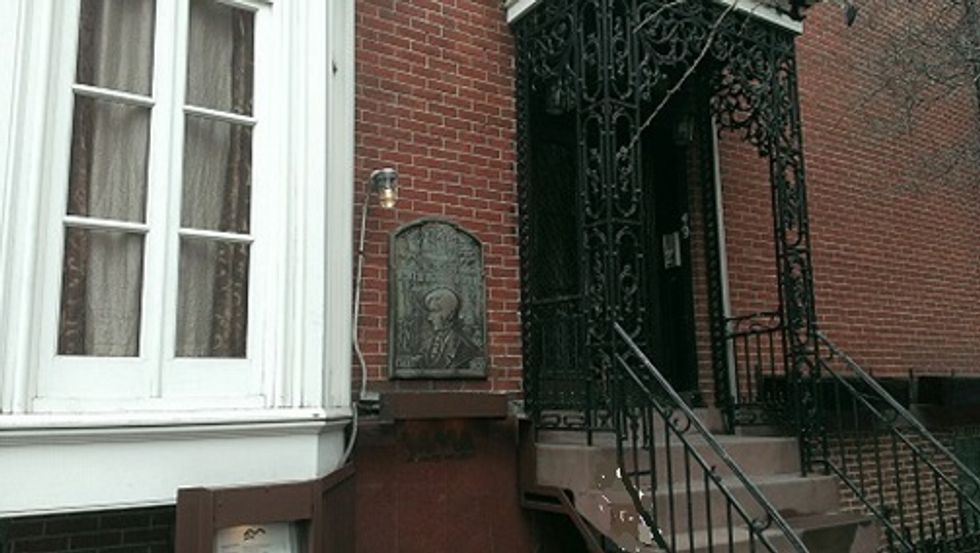 Washington Irving's Manhattan home, corner of 17th Street and Irving Place. (Photo: TheBlaze)
Fun Facts About Washington Irving
• As a youngster, Washington Irving, named after the country's first president, met George Washington and eventually every American president in his lifetime (that's 15: Washington through Buchanan!). Irving's final literary work was a five-volume biography of George Washington.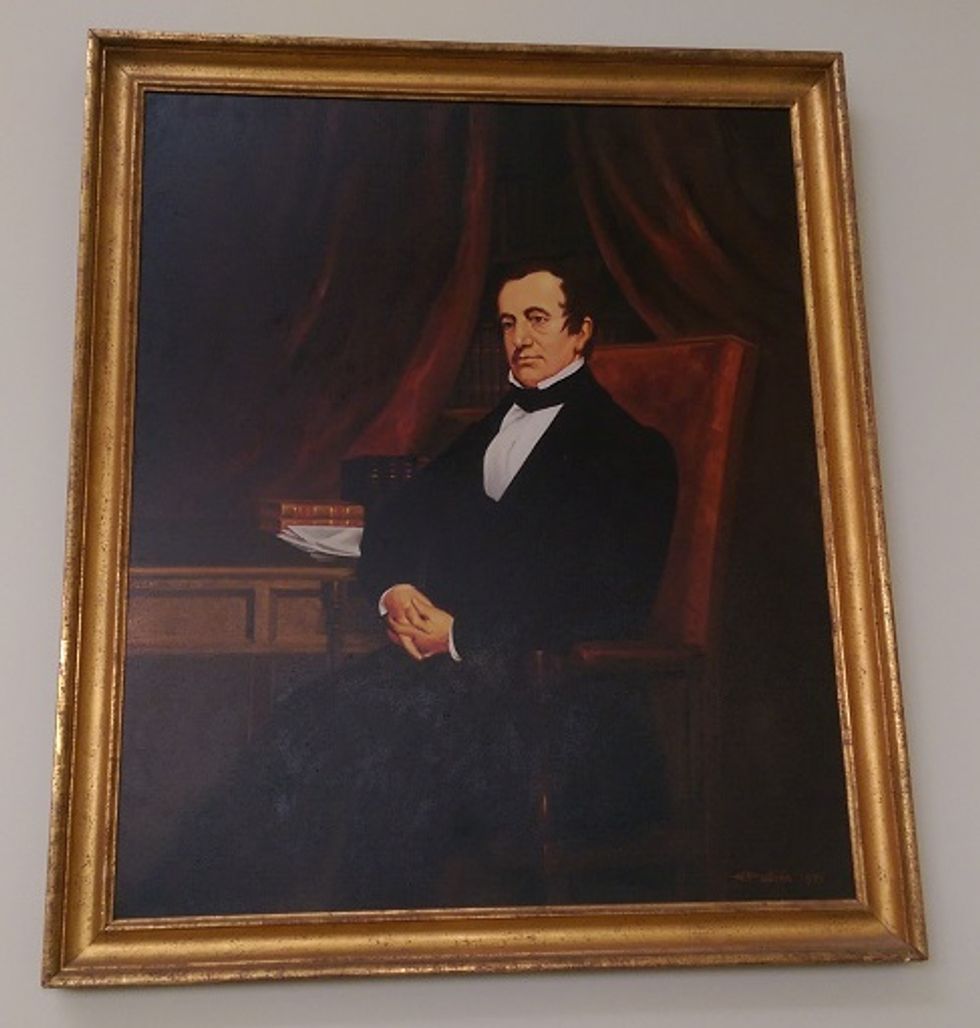 This copy of a portrait of the author hangs in the Tarrytown Village Hall. The plaque accompanying it reads: "Washington Irving, about 1850, in his study at Sunnyside, at a desk given him by publisher G.P. Putnam…" (Photo: TheBlaze)
• Words long since ingrained into the lexicon were "invented" by Washington Irving. "Knickerbockers" was his name for the people of New York City. He labeled the city "Gotham" in his own satirical periodical published in the early 1800s; the name is old English (literally: a goat pen) and refers to a village inhabited by people who teeter intellectually — at times wise, at times foolish. And if you've ever referred to "the almighty dollar," thank Irving for that one, too! The idea that Christopher Columbus and his men thought the earth was flat and that they risked sailing over its edge? Yes, a fairytale invented by Irving.
• Washington Irving became known as the new American nation's very first internationally celebrated author. (This is several decades before Samuel "Mark Twain" Clemens made his mark; Clemens, too, would purchase a house in Tarrytown, a few miles from Washington's Sunnyside homestead.)
• Washington Irving helped preserve English traditions of Christmas in his 1812 revised version of "Knickerbocker's History of New York." The five stories about Christmas in this edition refocused public interest in fading festive customs, and appeared well before Charles Dickens' "A Christmas Carol" (1843), and ahead of Clement Clarke Moore's famous poem, "A Visit from St. Nicholas" (1823).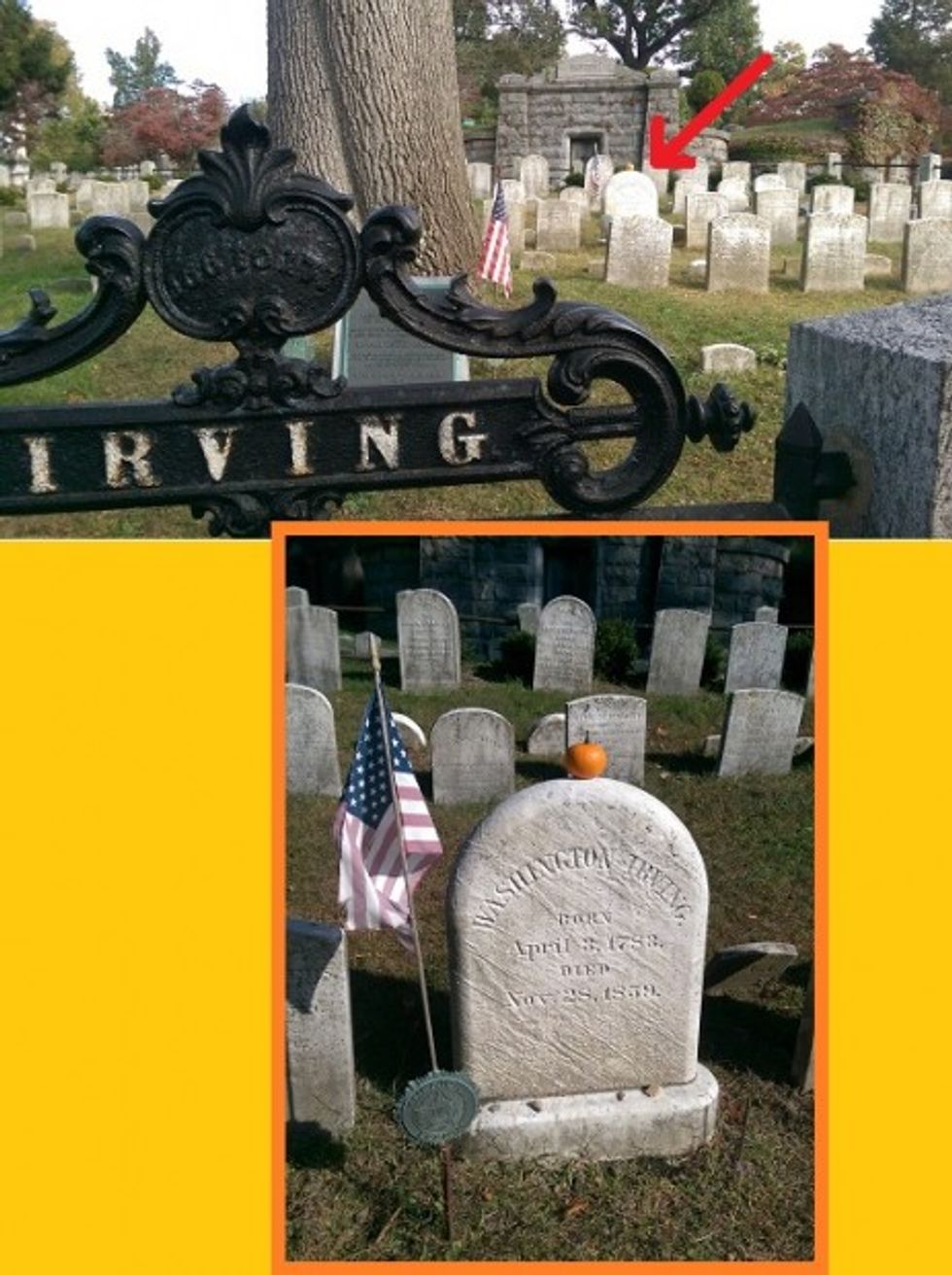 The family plot, including Irving's simple headstone, in the Sleepy Hollow Cemetery. (Photos: TheBlaze)
A short train ride from Grand Central will take you flying past Washington Irving's home, Sunnyside, near the banks of the Hudson River. (Video: TheBlaze)