Those who applied and paid for expedited security screening at U.S. airports have spent much of their time in that line tapping their still-on shoes at people who were removing their belts and taking out laptops when they really didn't have to. But that ends now.
According to the Washington Post, the Transportation Security Administration "quietly" stopped allowing people into the PreCheck line unless they were officially part of the program.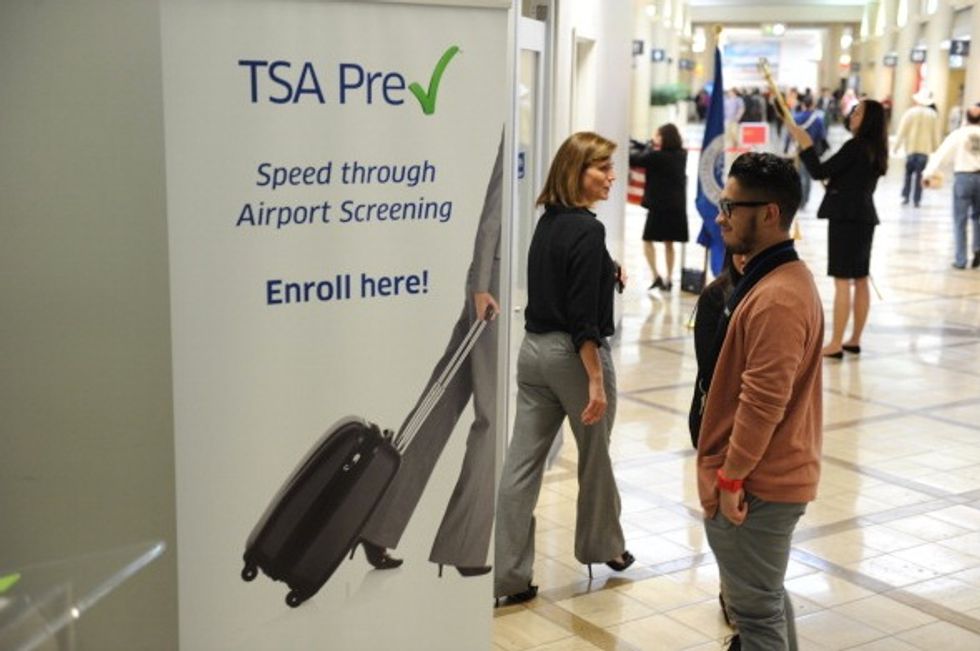 A poster announcing the Transportation Security Administration's (TSA) new Precheck program is seen outside the PreCheck enrollment office, at Los Angeles International Airport (LAX) on February 20, 2014 in Los Angeles, California. (PROBYN BECK/AFP/Getty Images)
TSA spokesman Mike England said in a statement to the Post that the administration "recently eliminated the practice of utilizing behavior detection officers and explosive trace detection sampling to direct certain passengers into TSA PreCheck expedited screening lanes, a practice known as 'Managed Inclusion II.'"
According to the Post, "Managed Inclusion I," which involves being sniffed out by a TSA canine to funnel passengers into the PreCheck line, is still in place.
"Overall, the agency is now moving toward offering TSA PreCheck expedited screening only to trusted and pre-vetted travelers enrolled in the TSA PreCheck program, and is working with a number or partners to expand enrollment in program," England told the Post.
Last year, TheBlaze reported a TSA spokesperson said passengers not enrolled in the program were being passed into the PreCheck line to "improve the screening process." While it was a welcome move for those lucky passengers who didn't need to pay $85 or go through an extensive background check to be considered PreCheck cleared, those who did jump through the hoops to be part of the program were often left annoyed.
"I see more and more people being directed into PreCheck lines who don't understand the system," Scott Long, a publisher, told TheBlaze at the time. "While TSA agents do a good job of trying to explain it to these travelers, it's almost always met with disbelief from those passengers, who ask them to confirm that they don't have to take their shoes off or their liquids out, and it grinds the PreCheck line to a halt."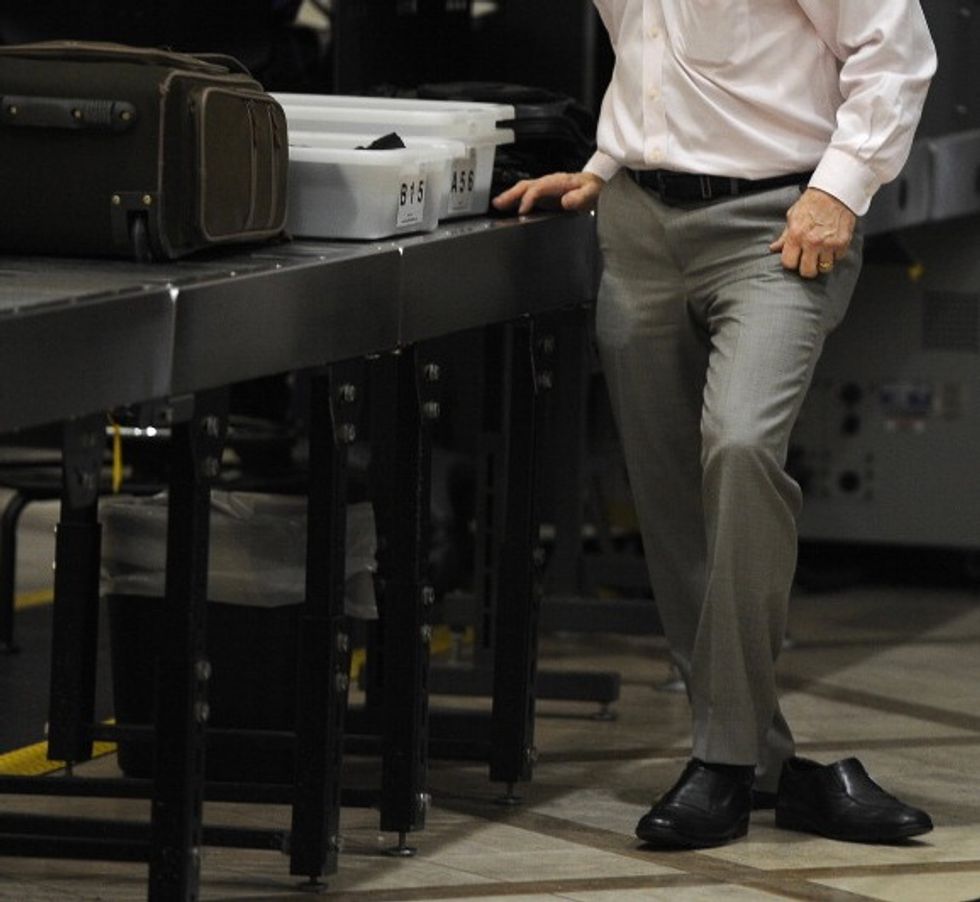 If this traveler were in the PreCheck line, he would not have to remove his shoes. (ROBYN BECK/AFP/Getty Images)
With the TSA now reserving the line for official PreCheck passengers who are familiar with the system, one would expect it to go faster.
TheBlaze's Editor-in-Chief Scott Baker is among those who has already noticed the difference in the speed of the PreCheck line.
While reserving the line more for those formally enrolled in the program has been a welcome change for PreCheck members, it has had implications for the regular screening lines as well.
Metropolitan Washington Airports Authority spokesman Christopher Paolino told the Post the move has resulted in longer regular screening lines at Dulles International Airport and Reagan National Airport.
In late August, TSA announced that more than 1.5 million travelers were enrolled in its PreCheck program, which started in December 2013. At this point, there are more than 330 application centers for those wishing to apply for PreCheck with continued plans for new ones to open.
TSA PreCheck is offered on certain airlines and requires the traveler to pay an $85 application fee and submit to a background check, which includes fingerprints. Those who are approved and who are granted PreCheck on their ticket are passed into the expedited line, which allows them to keep shoes, belts and light jackets on and leave laptops and travel-size liquids in their bags.