As former Secretary of State Hillary Clinton continued to blame the attack on the U.S. compound in Benghazi on a controversial YouTube video, a State Department official at Embassy Tripoli in Libya wrote an email to D.C. colleagues that urged them to be "cautious" in their messaging just a few days after the attack.
According to the email from the official in Libya on Sept. 14, 2012, "it is becoming increasingly clear that the series of events in Benghazi was much more terrorist attack than a protest which escalated into violence." The email was released Friday in the first dump since Clinton testified in front of the House Select Committee on Benghazi committee last week.
"It is our opinion that in our messaging, we want to distinguish, not conflate, the events in other countries with this well-planned attack by militant extremists," the official, whose name has been redacted, wrote in the email.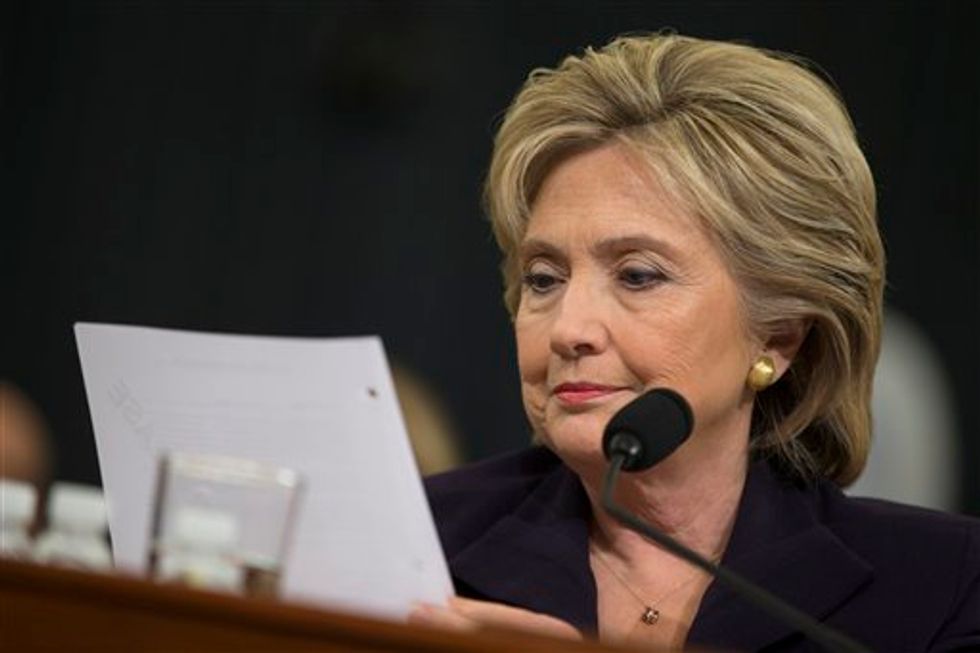 Democratic presidential candidate, former Secretary of State Hillary Rodham Clinton looks at an email sent by Ambassador Chris Stevens during her testimony before the House Benghazi Committee, Thursday, Oct. 22, 2015, on Capitol Hill in Washington. (AP Photo/Evan Vucci)
The official also said the films were not "as explosive an issue here as it appears to be in other countries in the region."
Clinton continued to cite a controversial YouTube video as the reasoning behind the 2012 attack that killed four Americans. Family members have said that Clinton blamed the video in her conversations with them — even after the email from the Embassy Tripoli.
"This email shows that State Department staff privately raised concerns about conflating the terrorist attacks in Benghazi with a video on the Internet, even as the Secretary of State and other Obama administration officials continued to do so publicly," Matt Wolking, the House Select Committee on Benghazi press secretary, told TheBlaze in a statement Saturday morning. "Furthermore, according to the former head of the CIA, intelligence 'analysts never said the video was a factor in the Benghazi attacks.' So while Secretary Clinton may use the 'fog of war' as a convenient excuse for why she said one thing in private and something else in public, the reality is that's just another smokescreen." 
Clinton also came under fire during her testimony in front of the Select Committee for an email she sent to her daughter Chelsea, under the pseudonym Diane Reynolds, on the night of the attack — which she told Chelsea was the result of "an Al Queda-like group."
In a conversation with Egyptian Prime Minister Hisham Kandil, detailed in an email on Sept. 12, 2012, Clinton said based on information she had then, she believed the group that claimed responsibility for the attacks was affiliated with al-Qaeda.
"We know that the attack in Libya had nothing to do with the film," Clinton reportedly told Kandil then. "It was a planned attack — not a protest."