Newly elected Speaker of the House Paul Ryan knows exactly what he's going to have to do right away — get that cigarette smell out of his new office.
Appearing on NBC's "Meet the Press," Ryan (R-Wis.) asserted that he's really not a fan of the smell of smoke, especially in his new office. Ryan, who has been known to sleep in his office on occasion and is a intense fitness aficionado, said that he usually begins his day at 6 a.m. and ends it shortly before midnight.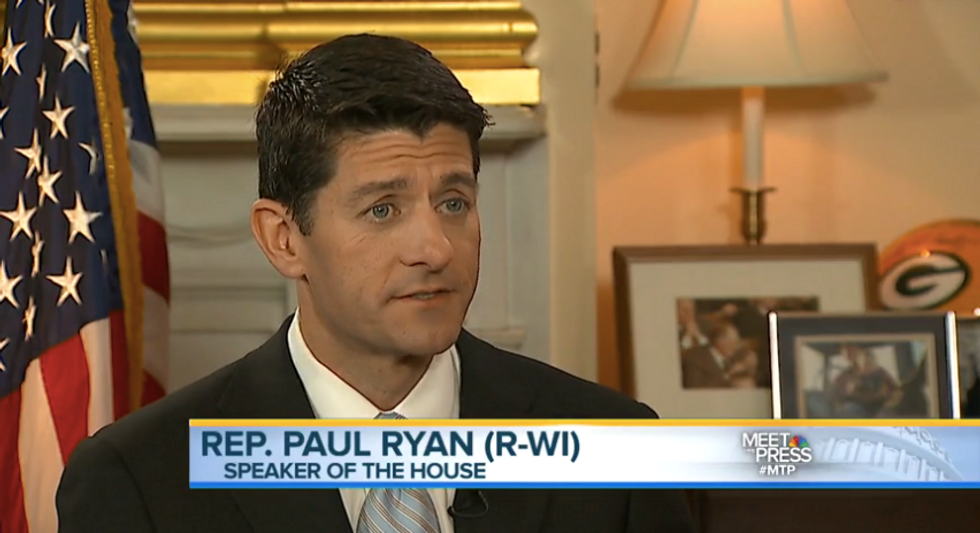 Image source: NBC News
But as he said he's prepared to "do the people's work," getting the smell of smoke out of his new office that his predecessor Rep. John Boehner (R-Ohio) left for him will take some work.
"[T]hey have these ozone machines, apparently, that you can detoxify the environment. But I'm going to have to work on the carpeting in here," Ryan said. "You know when you ever go to a hotel room or get a rental car that has been smoked? That's what this smells like."
Ryan has been open about his disapproval of his predecessors's smoking habits in the past. In an interview with Time in 2014, Ryan said he's never asked Boehner to stop smoking in his presence.
"But I try to sit as far away from him as I can in meetings that I know are going to be stressful," Ryan did say. "I just hate getting that smell in my clothes."