As Sgt. Andrew Smith lines up his golf club to tee off, he isn't so much worried about his swing or his aim. For the young U.S. veteran, it's all about balance.
On March 8, 2012 — to hear him tell it, the day that really kickstarted his affair with the game of golf — Smith stepped on a pressure plate IED during his first deployment to Afghanistan. He lost both of his legs and suffered multiple massive internal injuries, including a broken pelvis.
It was during his long, excruciating physical therapy, when Smith persevered and learned how to walk again with the use of prosthetic legs, that his therapist decided one day to throw a golf club at him and made him swing it back and forth multiple times in an effort to help him relearn how to keep his balance. But that golf club exercise did more than just help him regain balance and control; it propelled him into discovering a new passion, one that he can share with his wife and family — the game of golf.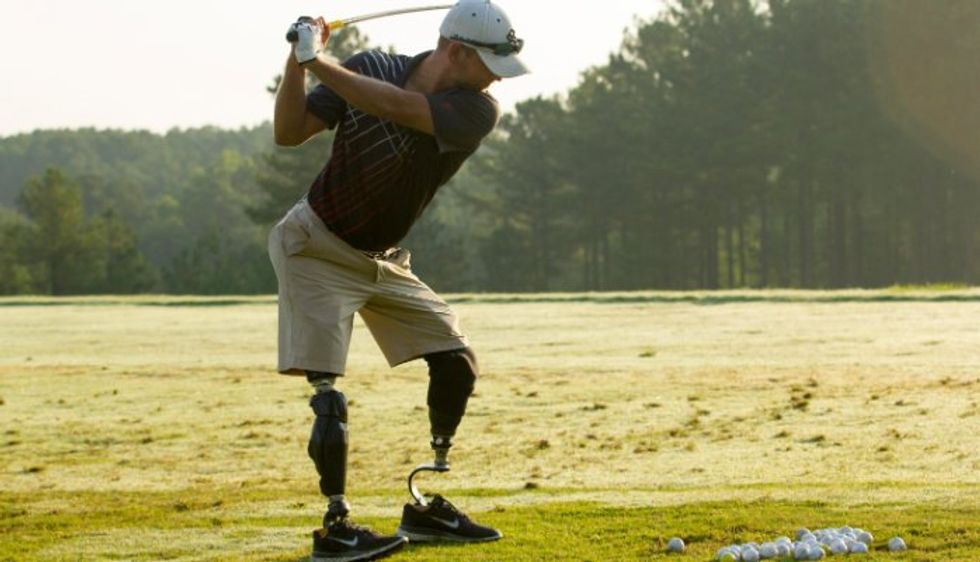 Sgt. Andrew Smith, who lost both of his legs in Afghanistan, has become quite the golf aficionado ever since his physical therapist had him pick up a club to practice balancing a couple of years ago. Now the veteran is set to compete at the VGA Championship beginning on Nov. 8. (Image provided to TheBlaze)
A few weeks after practicing his balance with the therapist, Smith and his wife — who he affectionately refers to as his "rock" during his recovery — drove out to a local golf course near the hospital, and he began to swing — this time to connect with a ball.
"It wasn't pretty, but it was fun to be able to not fall over, and I saw that with a lot of practice and patience, that I'd be able to learn to hit it pretty well and be able to play golf," Smith, who had played golf occasionally with his father and brother before his injury, told TheBlaze in an interview.
Now, Smith is preparing for the Veteran Golfers Association Championship tournament held in Pinehurst, North Carolina, at the historic golf course over Veteran's Day weekend. The tournament will host 80 of the nation's best veteran golfers in two divisions — wounded and non-wounded — and getting there was no easy feat for Smith.
Smith tried twice to qualify for the tournament — both times to no avail. His first attempt left him shy of qualifying by 10 strokes; his second attempt was shy by only eight strokes.
Even though he heartbrokenly did not qualify for the tournament twice in a row, his perseverance paid off as a member of the Pinehurst Resort noticed his tenacity, and once he had heard his story, he flew Smith to Connecticut for free where he could try to qualify one last time. It was there in Connecticut that Smith sank a 20-foot birdie putt and scored his ticket to Pinehurst.
To prepare for the tournament, Smith said he's working on his short game and executing a consistent drive which includes spending a lot of time on the putting and chipping greens. Distance is also a challenge for Smith who said he can't always hit the ball as far as he would like as he can't rotate or use force from his lower body.
"For me, the biggest challenge is always going to be balance and consistency just because with prosthetic legs, even though I'm able to play and swing the golf club, there's still always that [possibility] if I take my swing back, I'll begin to fall backwards sometimes, so it's always just maintaining consistency and having a repeatable swing with balance being an issue," Smith said, adding that uneven terrain can also throw off his balance.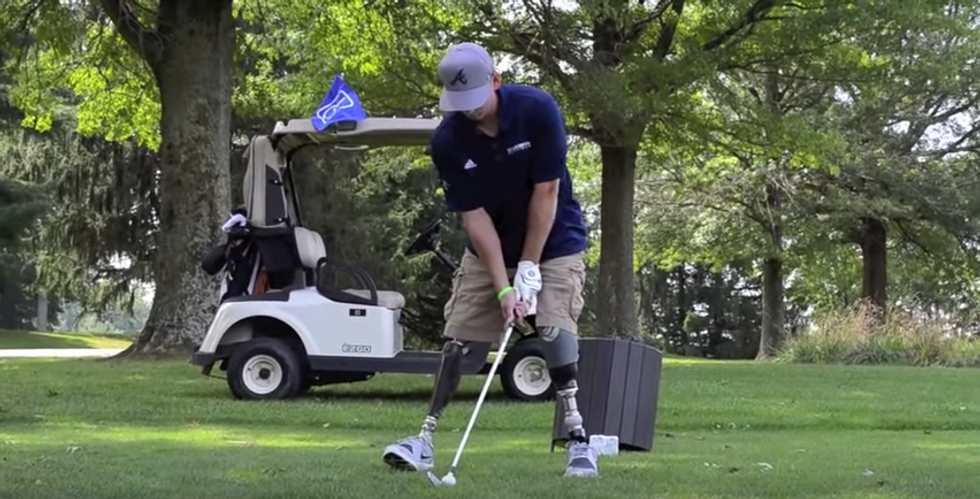 Image source: YouTube
"Even though it's challenging, it's been interesting as I learn to play more and more just figuring out how to hit different golf shots and adapting how I swing and how I have to stand to be able to hit it," Smith said.
Smith said that while he has enjoyed the opportunity provided to him by the VGA to play golf — and play golf at historic and venerable courses, at that — it's the opportunity to meet with other veterans that has really helped him throughout life after his injury.
"It's been cool to be at these tournaments and meet veterans not just from post-9/11 but from the first Gulf War era, the Vietnam era veterans, just to hear their stories and even though we're from different generations, we have similar experiences and it's just cool to build that camaraderie on the golf course. Obviously we love the same game, so we're playing golf and talking about the military and just being veterans in general. So just being able to connect with other veterans has been a big part of it for me."
Smith's service and sacrifice to his country was almost a no-brainer for the history buff. He told TheBlaze that he could distinctly recall sitting in his freshman high school math class on Sept. 11, 2001 when terrorists hijacked four planes and left almost 3,000 people dead.
"That was kind of the impetus for me, but even before that and especially afterwards, I have a love of history and American history in particular," Smith said. "Outside of what happened on 9/11, hearing stories of guys in our past who answered calls to duty and stepped forward when they needed to, I felt like that it was my turn, that I had to do it."
After high school, Smith received a history degree from Lee University — where he would meet his wife — before he joined the military.
"There were guys younger than me that had already been deployed a bunch of times to Iraq and Afghanistan, and I just felt like it was my turn, and I had a duty to do so I did it," Smith said.
The game of golf has had a significant impact on not only Smith, but also his wife as they were married two months prior to his injury. Smith met Tori in college where the two became best friends and would enjoyed playing sports and competing with one another.
"We would always play sports together, and we're competitive with each other and we'd always have fun playing different sports," Smith said. "Afterward, once I started to be able to play golf and we'd go to the driving range and go to the course by the hospital together, we could get back to that sense of normalcy that we had before the injury. Golf is something we can both do. I don't have to have any specialized equipment. I can just grab my golf clubs, put them on the golf cart and get out there just like every other able-bodied person, and my wife can go out there, and we can compete and have fun and laugh at each other."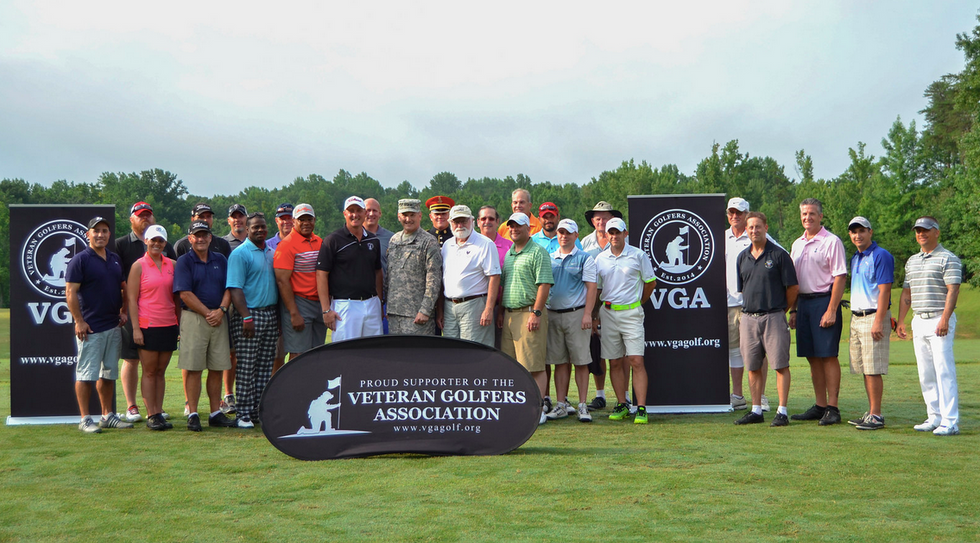 Image provided to TheBlaze. (KIMBERLY KENTTA PHOTOGRAPHY)
Joshua Peyton, VGA president and a retired Army Captain and Army Ranger, established the organization after he, too, was injured while deployed in Iraq in 2011 and almost lost his right hand. Peyton said he met several veterans who loved the game of golf while he was recovering at Walter Reed which eventually led to the launch of VGA in 2015.
"When I recovered enough to leave Walter Reed and go to Fort Bragg and come back to active-duty status, I kind of lost that camaraderie with the guys that I had gotten close to up in the D.C. area, and I wanted to put together an organization that could bring veterans and the game of golf together," Peyton told TheBlaze in an interview.
Peyton said that even though his organization is fairly new, it has received mounds of support from elected officials such as Sen. Richard Burr (R-N.C.), Sen. Thom Tillis (R-N.C.) and Sen. Lindsey Graham (R-S.C.) as well as military support from Vice Admiral Robert Conway, Major General Chuck Swannack and Major General Zannie Smith.
"I think that a lot of these guys and girls, they use golf as an escape, a 4-hour escape to go relax and just enjoy themselves," Peyton said. "Some people are suffering from PTSD and they're trying to tap into their competitive spirit and golf gives them an avenue to do so. Really all we're trying to do is give them the vehicle and the opportunities to play golf at a higher level. And in a lot of circumstances, it inevitably changes a lot of people's lives."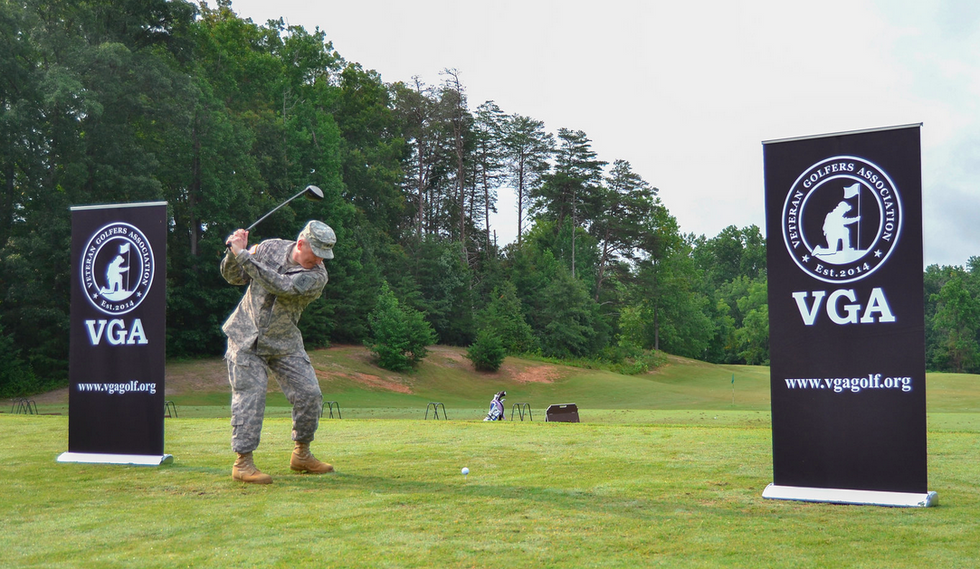 Image provided to TheBlaze. (KIMBERLY KENTTA PHOTOGRAPHY)
As evident with Smith, golf and the VGA tournament has changed his life, but even as he told his story of his injuries, his positivity shone through.
"For me, the biggest thing that helped me was my awesome support system and my faith in God — that there's a plan for everything," Smith said. "Persevere and endure through all of your struggles because there's definitely a plan for everything. Even through my injury and tragedy that my wife and I had to go through, we've seen so many blessings and came out the other side of it changed."