Billionaire Charles Koch warned on Tuesday that the U.S. is "headed for disaster" due to years of bad government policy implemented during the Bush and Obama administrations.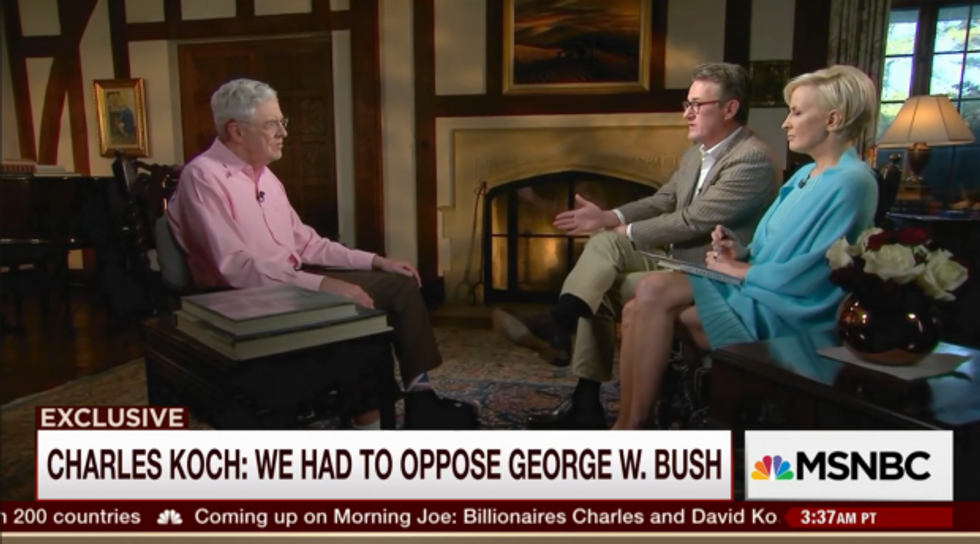 MSNBC
"I don't care what party," Koch said. "I just want somebody who's is going to advance these ideas, to take us away from this two-tiered system, getting involved in all kinds of unproductive things."
He lamented the activities of the Federal Reserve, out of control government spending, "counterproductive wars," and allowing Fannie and Freddie to create a "corrupt system." Koch also noted that the United States' total debt and unfunded liabilities is likely over $100 trillion and still "going up to the sky."
"We are headed for disaster," he added.
When asked if he felt any 2016 candidates could be the answer, Koch replied, "Not in great measure."
In another interesting revelation, Koch revealed that both he and his brother, David Koch, have both voted for Democrats in the past. The billionaire brothers have been strongly demonized by forces on the left, including Sen. Harry Reid (D-Nev.).
"Yeah, I've voted for a Democrat," he said. "David's voted for more of them — but he's in New York."
---