An Illinois school superintendent who has been fighting against a new ruling on transgender students couldn't quite seem to articulate what exactly his objections were while appearing on Fox News Tuesday night.
Fox News host Megyn Kelly grilled District 211 Superintendent Dr. Daniel Cates who has been at the center of a debate involving a student who was born a male yet identifies as a female and wishes to use school restrooms and locker rooms that correlates to the student's gender identity. Cates is against the recent Department of Education ruling that allows the student to do so while also ruling that the school's practice of giving the student a private changing area is discriminatory.
"As school leaders we are charged with the responsibility of balancing the rights of all students, and while we respect and honor our transgender students, it is our responsibility to create an environment that is protective and built on principles of respecting the privacy of all of our students," Cates said.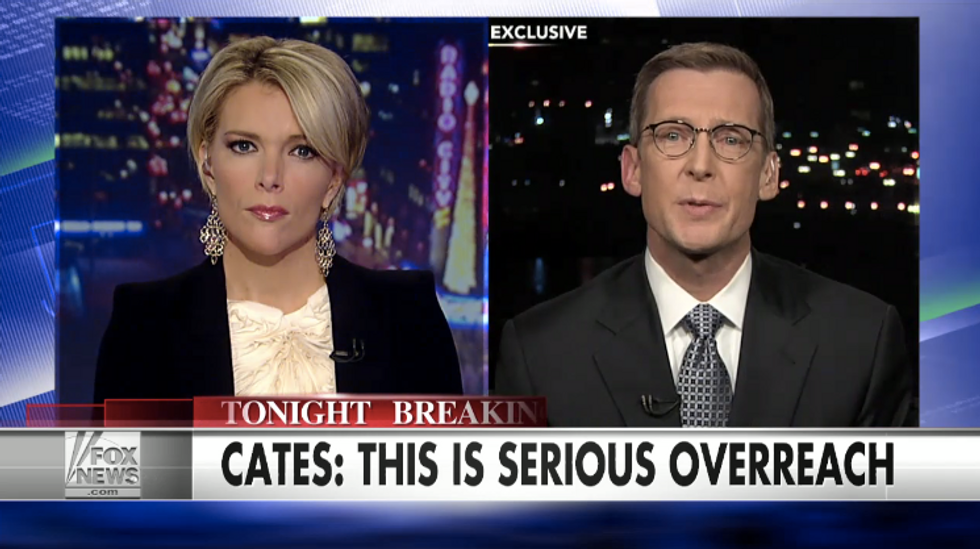 Image source: Fox News
Kelly said that she wanted to "cut through the academic speak" and wanted Cates to specifically answer why exactly he believed allowing a transgender student to use the restroom of their choosing would violate other students' privacy. Kelly contended that the school had gone to great lengths to accommodate the student already but wanted a more specific answer.
"By having people born of the opposite sex in the locker rooms, we disagree with the Office of Civil Rights and their position that this is legally objectionable," Cates said.
"These are just generalities," Kelly responded. "With respect, doctor, just explain it for us. What is it? What is it? Have you had students object? Have parents said they don't want to be exposed to anatomy that is different? What is it? Just tell us specifically."
"Respectfully, this is primetime cable, this isn't like a superintendent board meeting so we gotta get to the heart of the matter," Kelly snapped at one point.
Watch the exchange between the two below.