Texas Attorney General Ken Paxton says that law enforcement patrol vehicles that display "In God We Trust" decals will hold up in court if challenged further.
In a written response to state Sen. Charles Perry and Rep. Drew Springer, who had asked the state's top attorney for a legal opinion, Paxton addressed the constitutionality of public law enforcement agencies displaying the phrase. Specifically, Perry and Springer asked whether it is a violation of the establishment clause of the Constitution to display the nation's official motto, adopted in 1956.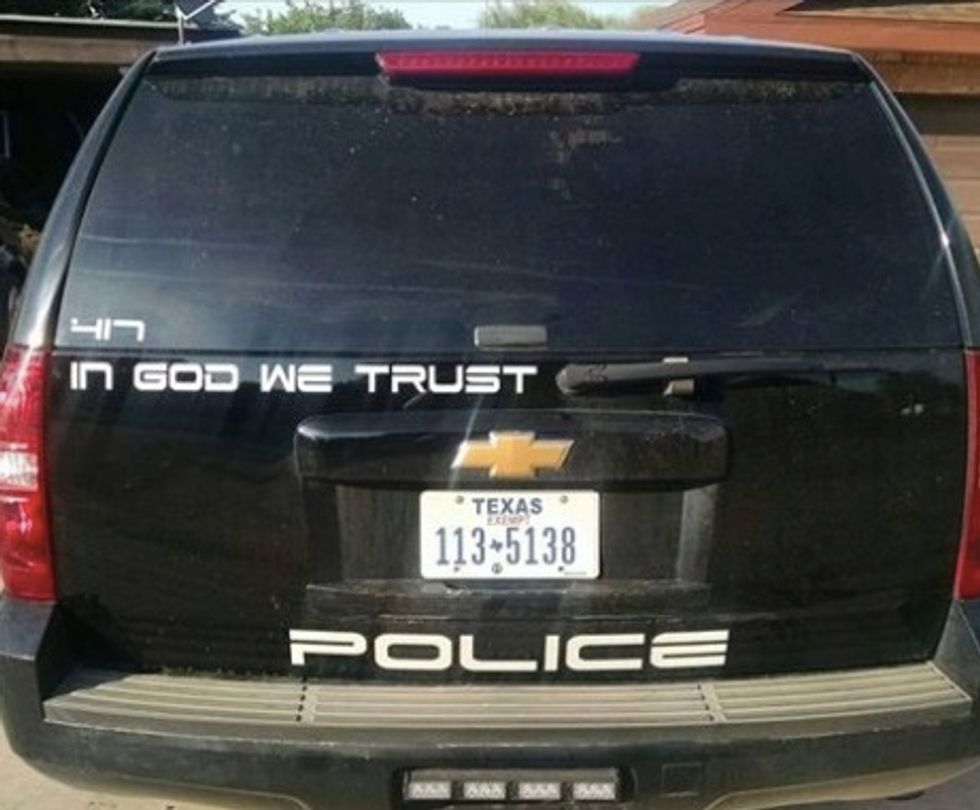 Image source: Childress Police Department
"Displaying 'In God We Trust' on police vehicles is a passive use of a motto steeped in our nation's history that does not coerce citizen approval or participation," Paxton wrote in the letter. "A law enforcement department's decision to display the national motto on its vehicles is consistent with that history."
"Thus, a court is likely to conclude that a law enforcement department's display of 'In God We Trust' on its patrol vehicles is permissible under the Establishment Clause of the U.S. Constitution," Paxton continued.
Texas Gov. Greg Abbott also addressed the issue in a letter to Paxton last month, in which he told the attorney general that there can be "no doubt" that Texas courts would uphold the motto being displayed on police vehicles in Childress, Texas, as constitutional.
Adrian Garcia, head of the Childress Police Department, sent a blunt response to the Freedom from Religion Foundation in September after the secular group claimed the decals on patrol vehicles were a constitutional violation and asked that they be removed.
"After carefully reading your letter I must deny your request for the removal of our nation's motto from our patrol units, and ask that you and the Freedom From Religion Foundation go fly a kite," Garcia wrote.
Dan Barker, co-president of the atheist group, told TheBlaze in August that it "would love to sue over a case" involving the "In God We Trust" decals, while speaking of a similar, but separate case, in Walton County, Florida.
The Freedom from Religion Foundation is still considering whether to pursue any legal action against Childress Police Department.
(H/T: Dallas Morning News)
–
Follow Jon Street (@JonStreet) on Twitter