The Hummelstown Borough Police Department in Dauphin County, Pennsylvania, has released new video of a police officer fatally shooting a man, hours after the police officer was cleared on all charges related to the deadly incident.
Hummelstown police officer Lisa Mearkle was cleared of any wrongdoing in the death of 59-year-old David Kassick on Thursday. Mearkle was facing third-degree murder, voluntary manslaughter and involuntary manslaughter charges for her role in the fatal shooting of Kassik back in February, WGAL-TV reported.
The video shows Kassik complies with the officer's demands to lie face down on the ground with his hands visible as the officer continues to shoot him with a Taser and, moments later, fires two bullets into Kassik, killing him.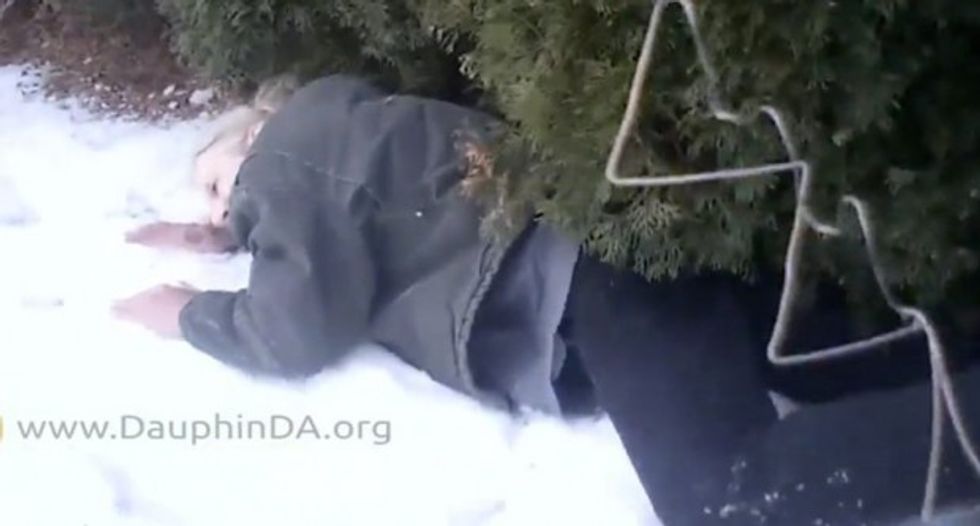 Image source: DauphinDA.org
A spokesman for the Dauphin County district attorney's office told TheBlaze that members of the jury saw the exact same footage as what has been released "several times." He said the officer is still on paid leave.
Mearkle is planning to return to her job, according to WGAL-TV.
"We are grateful to the 12 citizens who reviewed the evidence and recognized Officer Mearkle's actions for what they were and delivered a fair and just verdict," the Pennsylvania Fraternal Order of Police said after the verdict was announced. "By the same token, we're disappointed that the [D.A.'s] office did not come to that same conclusion eight months ago."
Members of Kassik's family, however, were angered by the verdict the jury reached. WGAL-TV reported his nephew yelled "murderer" at Mearkle in the courtroom, as other family members exited the courtroom in tears.
See the newly-released video footage from the deadly confrontation below.
Warning: Video is disturbing.
(H/T: Raw Story)
–
Follow Jon Street (@JonStreet) on Twitter