DeportRacism.com, a pro-Latino political action committee, promised to award $5,000 to anyone who shouted that Republican presidential candidate and "Saturday Night Live" host Donald Trump is a racist during the live comedy program — and they're going to make good on their promise.
Comedian Larry David had a few cameos during "SNL," most notably to play Democratic presidential candidate Bernie Sanders during the show's opening sketch. But he was also on hand to yell, "Trump's a racist!" during the business mogul's opening monologue.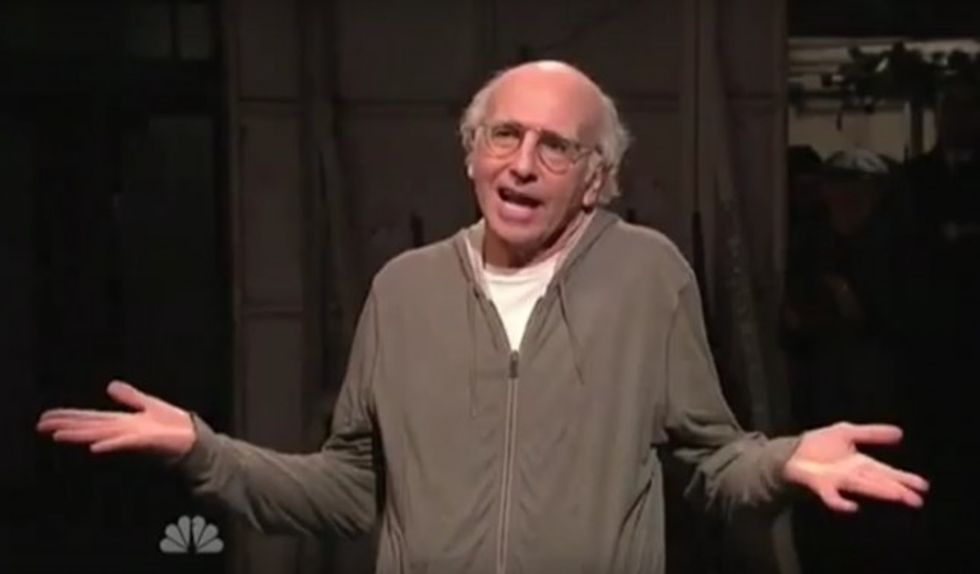 Image source: YouTube
"I heard if I yelled that they'd give me $5,000," David told Trump during the show.
And it seems David was right. According to Luke Montgomery, DeportRacism.com's campaign director, the political group still has every intention of awarding the bounty despite it being written into the show.
"We are excited to reward Larry David with $5,000 cash for 'standing up' to Donald Trump on Saturday Night Live and speaking the truth about his anti-Latino racism, even though he was joking. There's nothing funny about calling Mexican immigrants rapists, murderers and drug dealers," Montgomery told TheBlaze in a statement Sunday morning. "You could never get away with saying that about African Americans, so why is it OK to say it about Latinos?"
Montgomery told TheBlaze that his group will contact David's people on Monday to discuss the transfer of the funds as well as a box of the organization's shirts.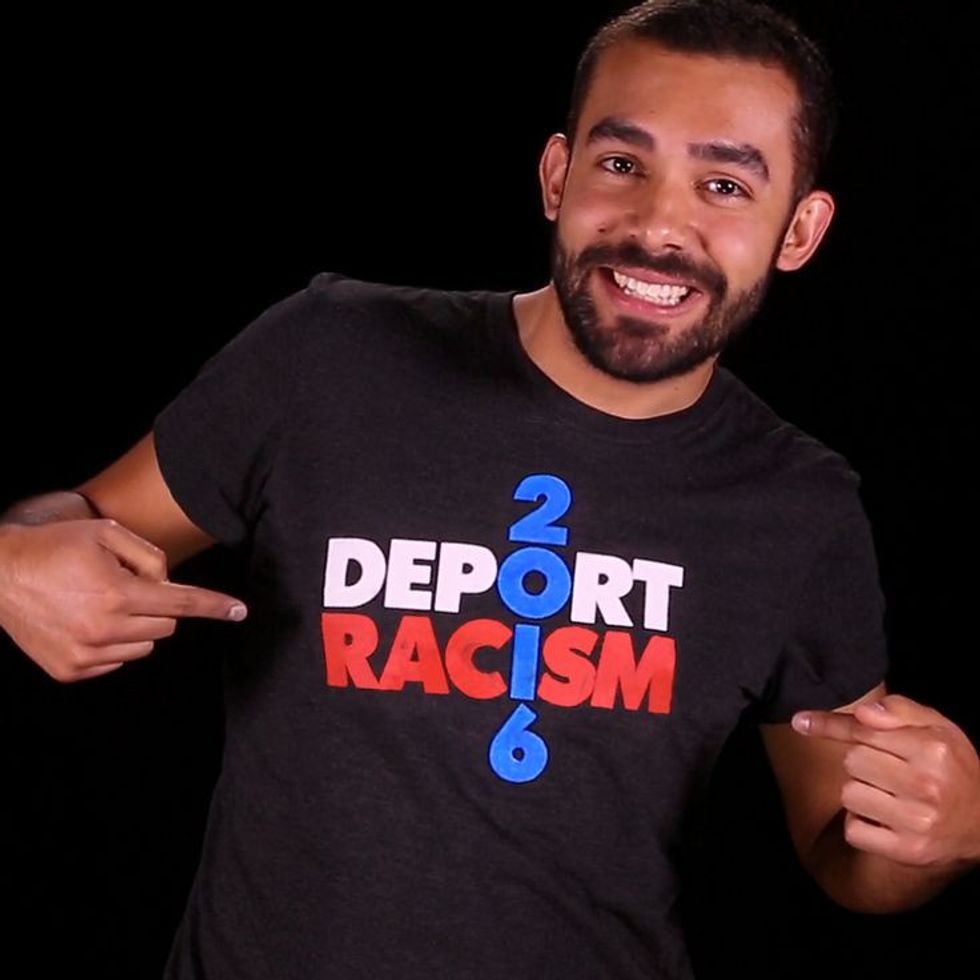 Screenshot from DeportRacism.com
"And we're going to be going to the next GOP debate and offering the $5,000 bounty there for anyone who stands up and yells, 'Trump is a racist' and disrupts the live broadcast of the GOP debate," Montgomery said. "It worked the first time in a very funny and interesting way, and we're going to do it again."
DeportRacism.com also announced their intentions on social media.
#LarryDavid wins the $5,000 "bounty" from https://t.co/PcIfWXCmnT for calling Trump a Racist on #SNL. Joke or not, it was true. Go Larry!

— Deport Racism (@DeportRacism) November 8, 2015
Larry David wins $5,000 https://t.co/PcIfWXCmnT "bounty" for calling Trump a RACIST on SNL. Joke or not, it's true. #RacismIsntFunny #Win

— Deport Racism (@DeportRacism) November 8, 2015
Hmmmm... we will ask Larry. Love that idea! https://t.co/kWpd7VTQ5z

— Deport Racism (@DeportRacism) November 8, 2015
"Trump has no place on that stage," Montgomery told TheBlaze prior to the show's airing. "NBC is going for the ratings, and so are we."
Protesters involved with DeportRacism.com and other Latino organizations who demonstrated against NBC's decision to allow Trump to host the venerable comedy show were also briefly mentioned during "SNL's" Weekend Update sketch.
Watch the clip of the "Seinfeld" creator heckling Trump below.