British-accented Islamist extremists in Egypt were overheard by a British spy agency celebrating moments after the crash of a Russian passenger plane last week, sparking suspicions among intelligence experts that they may have played a role in the downing of the plane.
Britain's Sunday Express reported that those suspicions have raised concerns that British Islamists who have traveled to fight with the Islamic State group could use their terrorist training to threaten air travel in the U.K.
The Express reported that the British surveillance agency GCHQ picked up "chatter" from militant Islamist groups in Egypt - including those whose accents suggested they were raised in Britain - immediately after the plane crashed.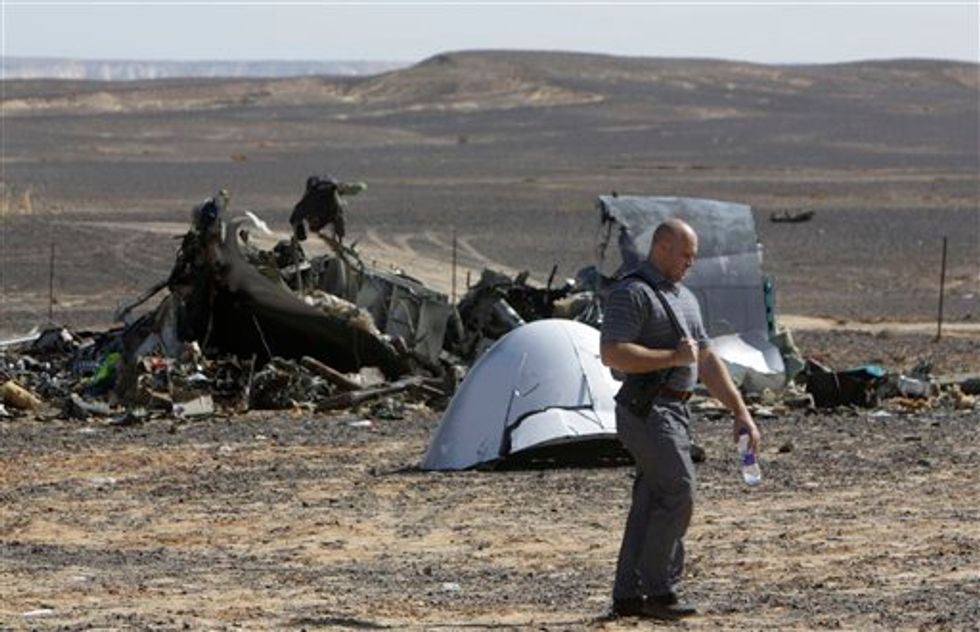 A Russian investigator walks near wreckage a day after a passenger jet bound for St. Petersburg, Russia, crashed in Hassana, Egypt, on Sunday, Nov. 1, 2015. (AP Photo/Amr Nabil)
The London and Birmingham accents suggested "a definite and strong link" between British extremists and the attack, an unnamed intelligence official told the paper.
"Jihadis in the Sinai area of Egypt could be heard celebrating," the unnamed source said. "There has also been some Internet traffic suggesting that there was British involvement in the attack. This was a very sophisticated, carefully planned operation involving many moving parts."
The intelligence official noted that Syrian-trained British militants have been fighting with an Islamic State affiliate in Egypt.
Their training has included bomb-building, the source said,
"They have been experimenting with different-sized charges and different types of explosives but there was nothing prior to this attack to suggest that they were going after airlines," the source added.
The head of the team investigating the air disaster said Saturday that a noise was heard in the last second of the cockpit voice recording, an assertion that bolstered U.S. and British suspicions that the plane was brought down by a bomb.
However, Ayman el-Muqadem, the Egyptian leading the international investigation committee, warned it was too early to say what caused the plane to apparently break up in mid-flight.
"All scenarios are being considered," he said. "It could be lithium batteries in the luggage of one of the passengers, it could be an explosion in the fuel tank, it could be fatigue in the body of the aircraft, it could be the explosion of something."
All 224 people onboard, most of them Russian tourists, were killed on the Oct. 31 flight from the Sinai resort town of Sharm el-Sheikh to St. Petersburg.