COLUMBIA, Mo. (TheBlaze/AP) -- The president of the University of Missouri system, Tim Wolfe, announced his resignation on Monday amid criticism of his handling of student complaints about racial incidents.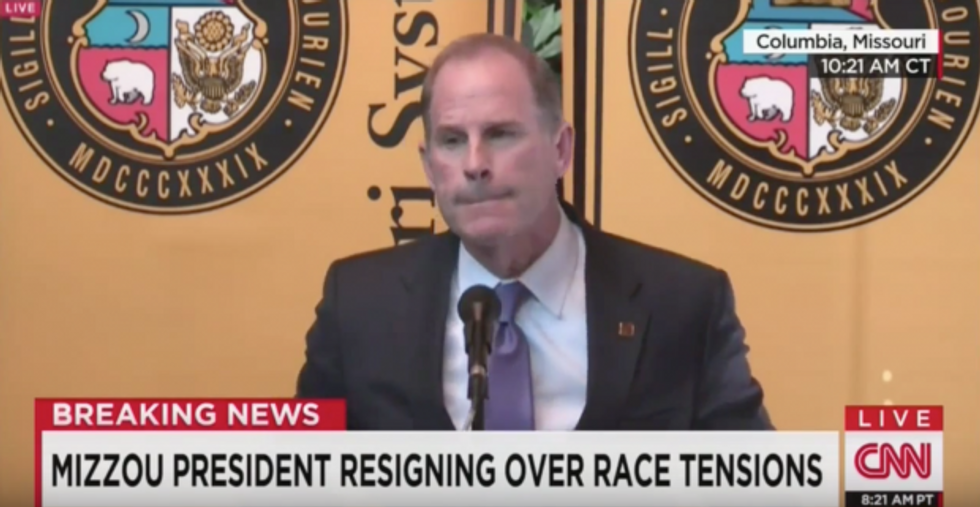 CNN
Wolfe said his resignation was effective immediately. He made the announcement at the start of what had been expected to be a lengthy closed-door meeting of the school's governing board. He largely pre-empted that session in a halting statement that the Associated Press described as "simultaneously apologetic, clumsy and defiant."
"This is not — I repeat — not the way change should come about," he said, alluding to recent protests. "Change comes from listening, learning, caring and conversation. And we have to respect each other enough to stop yelling at each other and start listening."
In his next line, though, Wolfe took "full responsibility" for the inaction following the racially charged incidents.
He urged students, faculty and staff to "use my resignation to heal and start talking again to make the changes necessary."
Watch Wolfe's statement below:
The race complaints came to a head over the weekend when at least 30 black football players announced they would not participate in team activities until Wolfe was gone.
For months, black student groups have complained of racial slurs and other slights on the overwhelmingly white flagship campus of the state's four-college system. Frustrations flared during a homecoming parade Oct. 10 when black protesters blocked Wolfe's car, and he did not get out and talk to them. They were removed by police.
(H/T: Mediaite)
---