Israeli Education Minister and Jewish Home Party Leader Naftali Bennett sat down over the weekend with DW's "Conflict Zone" host Tim Sebastian for what Glenn Beck described as "the most hostile interview I've ever seen."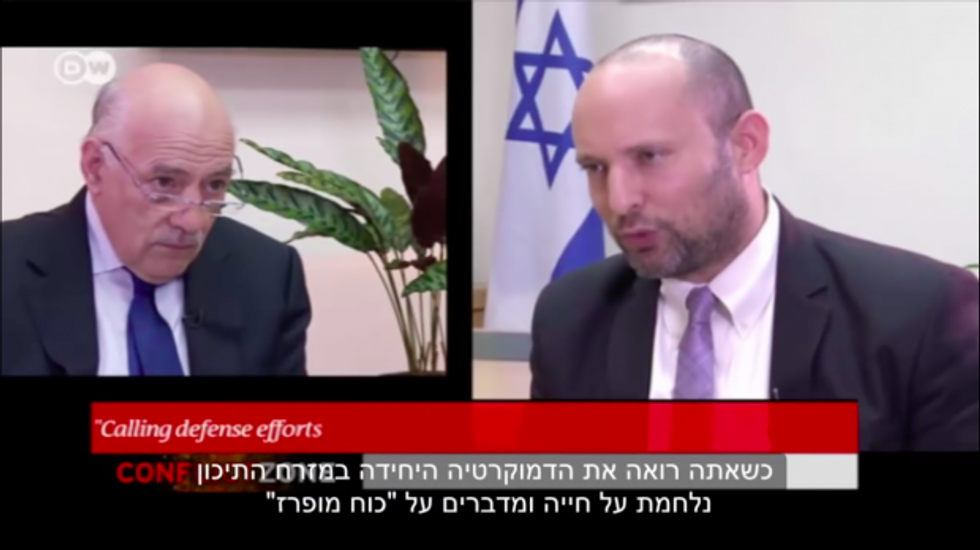 DW's "Conflict Zone" host Tim Sebastian, left, interviews Israeli Education Minister Naftali Bennett, right. (Image source: YouTube screenshot)
The interview, which lasted a little more than 25 minutes, was originally broadcast on Germany's DW station. Bennett echoed Beck's words on his own Facebook page, writing that it was the "most hostile against Israel I encountered before," telling Sebastian during the interview that he was using "wrong facts."
Bennett maintained a calm demeanor throughout the entire interview, which was filled with questions from Sebastian seemingly designed to provoke the education minister. Bennett said the conflicts in the Middle East will persevere until "the Muslim world accepts Israel's right to exist."
"What do you do when every centimeter of land you hand to the radical Islamists turns into a base of Iran and radical Islam?" Bennett asked Sebastian, speaking of the Gaza strip.
"We tried this," Bennett said. "In 2005, we did this big experiment in Gaza. We did all three things the international community wanted: We pulled back to the '67 lines, we pulled out all our soldiers and we expelled out 8,000 Jews from their houses — and what did we get in return?"
When pressed by Sebastian over Israel's "occupation," Bennett replied, "Jews have been living in Jerusalem way before British people were living in London."
Bennett said that "pockets of anti-semitism" are growing most in Europe and the EU, but Sebastian retorted vehemently, asking the education minister why he calls it "anti-semitism": "Why is it anti-semitism? Why isn't it just criticism?"
"When you see the only democracy in the Middle East fight for its life and defend itself, and then you talk about excessive force — that's a double standard," Bennett said in response.
Toward the end of the interview, Sebastian pushed Bennett, saying a Palestinian state doesn't have to be a "radical Islamic state."
"Well, it does," Bennett said of a Palestinian state. "In la-la land it's not, in reality it is."
In a Facebook post discussing the hostile interview, Beck wrote, "Every politician, conservative and defender of Israel should watch the bigotry on display but more importantly how this Minister Naftali Bennet handles this."
Watch the DW "Conflict Zone" interview:
—
Follow Tré Goins-Phillips (@tregp) on Twitter