University of Missouri protesters were caught on video harassing and bullying news reporters on Monday — and one of the "protesters" has been identified as a mass communications professor.
After the mob relentlessly intimidated student photojournalist Tim Tai and pushed him out of the area by "walking forward," another person continued filming inside the "safe space" on campus and was quickly confronted by communications professor Melissa Click.
"I'm media, can I talk to you?" the man behind the camera asked.
"No, you need to get out! You need to get out!" the professor shouted as she grabbed the camera.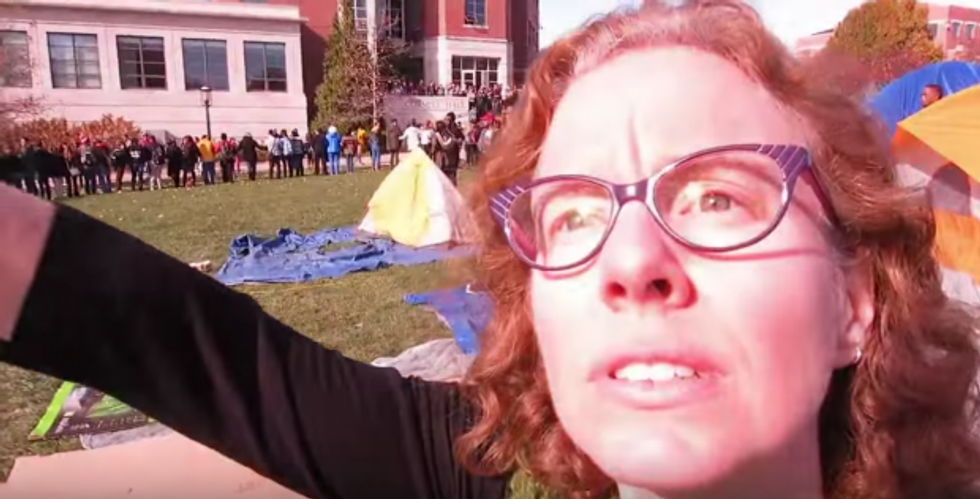 YouTube
When the man correctly noted that he was allowed to be there, the professor calls for "muscle."
"Hey, who wants to help me get this reporter out of here! I need some muscle over here," she said.
Again, she is a professor in the University of Missouri's Communications Department.
As reported by Mediate, Click's "current research projects" involve "50 Shades of Grey readers, the impact of social media in fans' relationship with Lady Gaga, masculinity and male fans, messages about class and food in reality television programming, and messages about work in children's television programs," according to her staff bio.
For the record, Tai, despite his treatment, later said he had no "ill will" towards the protesters and asked people to focus on "systemic racism" in higher education institutions instead.
I'm a little perturbed at being part of the story, so maybe let's focus some more reporting on systemic racism in higher ed institutions.

— Tim Tai (@nonorganical) November 10, 2015
Just want to reiterate that while I think we need to talk about the 1st Am issues from today, the larger story is not about that.

— Tim Tai (@nonorganical) November 10, 2015
---