University of Texas at Austin professors angry over recent Texas legislation that allows for concealed carry on public university campuses have met with attorneys and are considering a possible lawsuit.
According to the Houston Chronicle, anti-gun UT Austin professors, faculty members and students have retained the services of the National Lawyers Guild and are considering a possible lawsuit against the university in order to thwart the allowance of guns on campus. The group, dubbed Gun-Free UT, said it will "evaluate its legal options" once university President Greg Fenves issues his guidelines on campus carry, which are not expected until next year.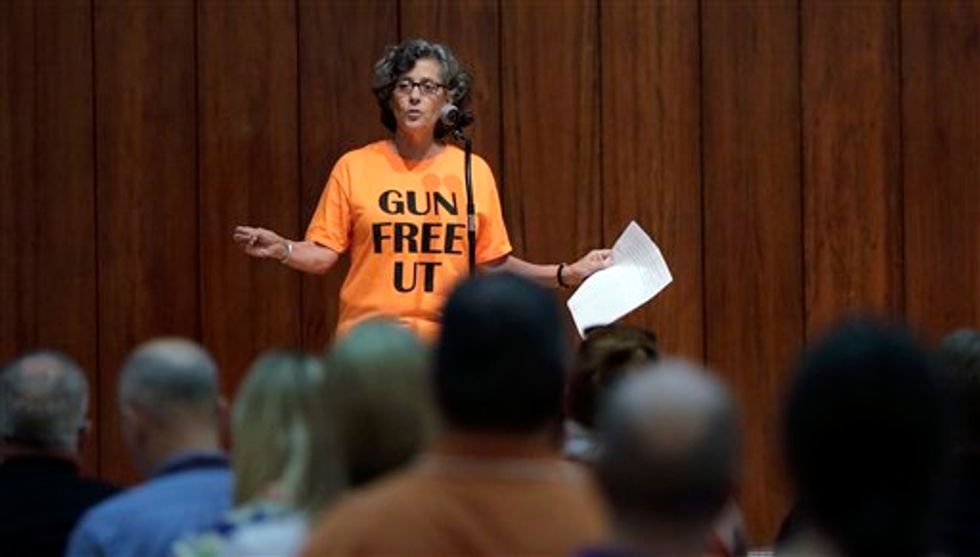 Professor Joan Neuberger speaks during a public forum at the University of Texas campus as a special committee studies how to implement a new law allowing students with concealed weapons permits to carry firearms into class and other campus buildings. The law takes effect in August 2016. (AP Photo/Eric Gay)
"We are also consulting with attorneys with the Campaign to Keep Guns off Campus who have expertise in fighting back against campus carry in other jurisdictions," Ellen Spiro, a professor in the Department of Radio, TV and Film and one of the group's leaders, told the Chronicle Monday.
Spiro declined to comment to TheBlaze Monday.
This isn't the first time that the group has said that they are considering a lawsuit. UT professor Joan Neuberger told the Houston Chronicle in October that a lawsuit was possible if the school didn't broadly ban guns in classrooms specifically.
"This lawsuit threat is clearly a Hail Mary from Gun-Free UT as they continue to ignore the law in Texas," Allison Peregory, chairman of UT's Young Conservatives of Texas chapter, told TheBlaze. "These professors ignore the facts and reality. While acting on their own ignorance, they throw a childish tantrum devoid of [concealed handgun licensing] statistics."
Antonia Okafor, the southwest regional director for Students for Concealed Carry slammed UT Austin's faculty for "trying to intimidate administration from making carefully thought-out decisions" about the implementation of the legislation that will allow for concealed carry on its campus.
"The thing is that other schools in the UT system, and other schools as well, look up to UT Austin," Okafor, who is also a graduate student at UT Dallas, told TheBlaze. "What they do influences what schools like mine decide to do."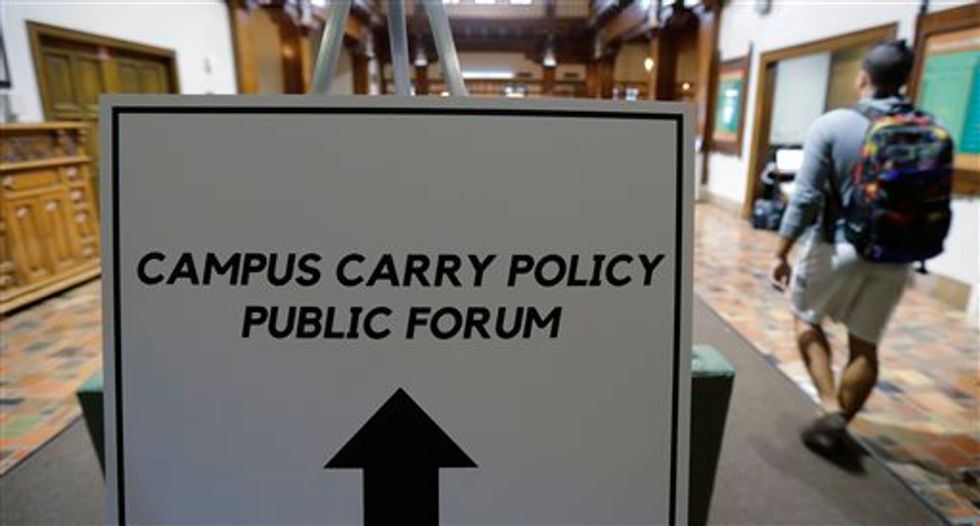 Students arrive a public forum on the University of Texas campus as a special committee studies how to implement a new law allowing students with concealed weapons permits to carry firearms into class and other campus buildings. (AP Photo/Eric Gay)
UT Austin has hosted a variety of forums regarding just how the legislation will be implemented in the 2016 school year as several activist groups — on both sides of the issue — have held multiple protests on campus. The Gun-Free UT group plans to hold another rally on campus Tuesday afternoon with music and speakers, including a student whose brother died in the Sandy Hook Elementary shooting in 2012.
Several UT Austin academic departments have also demanded the school not allow concealed carry on campus or at least in their specific classrooms and laboratories, such as the school's Department of Integrative Biology.
The African and African Diaspora Studies Department's faculty have also signed on to the Gun-Free UT group to demand that guns not be allowed on campus as it would place the school's black students "in a particularly vulnerable place."
The department's faculty wrote:
Moreover, African Americans are disproportionality affected by the saturation of our society by firearms. According to the Centers for Disease Control and Prevention the death rate due to gun violence for Blacks is more than twice that of whites.  Vigilante and extra-judicial killings of Black people, as well as the police-involved shootings that saturate our news coverage and our daily lives, point to the distinctly vulnerable position of Black people when it comes to firearm violence. Applied to our situation here at UT, in the presence of firearms the probability that bullets will find us is higher than for any other campus population. At the same time, racial bias functionally excludes Black people from accessing the rights afforded by campus carry legislation, as we would be more likely than our white counterparts to be perceived as actionable threats by fellow citizens and police officers alike.
"Therefore, we demand that firearms be banned in all spaces occupied by Black people on our campus," the faculty wrote.
The legislation, signed by Gov. Greg Abbott (R) in June, will not take effect until 2016. It gives public university presidents or chief executive officers the right to enable specific provisions on campus regarding concealed carry but does not allow for them to outright prohibit those with permits to carry on campus.
"The president or [other chief executive officer] may not establish provisions that generally prohibit or have the effect of generally prohibiting license holders from carrying concealed handguns on the campus of the institution," the law states. "The president or officer may amend the provisions as necessary for campus safety. The provisions take effect as determined by the president or officer unless subsequently amended by the board of regents or other governing board."
"We expect that everyone at our universities — including the professors who signed the petition — to follow the law," John Wittman, deputy press secretary for Abbott, told TheBlaze in October.
Multiple members of Gun-Free UT declined to comment to TheBlaze on the group's efforts.