Leaders in the House and Senate are expanding a probe into what the Obama administration is doing to prevent criminal illegal immigrants from offending again.
Lawmakers want to know if an MS-13 gang member in the country illegally, who last week allegedly attacked a Maryland sheriff's deputy, benefited from the administration's deferred action program. This comes after congressional leaders requested information in August about an illegal immigrant who was charged with murder in New Jersey.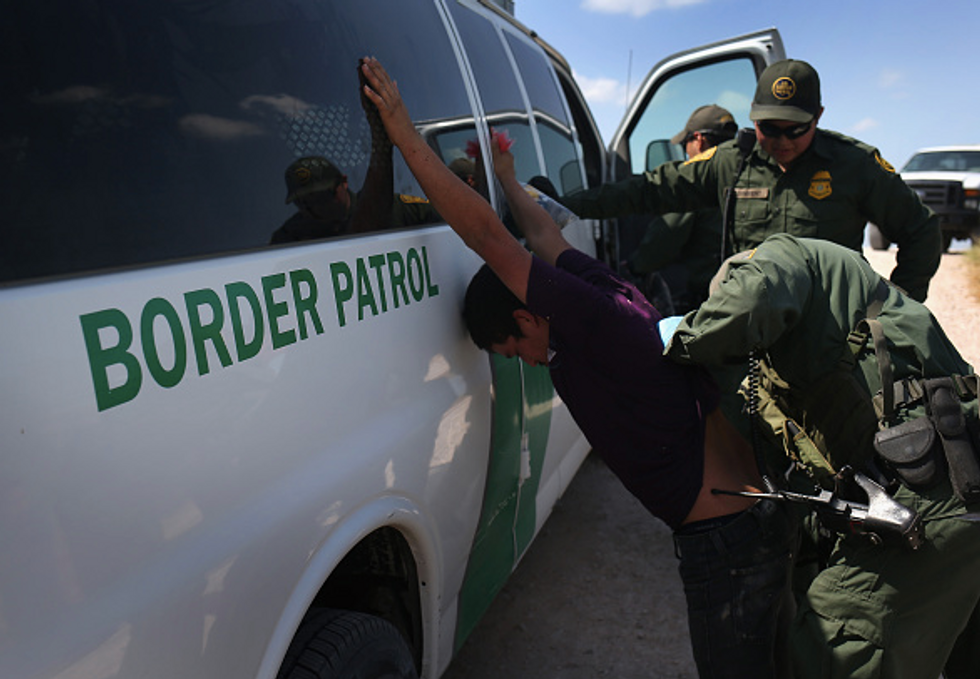 U.S. Border Patrol agents detain undocumented immigrants after they crossed the border from Mexico into the United States Aug. 7 in McAllen, Texas. The state's Rio Grande Valley corridor is the busiest illegal border crossing into the United States. (John Moore/Getty Images)
Even following the high-profile murder of Kate Steinle in San Francisco by an illegal immigrant, there have been several other cases of violent crimes by illegals, in most cases with prior arrests that didn't prompt their removal.
These cases demonstrate a much larger problem, said Ira Mehlman, spokesman for the Federation of Americans for Immigration Reform.
"Since the Kate Steinle murder, there has been a lot of discussion about sanctuary cities," Mehlman told TheBlaze. "But the biggest sanctuary of all is the DHS prioritization process. If local police arrest and it's not a sufficient priority for the federal government, [Immigration and Customs Enforcement] tells them to turn him loose."
Senate Judiciary Committee Chairman Charles Grassley (R-Iowa) and House Judiciary Committee Chairman Robert Goodlatte (R-Va.) sent a letter to Homeland Security Secretary Jeh Johnson Tuesday with specific questions about the case of Jose Misael Reyes-Reyes, charged with assaulting a deputy in Maryland.
"While the unprovoked attack on a law enforcement officer is extremely disturbing, what is more disturbing is the fact that a known criminal alien gang member was involved in this alleged crime," the lawmakers said in the letter to Johnson. "In order to better understand Reyes-Reyes' immigration and criminal history, we are seeking answers about his entry to and residency in the United States."
This inquiry also comes in the midst of a debate over "Kate's Law," named for Kate Steinle. The proposed law would require that any illegal immigrant who was deported and returns to the United States gets a mandatory five-year prison sentence upon conviction. Senate Democrats recently blocked a vote on the proposal.
The 18-year-old Reyes-Reyes allegedly assaulted Frederick County, Maryland, Deputy Sheriff Greg Morton last week.
Before this incident, Reyes-Reyes had been apprehended by U.S. Border Patrol but released by ICE on bond and was awaiting his removal hearing. The Sheriff's Office also said Reyes-Reyes was a member of the notoriously violent MS-13 gang.
Reyes-Reyes was previously arrested in June on charges of malicious destruction of property and in May on a charge related to carrying a concealed deadly weapon, according to the sheriff's office.
"Did Reyes-Reyes ever apply for any immigration benefits, including deferred action?" the lawmakers asked Johnson. "If so, was any application approved? Please provide copies of any applications that Reyes-Reyes may have submitted."
In August, Grassley and Goodlatte inquired about Juan Jimenez-Olivera, who pleaded guilty to murder, aggravated arson, desecrating human remains, theft, hindering apprehension and tampering with evidence in connection with the murder of Syiatlana Drank. The two chairmen told Johnson they wanted "to better understand how Mr. Jimeniz-Olivera evaded immigration authorities and removal from the country."
Illegal immigrants such as Reyes-Reyes and Jimenez-Olivera are free because of the very narrow definition of what is a serious crime, Mehlman said.
"This could expose the dangers of the deferred action program," Mehlman said.
Last year, when President Barack Obama announced his executive actions to shield about 5 million illegal immigrants from deportation, Johnson issued a memo ordering the DHS officials to limit arrests and deportation actions to illegal immigrants "engaged in or suspected of terrorism or espionage, or who otherwise pose a danger to national security" or "apprehended at the border or ports of entry while attempting to unlawfully enter the United States" and to "aliens convicted of an offense for which an element was active participation in a criminal street gang."
The stated goal of the deferred action program was to target criminals and not breaking up illegal immigrant  families, but these cases show the DHS is apparently "not doing a good job at flagging and removing criminals," Mehlman said.
Since Steinle was murdered, FAIR has pointed out at least 10 cases of illegal immigrants not deported for prior arrests returning to commit more serious crimes such as murder, child abuse and robbery.
Juan Emmanuel Razo, a Mexican national and illegal immigrant, was stopped by the Lake County, Ohio, Sheriff's Department July 7. The local authorities called the U.S Border Patrol, which took no action because Razo didn't meet the new criteria set forth by DHS. So Razo was released. Days later, after a shootout with police, Razo was arrested for allegedly going on a crime spree July 27 that included killing one person, attempting to rape a 14-year-old girl and shooting and wounding one woman.
In another case pointed out by FAIR, Victor Martinez Ramirez — a Mexican national with six prior arrests including a felony assault charge and drug possession — was arrested July 17 in Santa Maria, California, on possession of a concealed weapon and drug paraphernalia. After his July 24 release, Ramirez allegedly broke into the home of 64-year-old U.S. Air Force veteran Marilyn Pharis, sexually assaulted her and killed her with a hammer.
Complaining about public policies, Santa Maria Police Chief Ralph Martin said: "I think it starts in Washington, D.C., with this administration that we see and their policies. I think you can draw a direct line over to Sacramento with the policies of, I'm going to say, this governor and the legislature. And I am not remiss to say that from Washington, D.C., to Sacramento, there's a blood trail into the bedroom of Marilyn Pharis."