University of Missouri students are reportedly encouraging one another to start arming themselves with "non-lethal weapons" in order to protect their "safe places" on campus.
According to a message obtained by the Young America's Foundation that is being circulated among Mizzou students, black students and their "closest allies" plan to "occupy" the Gaines/Oldham Black Culture Center to hold a study hall in what has been deemed their "safe place."
"Have pepper spray, taser, whatever non lethal weapon if possible," the message, which students are encouraged to pass along through non-public platforms, states. "Help protect our safe place and spread the word so blacks can be protected."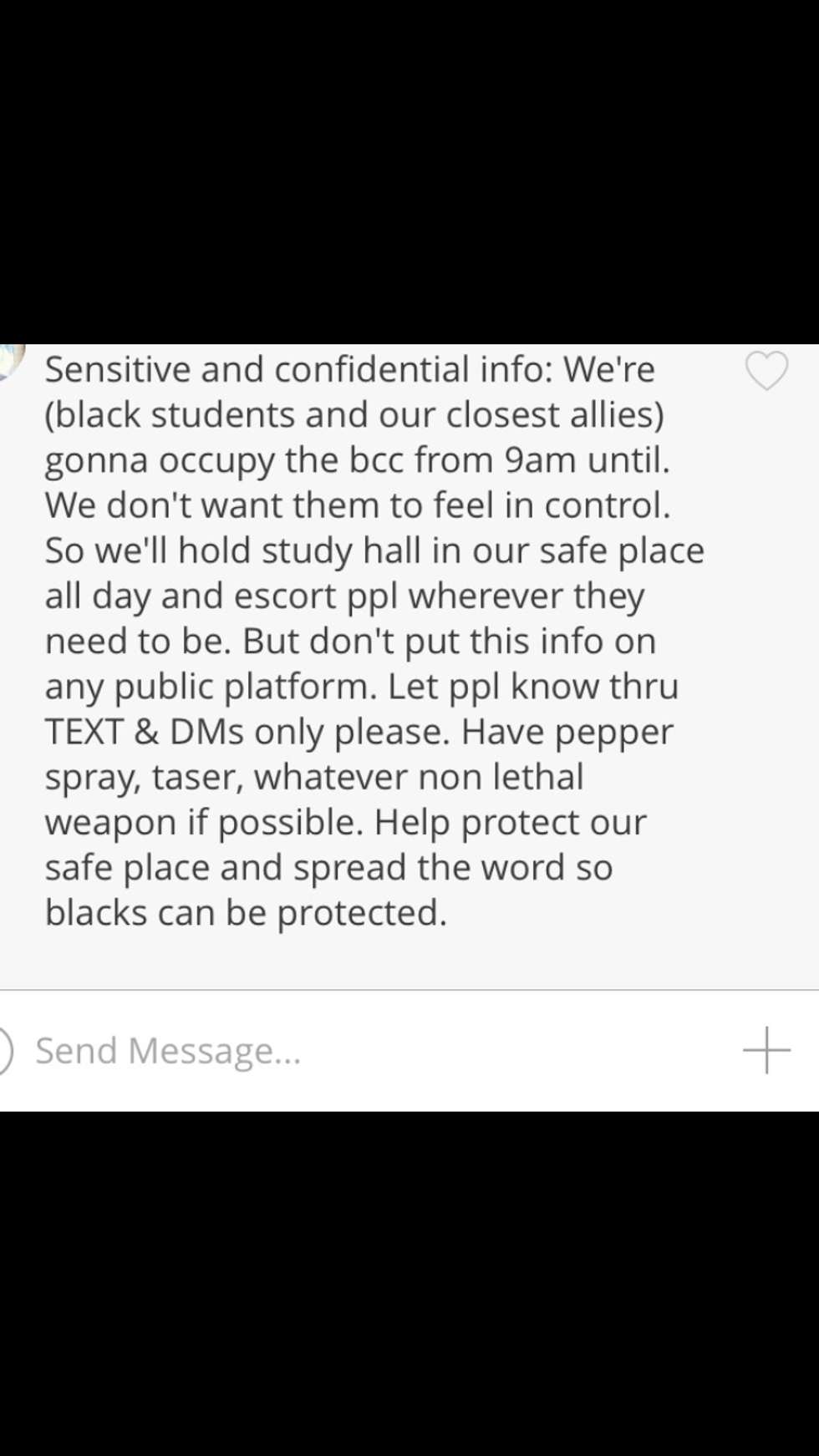 Screen grab courtesy of the Young America's Foundation
"What this is doing is creating a bunch of hysteria on campus," a black Mizzou student in a campus leadership position, who wished to remain anonymous, told TheBlaze Wednesday afternoon. "Students are already scared and antsy on campus."
Students and supporters on social media have also called for black students to arm themselves while on campus.
I hope the students at #Mizzou are safe I seen threats posted, protect and arm yourselves ! Don't run in fear because they are in plain view

— Dani (@thegiftedmuse) November 11, 2015
Students at Mizzou need to arm themselves if possible.

— Grizzito Bolivar (@ItsMeGrizz) November 11, 2015
Is mizzou a gun free zone? If not, then black students need to legally arm themselves. Its YOUR 2nd Amendment too. #PrayForMizzou

— Augustus Caeser (@Caese_Rulez) November 11, 2015
Arm yourselves black students #Mizzou https://t.co/CtDp1vwD5x

— Favorite (@InFamousFav) November 11, 2015
So if any Mizzou students follow me don't let these threats scare you but don't be careless. If you're gonna be on campus arm yourself

— Concrete (@Slick_Conseco) November 11, 2015
Arm up MIZZOU black students the cops or the university is not going to help you.

— Alex Mitchell Esq. (@CaptainRamshack) November 11, 2015
Black #Mizzou students should not be in fear of their lives!! We must arm ourselves. We have to start defending ourselves.

— Madame Afro Goddess (@colegirl_) November 11, 2015
@Mizzou black students please arm yourselves. Guns are your American right to possess.

— Brother Mouzone (@the5ivestrikes) November 11, 2015
The campus has been embroiled in racial tensions of late after a group of faculty and students — including black members of the school's football team — demanded the resignation of the university's president over the way he handled racial issues on campus. President Tim Wolfe resigned Monday.
A Mizzou journalism professor recently came under fire — and subsequently apologized — after a video of her attempting to bully a student reporter out of one of the so-called "safe spaces" on the public university's campus went viral.
Mizzou's student body president Payton Head also had to apologize after he published a Facebook status that claimed he was working with campus police, state troopers and the National Guard as the Ku Klux Klan had been spotted on campus. Head eventually deleted the status and posted a new one in which he apologized for spreading the "misinformation" he had received from "multiple incorrect sources."
On Wednesday, police said they arrested a 19-year-old white teenager who is suspected of posting online threats to black students and faculty members on social media. The student, who goes to a sister campus, has not been formally charged.
(H/T: Young America's Foundation)