More than a year after the scandal with the Department of Veterans Affairs erupted, President Barack Obama told a gathering of veterans who served in conflicts going back to World War II through Iraq and Afghanistan that improvements were made.
During a Veterans Dayt speech at Arlington National Cemetery Wednesday, the president said that, despite the positive steps, more needs to be done.
"My message to every single veteran, to veterans all across this country, is that I am still not satisfied and [VA Secretary] Bob McDonald is still not satisfied, and we are going to keep investing in the facilities and the physicians and the staff to make sure that our veterans get they care that they need when you need it," Obama said. "That is our obligation, and we are not going to let up."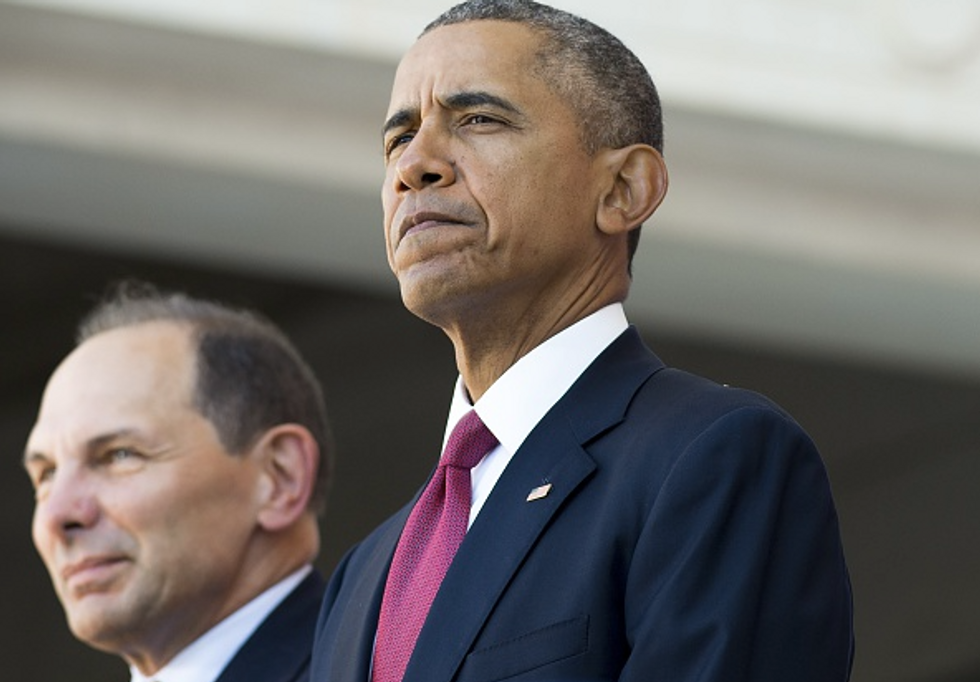 President Barack Obama stands alongside Secretary of Veterans Affairs Bob McDonald, left, during a ceremony in honor of Veterans Day at Arlington National Cemetery in Arlington, Virginia, Nov. 11, 2015. (Saul Loeb/AFP/Getty Images)
McDonald took over as secretary of Veterans Affairs after the waitlist scandal forced Eric Shinseki to resign the post in May 2014. The extreme wait times were first found to be taking place at a VA hospital in Phoenix, but over the last several months, whistleblowers continued coming forward about veterans who were denied care at VA medical centers across the country.
The scandal has even entered the presidential race after leading Democratic candidate Hillary Clinton was accused of making light of the scandal.
Obama said that Veterans Day is not only about showing gratitude to veterans for defending the country, but also for Americans to realize they have a duty to veterans.
"Our tributes today will ring hollow if we do not ensure that our veterans receive the care that you have earned and that you deserve," Obama said.
On the upside, Obama asserted, "We're reducing the outrage of veteran homelessness and helped tens of thousands get off the streets."
Obama brought this up as the state of Virginia, the city of Las Vegas and two cities in the state of New York announced their number homeless veterans has been reduced to zero.
Further, the president said that more veterans are working because companies are hiring them not out of patriotism or charity but because they desire good employees.
"Today, the veterans' unemployment rate is down to 3.9 percent, even lower than the national average," Obama said. "If you want to get the job done, hire a vet."