After watching Republican presidential contender Donald Trump's recent appearance on "Saturday Night Live," Mashable assistant news editor Marcus Gilmer decided to read one book on every U.S. president between now and election day 2016, which equates to 44 books in 52 weeks.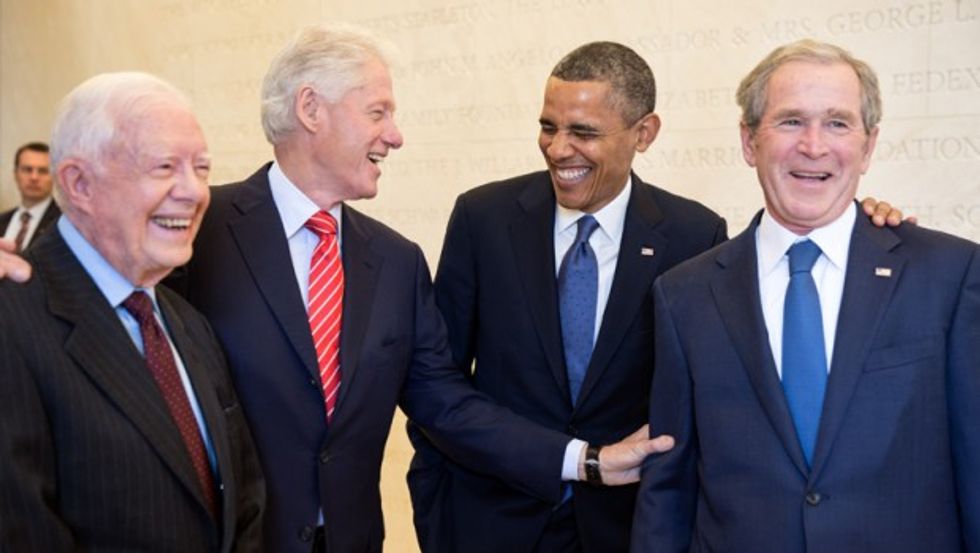 From left to right: Presidents Jimmy Carter, Bill Clinton, Barack Obama and George W. Bush (Image source: WhiteHouse.gov)
"This all happened to bounce around in my brain when Trump hosted 'SNL,' which fell on Nov. 7," Gilmer told TheBlaze in an email. "The next day, Nov. 8, was one year  'til the election, so the timing felt like a good hook to push myself to do it."
Gilmer, a self-described "amateur history buff," said history books make up a big chunk of his personal library and that this challenge gives him the motivation he needs to get through some of the books currently collecting dust on his shelves.
The inspiration behind Gilmer's unique undertaking: the current presidential election cycle.
"The ongoing election season coverage has been so surreal, I feel like I needed to ground myself again in something that could give me a wider perspective," Gilmer said.
In order to track his progress, Gilmer has launched a Twitter handle, @44in52, dedicated to journaling his progress and will also be using the social media account to take reading recommendations.
I'm reading (or audiobooking) one book on each president, new to me (no "Team Of Rivals," for instance), in chronological order. Hi! #44in52

— 44 in 52 (@44in52) November 9, 2015
Gilmer told TheBlaze that he is researching each book and reading lists and reviews in order to find the best book recommendations to safeguard against bias as much as possible. He says the majority of the books he reads will be penned by well-known and well-vetted authors. Additionally, Gilmer has determined memoirs to be off-limits in an effort to eschew bias.
"I hope to learn a lot about past presidents, particularly the ones we so often overlook," Gilmer said. "And I think the approach of reading about one president right after the other will help keep each one fresh in my mind and give me a better understanding of the context of where each stands in history, of how each was influenced by who came before him, the evolution of the role."
Though Gilmer said he doesn't anticipate this endeavor will sway how he votes in 2016 — barring any kind of "Ah-ha! moment" — he says he is interested in seeing if the "bigger picture approach" alters his opinion of previous presidents.
With 44 president and 52 weeks, Gilmer has slated roughly a week for each presidential profile. On a typical day, Gilmer says he listens to audiobooks on his commute to and from work and spends some time reading before bed each night. In order to meet his deadline, though, he will have to pick up a few extra hours worth of reading.
Gilmer says he will read during any free time, whenever he's walking around, walking the dog, visiting the gym and during his commute to and from work, through audiobooks, of course. He hopes to average around eight days per book with the shorter profiles taking three or four days.
"All this also means maybe a little less time talking with my wife, but she's probably totally OK with that," Gilmer said.
—
Follow Tré Goins-Phillips (@tregp) on Twitter