A city meeting in Grand Rapids, Michigan, came to an abrupt end Tuesday, after a small group of union protesters laid down in front of commissioners and began chanting.
"Show me what democracy looks like," a woman led in the chant.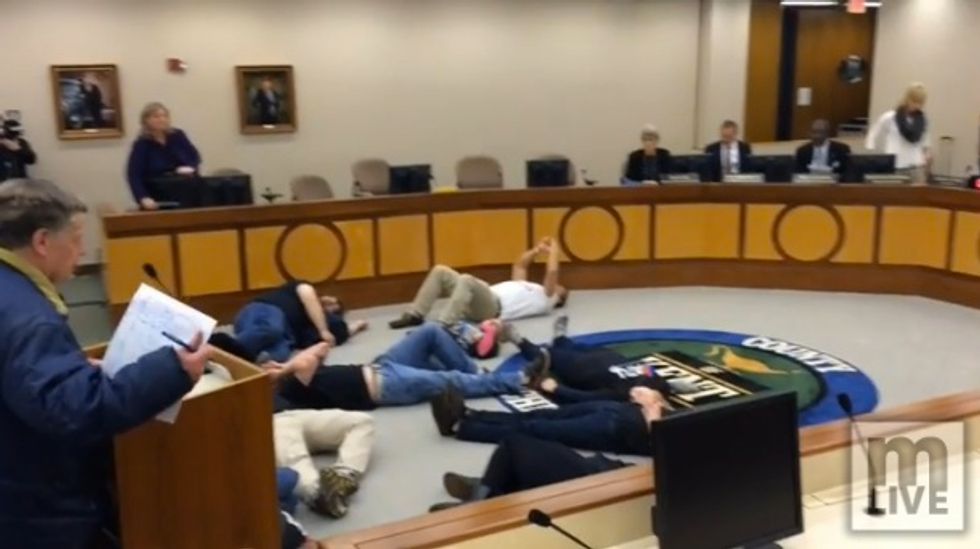 Image source: MLive/video
"This is what democracy looks like," the others followed, later adding in the words "Get up, get down, Grand Rapids is a union town."
Watch the footage:
The protest involved members of the Local 836 chapter of the Amalgamated Transit Union, which the Grand Rapids Press reported is currently in contentious talks to renew an expired contract with the local transit system:
A labor contract between The Rapid and the union has expired, and talks are at a stalemate over employee retirement funds. The transit agency, which has an operating tax that expires in 2017, wants to scrap the defined-benefit pension with a guaranteed payout, and has proposed putting 5 percent of employee pay into a retirement account that shifts the risk and reward of investment returns to the employee.

The union wants The Rapid to put more money into the current pension, which currently is projected to fall $2.7 million short of meeting future payouts, and also claims employees are willing to start putting money into the system.
The union's Facebook page stated that this is "what a strong union looks like" and bus driver Pete Ricketson told the Press that, while unfortunate, sometimes "civil disobedience is necessary." Commissioner Senita Lenear spoke out against the move though:
"It's extremely important for public meetings to have order," Lenear said by phone after commissioners and a crowd – including several Boy Scouts – slowly left the meeting room. "There was absolutely no order.

"When people are behaving out of order and you're not able to engage with them civilly, it's a very difficult moment. The best thing to do is end things abruptly before they escalate.

"I'm very disappointed that this (protest) was the example that was set for the Boy Scouts."
In August, the union started a petition calling for bus drivers in the city to be afforded a contract that would allow them "decent living, safe working conditions and the chance to retire with dignity," Ron Bieber, president of the Michigan AFL-CIO, said in a statement.
As the Press pointed out, Democratic presidential candidate Bernie Sanders weighed in on the issue as well last month. Sen. Sanders (D-Vt.) wrote a letter of support for the Grand Rapids AFL chapter in October, saying that "real change never occurs unless ordinary people stand up and fight back!"