For many, passing "love notes" in elementary school is somewhat of a staple of the early years of grade school, but for one 9-year-old fourth-grader in Tampa, Florida, it could mean sexual harassment.
The boy, who has not been identified, penned a few notes to a young girl in his class, writing that he liked her hair, how her eyes "sparkled like diamonds" and that he finds her "funny and cute," according to the note published on WPTV.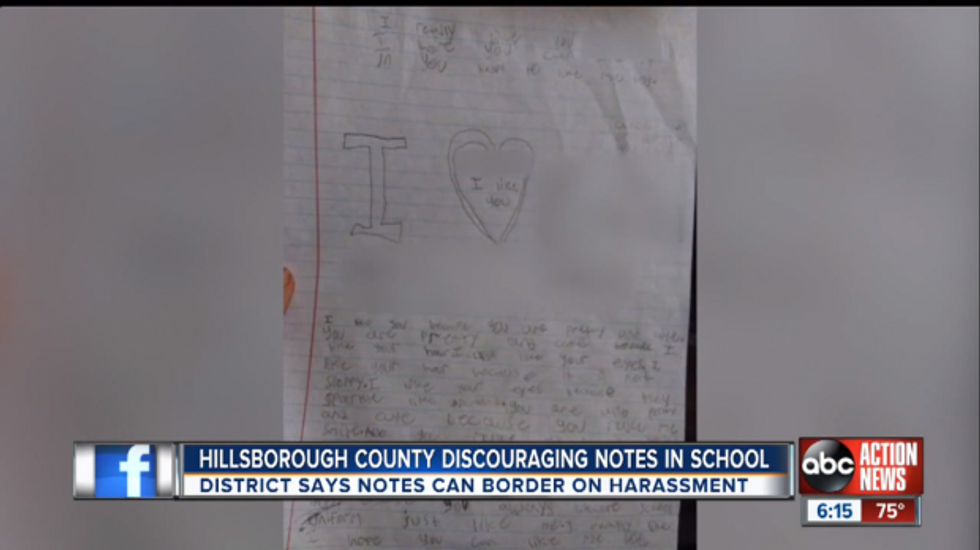 One Florida fourth-grader's note to his crush. (Image source: WPTV.com)
The sexual harassment allegations came when fellow classmates learned of the boy's notes, and started teasing him and saying that he wanted to see his crush naked.
"He's 9," the boy's mother, who spoke on condition of anonymity, said. "What little kid doesn't write love notes?"
According to the mother, the school's principal told her that it was not "appropriate" for the little boy to be writing love notes and that if it happened again the school would file sexual harassment charges against the child.
Valerie McClain, a Tampa psychologist the Florida news site contacted, said that the notes do not constitute harassment and that simply talking to the fourth-grader about the situation would be appropriate.
"It may be something he thought was very sweet and innocent," McClain said. "What needs to happen is education needs to be provided about how to relate to this young girl or how to stay away from talking to her, if that's the goal."
McClain told WPTV it is important for parents to discuss boundaries with their children.
"My 9-year-old doesn't even know what sexual harassment means," the boy's mother said. However, the school insisted the boy wrote more than one note, which they say "borders on harassment."
Moving forward, the school has determined to discourage any student from passing notes because it can cause classroom disruptions much like this one.
(H/T: EAGNews)
—
Follow Tré Goins-Phillips (@tregp) on Twitter