Hillary Clinton recently retold a story about how she supposedly tried to join the U.S. Marines in the 1970s, but was turned down because of her gender. She claims the Marine recruiter gave her fake reasons for why she couldn't enlist.
[caption id="attachment_1029944" align="aligncenter" width="620"]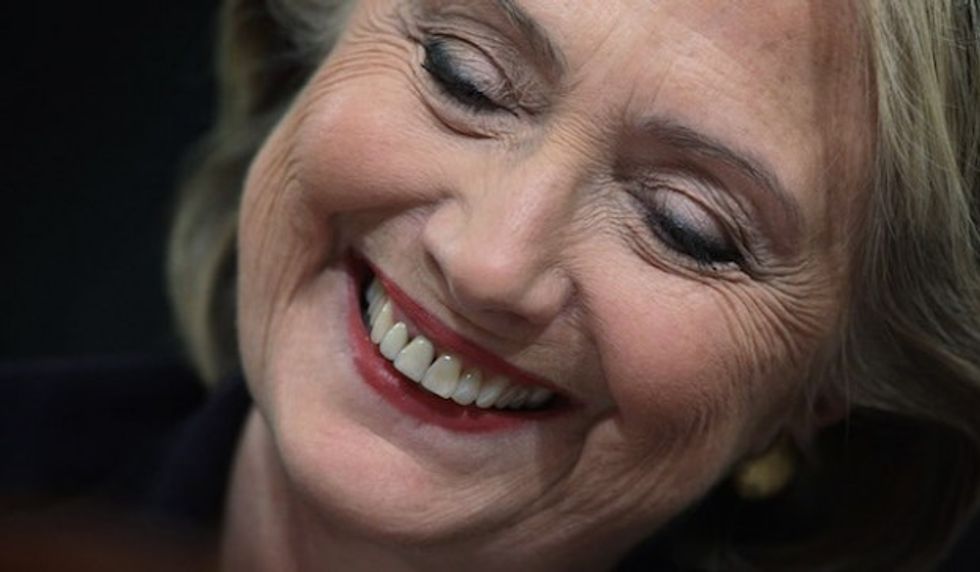 (Photo by Alex Wong/Getty Images)
[/caption
CNN's senior Washington correspondent Jeff Zeleny expressed strong skepticism about the story on Thursday, but said the Clinton campaign is now refusing to provide any additional details about the claim.
"We do not have enough specifics actually to actually know if it's true or not," Zeleny said. "She didn't give any other explanation."
Zeleny said he requested more information from the Clinton campaign because "it seems so unusual that a Yale-educated lawyer who worked on the anti-war campaigns of McCarthy and McGovern, who had just moved to Arkansas, whose husband was about to become the Attorney General of the state would decide to want to join the Marines."
However, he got no response other than a statement indicating the campaign is "not going to add any more comment on this."
Hillary Clinton revives story of trying to join the Marines: https://t.co/IBXeL71o2R @jeffzeleny explains more. https://t.co/LimEEwv4iZ

— New Day (@NewDay) November 12, 2015
The Washington Post gave the story "Two Pinocchios," mostly because the story can't really be confirmed or disputed due to the lack of details. More from the fact check:
So far, we do not have enough documentary proof to say the incident never happened, such as supposedly landing under sniper fire in Bosnia or getting the date wrong for hearing a speech by Martin Luther King Jr. This is simply a personal recollection — one that at least two friends have confirmed they had been told about at the time.

But the circumstances are in question. She pitches it as a matter of public service, but her friends suggest it was something different. So at this point Clinton's story is worthy of Two Pinocchios, subject to change if more information becomes available.
CNN recently launched an investigation into whether GOP presidential candidate Ben Carson lied about past violent incidents that occurred when he was a young boy. The network even dispatched reporters to talk to his old classmates.
---