A report commissioned by the U.S. Department of Justice and released earlier this year found that there are an estimated 23-27 honor killings annually in America, though the numbers are not "completely reliable" due to a variety of challenges, according to a Fox News report.
The document, titled, "Report on Exploratory Study into Honor Violence Measurement Methods," was commissioned by Westat, a research group.
It found that there are essentially four types of honor violence that are frequently discussed and perpetuated: "forced marriage, honor-based domestic violence, honor killing, and female genital mutilation."
The report also detailed that the vast majority of victims in North America — 91 percent — are believed to be killed for being "too Westernized," Fox News reported.
Muzzammil Hassan appears during opening statements during his trial in Buffalo, N.Y., Tuesday, Jan. 18, 2011. Hassan is accused of stabbing and decapitating Aasiya Hassan in 2009 inside the studios of Bridges TV. The Pakistan-born couple founded the station to counter negative images of Muslims after 9/11. (AP Photo/David Duprey)
Here's how researchers define honor violence: "a mechanism to maintain or regain a family's honor by punishing or eliminating girls and women whose actions invite rumors of sexual impropriety or disobedience. Boys and men may also be victims of honor violence if they violate sexual norms or defy patriarchal authority."
Westat noted in the report that there is no reliable data regarding honor violence in America, though the phenomenon does appear to be rare. One reason that information is difficult to discern is the fact that honor violence is generally not spoken about by families in which it occurs.
"Information about honor violence is held tightly within families. Victims or potential victims may not report victimization because of concern about an extremely negative family response," the report read. "Moreover, victims may not report information because in their home cultures what has happened is not viewed as a crime."
Relying upon the data that is out there, the Westat report noted that honor killings have seemingly increased significantly between 1989 and 2009, though there are questions as to whether these increases are due to increased incidents or merely increased reporting of incidents.
As of the year 2000, the assumption based on available statistics was that there were about 5,000 honor killings across the globe each year. Based on a number of metrics, the research group was able to arrive at the 23-27 U.S. estimate, though it is not "completely reliable."
"Using a method that applies U.S. demographic characteristics to another country's honor violence statistics, researchers estimate that between 23 and 27 honor killings occur annually in the United States (Curtis et al., unpublished)," the report reads. "In comparison, Curtis et al., report an average of 13 honor killings per year in The Netherlands and 10-12 honor killings per year in the United Kingdom."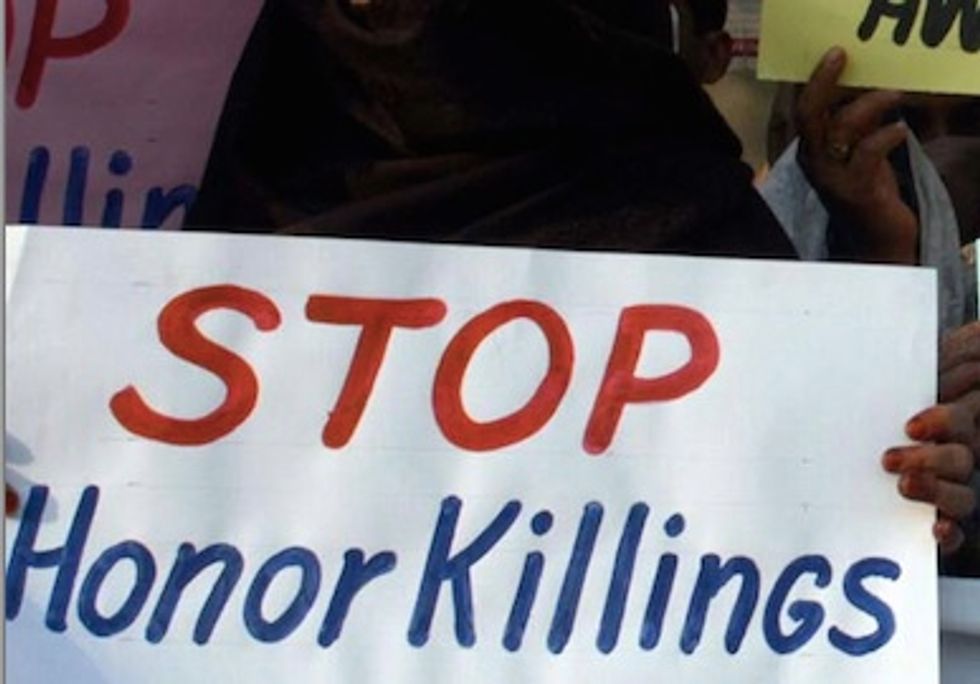 AP Photo/Khalid Tanveer
The text continued, "About 3,000 forced marriages have been estimated to take place over a 2-year period in the United States, or 1,500 per year, based on data collected from a non-random survey of social service organizations (Tahirih, 2011)."
While the vast majority of honor violence victims are women, some men who are gay or who reject arranged marriages could also fall victim, Stephanie Baric, executive director of the AHA Foundation, a group that fights honor violence, told Fox News.
Baric said that some people might also be pressured to commit suicide as well.
"Typically seen in the form of physical or emotional abuse, rape or kidnapping, honor violence also includes harmful practices such as female genital mutilation (FGM) and forced marriage. In extreme cases, murder," Baric said.
The Fox News report went on to cite a number of cases in the U.S. in which honor violence was suspected, including the case of Aiya Altameemi, who was allegedly beaten by family members in 2012 after refusing to marry an older man.
There was also the 2009 case in which Muzzammil Hassan, a Muslim TV executive, beheaded his wife in Buffalo, New York, after she allegedly requested a divorce.
Read the Fox News report here and see the "Report on Exploratory Study into Honor Violence Measurement Methods" here.
(H/T: Fox News)
--
Follow the author of this story on Twitter and Facebook: