The idea of TVs or cable providers "spying" through devices in the name of improving advertising and targeted content is nothing new, but what is new is a report into just how deep the data mining of one popular smart TV seems to go.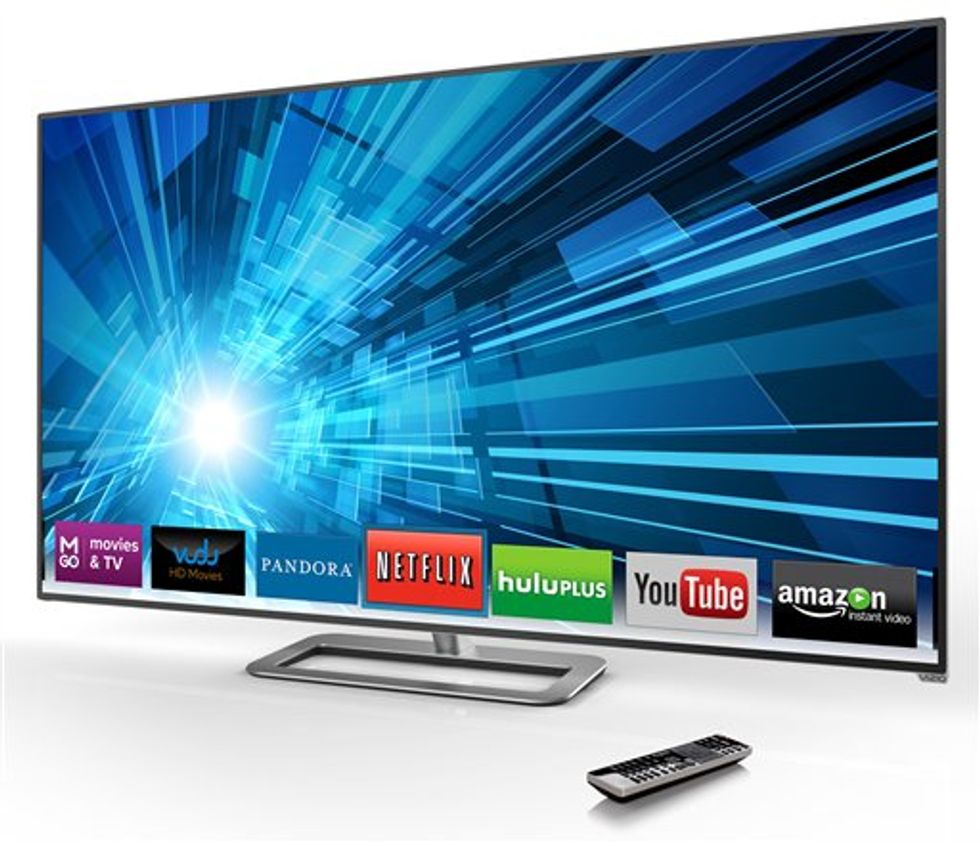 A ProPublica report calls attention to a tracking setting, on by default, in Vizio Smart TV's, which raises privacy concerns among some people. (PRNewsFoto/VIZIO, Inc.)
According to a report by ProPublica, Vizio's Smart TV has a feature called "Smart Interactivity," which is, by default, automatically turned on in the device, allowing it to track viewers online and offline watching habits. This information is then shared with advertisers who can then, according to ProPublica, find users on other devices like their phones.
Here's how:
Vizio's technology works by analyzing snippets of the shows you're watching, whether on traditional television or streaming Internet services such as Netflix. Vizio determines the date, time, channel of programs — as well as whether you watched them live or recorded. The viewing patterns are then connected your IP address - the Internet address that can be used to identify every device in a home, from your TV to a phone.

IP addresses can increasingly be linked to individuals. Data broker Experian, for instance, offers a "data enrichment" service that provide "hundreds of attributes" such as age, profession and "wealth indicators" tied to a particular IP address.

Vizio recently updated its privacy policy to say it has begun providing data about customers' viewing habits to companies that "may combine this information with other information about devices associated with that IP address." The company does not promise to encrypt IP addresses before sharing them.
Vizio in a statement to ProPublica said "non-personal identifiable information may be shared with select partners … to permit these companies to make, for example, better-informed decisions regarding content production, programming and advertising."
In an email to the Washington Post, Vizio's spokesperson elaborated further, calling the data collection a "revolutionary shift across all screens that brings measurability, relevancy and personalization to the consumer like never before." This spokesperson told the Post ProPublica's story "reflects a filtered opinion of our recently updated VIZIO Privacy Policy."
Still, one can see how the feature could make customers uneasy. ProPublica pointed out that an October filing by the company with the federal Securities Exchange Commission said its program "provides highly specific viewing behavior data on a massive scale with great accuracy."
Vizio is not alone in its data collecting abilities. In fact, Consumer Reports earlier this year detailed how consumers could turn off or opt-out of not only Vizio's tracking program, as well as those in LG and Samsung smart TVs.
—
Front page image via Shutterstock.