A Philadelphia private school has been in full apology mode after a history teacher — who is also dean of student life — wore a noose around his neck as a costume prop at a campus Halloween parade, the Philadelphia Daily News reported.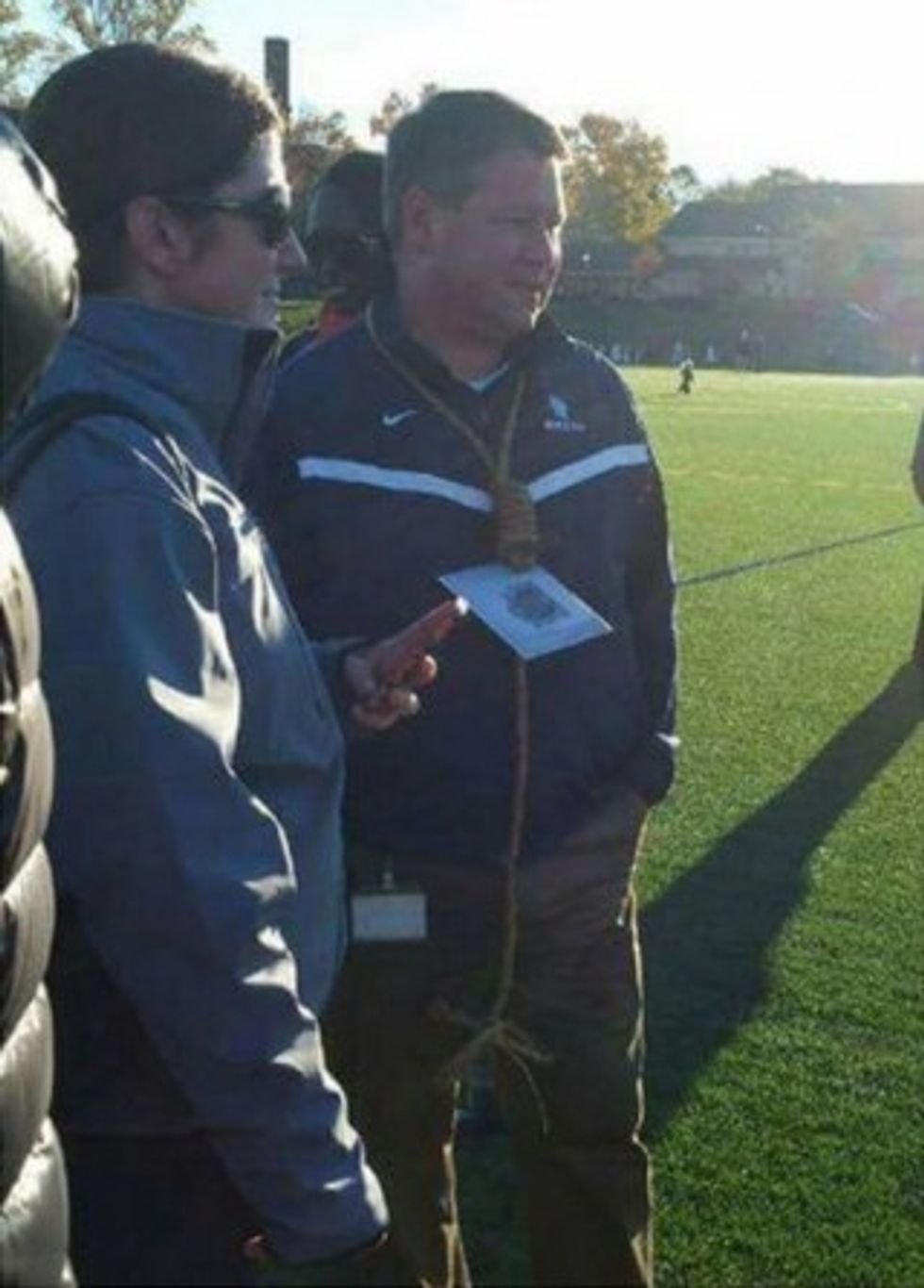 Image source: Instagram
Springside Chestnut Hill Academy met with parents about the "inappropriate" costume earlier this week and said it was sorry for the "regrettable incident due to a teacher's poor choice," Caroline Colantuno, the school's senior director of marketing and communications, noted in a statement.
Further, the statement read: "In advance of the Halloween parade, guidelines were circulated to community members about the importance of thinking ahead about appropriate choices for costumes, and how to anticipate the possibility of misinterpretation or offensive images."
But here's the rub: Turns out the teacher — identified as Jay Pearcy by Philadelphia Magazine — reportedly joined other faculty who went as characters from the board game "Clue."
Pearcy, parents told the magazine, was Colonel Mustard.
As you can probably tell from the photo, Pearcy didn't exactly go all out with his costume — wearing what the magazine said looked like a Clue game card at the end of the noose. And while a rope is one of six weapons the game uses, Clue Master Detective replacement pieces include nooses.
Still a parent — who requested anonymity so her child wouldn't be identified — told the Daily News she was "absolutely" offended by prop. "It calls to mind issues of lynching and suicide," the parent told the paper.
More from the Daily News:
At a meeting last night at Enon Tabernacle Baptist Church, near Cheltenham Mall, the Rev. Alyn E. Waller called the incident disturbing because of the racial implications of lynching and also because of concerns for teenagers and suicide.

He also said it was a time to think of redemption, even for the teacher, for whom the controversy may be "a teachable moment."
"When the students saw it, they got upset," one mother told the magazine. "There was a pretty emotional assembly on Friday. It obviously wasn't malicious, but he's a history teacher. How could he not understand that this would be upsetting?"
She added that a positive about the school is that it's "very progressive" and that "[i]f the kids are upset, we have to address it."
"That doesn't necessarily mean ruining his life and firing him because he made a mistake, but we need to open a dialogue," the mother told the magazine. "I do think that [political correctness] has blown up, but we do have to be sensitive to the needs of people in a diverse community and learn from them if we are going to live in and celebrate that we live in a diverse community."
The school wouldn't disclose to the magazine if any disciplinary action against the teacher has or will occur, and Pearcy didn't respond to the publication's request for comment.
—
Follow Dave Urbanski (@DaveVUrbanski) on Twitter