Presidential hopeful Sen. Ted Cruz (R-Texas) said in a speech at the Republican Party of Florida's Sunshine Summit Friday that, if he were elected and re-elected president, by the end of his eight years in office journalists would "check themselves into therapy."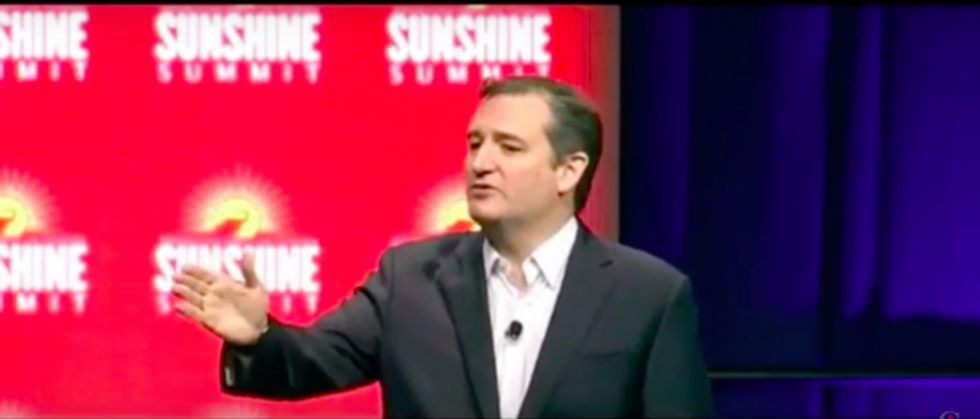 Texas Republican Sen. Ted Cruz speaks at the Republican Party of Florida's Sunshine Summit Nov. 13. (Image source: YouTube)
"There are 365 days in a year, four years in a presidential term, and four years in a second term," Cruz told the audience. "By the end of eight years, there are going to be a whole lot of reporters and newspaper editors and journalists that have checked themselves into therapy."
Cruz's comments came after he described to the audience all that he would do on day one of his presidency.
The Texas senator vowed to rescind every "illegal" and "unconstitutional" executive order put in place by President Barack Obama, open an investigation into Planned Parenthood over the videos leaked this summer, instruct every department of government to end the "persecution of Christian liberty," repeal the "catastrophic" Iranian nuclear deal and move the U.S. Israeli embassy to Jerusalem, the country's "eternal capital."
"The single biggest difference between me and the other very, very fine men and women standing at the debate stage, is that — with me — when I tell you I'm going to do something, I'm going to do exactly what I said I would do," Cruz said. "That's day one."
In his following comments, Cruz said that he would repeal the Affordable Care Act and replace it with "commonsense" reform that keeps "government from getting between us and our doctors." In addition, he said he will instruct the Department of Education that "Common Core ends today."
Cruz went on to list the myriad actions he would take in the first days of his presidency, should be be elected.
Watch the senator's entire speech below:
—
Follow Tré Goins-Phillips (@tregp) on Twitter