During a news conference in Turkey following the G-20 summit there, President Barack Obama said the strategy against the Islamic State is working, but added that the Friday terrorist attack was a "terrible, sickening setback."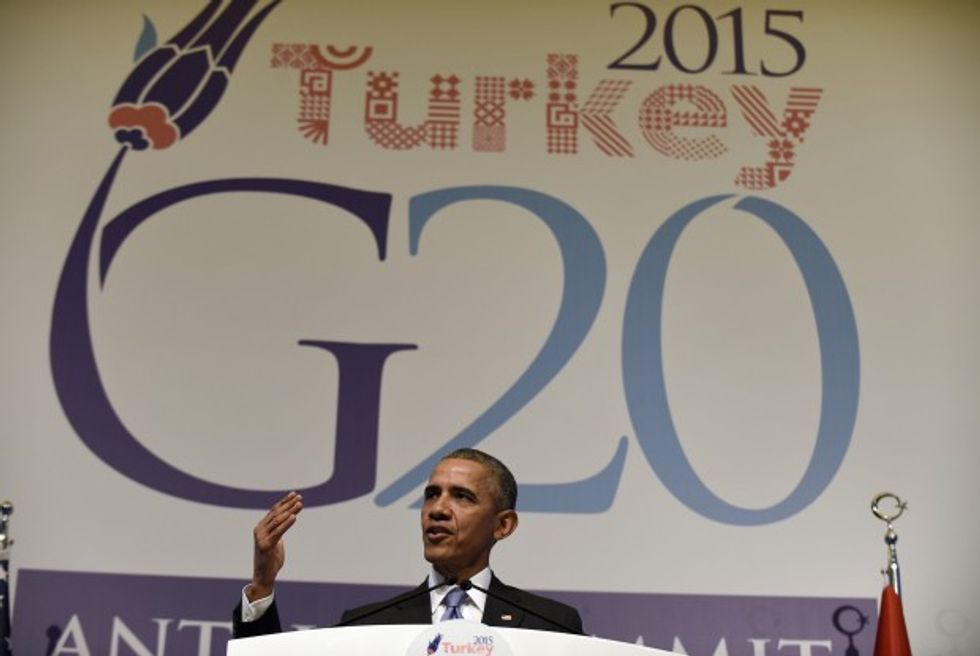 President Barack Obama speaks during a news conference following the G-20 Summit in Antalya, Turkey, Nov. 16, 2015. (AP Photo/Susan Walsh)
"There will be setbacks and there will be successes," Obama said."The terrible events in Paris were obviously a terrible and sickening setback."
But, he said that the United States and allied are on the right path.
"Even as we grieve with our French friends, however, we can't lose sight that there has been progress being made," Obama said. "On the military front other coalition is intensifying our air strikes. more than 8,000 to date. we're taking out isil leaders, commanders, their killers. we've seen that when we have an effective partner on the ground, isil can, and is, pushed back."
Still, Obama showed frustration during the press conference when pressed on why the United States hasn't been able to wipe out the Islamic State sooner.
When a reporter asked, "Why can't we take out these bastards?" Obama responded, "I just spent the last three questions answering that very question, so i don't know what more you want me to add."
Later asked if he understood the enemy well enough to defeat it, he answered: "All right. So this is another variation on the same question, and I guess, let me try it one last time. We have been fully aware of the potential capabilities of them carrying out a terrorist attack. that's precisely why we have been mounting a very aggressive strategy to go after them."
He went on to dismiss Republican critics.
"What I'm not interested in doing is posing or pursuing some notion of American leadership or America winning, or whatever other slogans they come up with that has no relationship to what is actually going to work to protect the American people, and to protect people in the region who are getting killed, and to protect our allies and people like France," Obama said. "I'm too busy for that."
Obama said the government can't "shoot first and aim later," and but must stick with the strategy, while still being flexible.
"We will continue to generate more partners for that strategy and there are going to be some things that we try that don't work. there will be some strategies we try that do work," Obama said. "When we find strategies that work we will double down on those."