A passenger flying from Atlanta says he made it through TSA and all the way to Chicago with a loaded handgun in his carry-on bag without ever being detained.
Blake Alford, a retired truck driver, told WGCL-TV that he accidentally left a loaded semi-automatic pistol in his backpack when he flew on a Southwest Airlines flight from Hartsfield-Jackson International Airport in Atlanta — something he said was an "honest mistake." Alford said he put his backpack through a X-ray machine at the airport, but the gun was not noticed.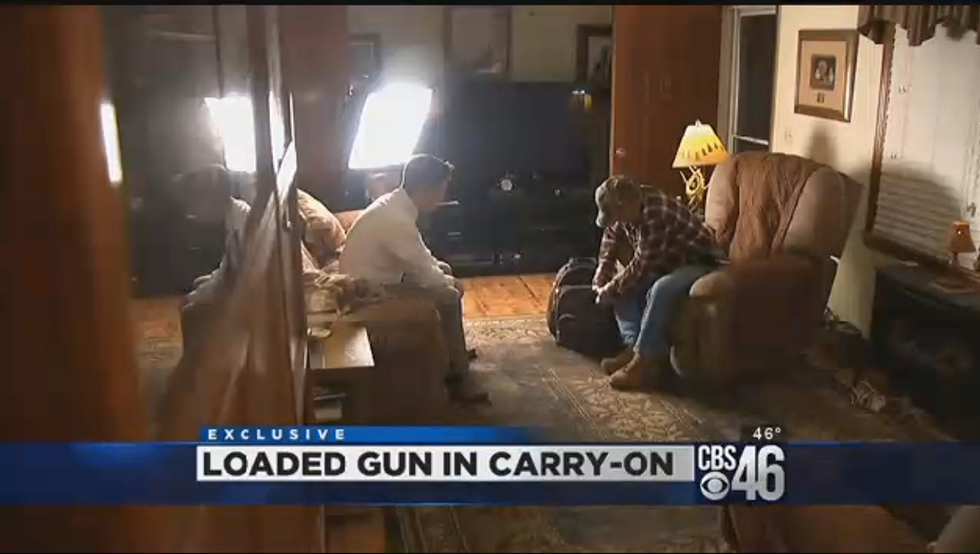 Image source: WGCL-TV
According to Alford, he realized he still had the gun once he got to Chicago and immediately unloaded the pistol and put it in a checked bag for his return trip. Once back in Atlanta, he notified airport officials to alert them to what had happened, saying he owed it to air travelers.
"People need to know TSA needs to tighten up," Alford told WGCL. "If they'll take toothpaste, they'll make people get out of wheelchairs, they'll make me take off my belt buckle and my shoes, how did my gun go through?"
The TSA said they have discovered 2,447 firearms in carry-on bags thus far in 2015.
A TSA spokesperson said in a statement to WGCL:
"TSA is rigorous in its screening of passengers and their luggage. We are investigating this matter to determine what occurred and what steps, if any, need to be taken to ensure that security protocols are executed appropriately. If we find that standard procedures were not adhered to, we will retrain employees as necessary to ensure compliance with standard operating procedures. When our employees fail to meet standards, we hold them appropriately accountable. TSA employs a robust security system involving multiple layers of security, both seen and unseen, to protect the traveling public, including a well-trained frontline workforce, state-of-the-art technologies, intelligence analysis and information sharing, and explosives detection."
Atlanta Mayor Kasim Reed is expected to visit the Hartsfield-Jackson International Airport Monday to receive an update on the airport's security.
(H/T: WGCL-TV)