Just hours before Islamist gunmen launched terrorist attacks in Paris, a Muslim cleric delivered a sermon in a French mosque in which he expressed hope that one day Muslims will rule France, the U.K., Belgium and Germany.
"We dream of seeing our children become ministers and dignitaries, and even presidents. Why not? We want them to rule France one day, to rule Belgium, Germany, and Britain," said Imam Mohamed Khattabi.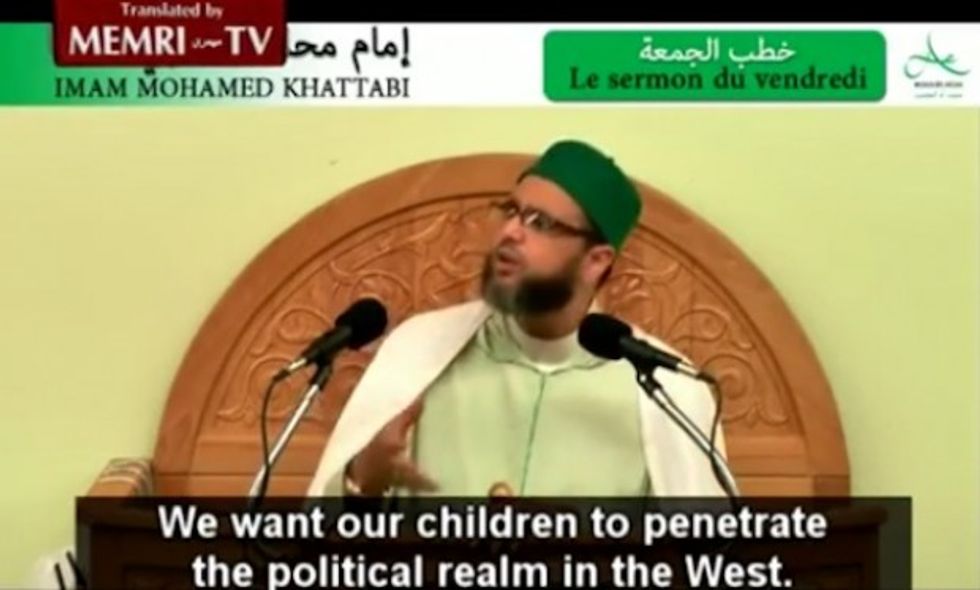 Imam Mohamed Khattabi, speaking in a French mosque just hours before the recent Paris attacks that killed 129 people, tells Muslims that, if they play by Western rules, they can reach top political offices in Europe. (Image source: MEMRI)
In his Friday sermon at the Aicha Mosque in Montpellier, excerpts of which were translated by the Middle East Media Research Institute, Khattabi blasted the concept of Western nation-states, saying that for Muslims the Islamic creed professing belief in Allah is the only appropriate homeland, border and flag.
"Our banner, our homeland, our borders, our tribe and our nation are all [summed up in] 'There is no God but Allah and Muhammad is his messenger,'" he said, adding "any other slogan is bound to tear our nation apart."
By "nation," he was referring to the Muslim nation, not France.
The cleric accused the French government of having designs to control Muslims by placing a French flag over his mosque.
"I swear to Allah that they want a flag to fly over this mosque. They want it to belong to some country or another," Khattabi said.
"They want national affairs to interfere with our religion" in order "to rip us apart," he said.
The preacher emphasized that Muslims should exploit Western rules — not Islamic ones — to one day secure top political offices.
"If you play by your own rules, you will never get there," the preacher said.
He emphasized that Muslims are law-abiding citizens; however, he also accused French society of trying to subjugate Muslims.
"Allah be praised, a Muslim doesn't need anyone to teach him to abide by the law. We heed the law, Allah be praised," he said.
"Our religion teaches us the law and we respect the law," Khattabi continued, "but they want to control us so that we won't awaken from our slumber, because the Muslim is a sleeping giant, and if he awakens, woe betide anyone around because he will restore glory to humanity."