Iranian Supreme Leader Ayatollah Ali Khamenei's website posted a video Tuesday blaming the U.S. for creating and funding the Islamic State group, thus holding the American government ultimately responsible for Friday's terrorist attacks in Paris that killed 129 people.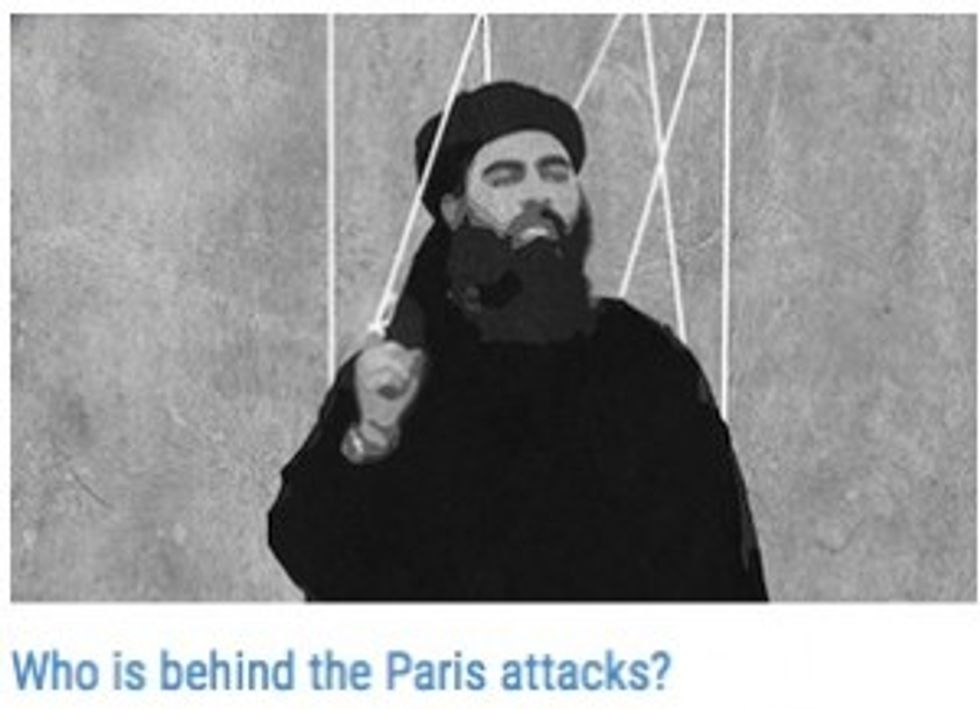 An English-language video produced by Iranian Supreme Leader Khamenei's office blamed the U.S. for the Paris attacks. (Screenshot: Khamenei.ir)
The video, titled "Who Is Behind the Paris Attacks," asserted that the Islamic State group was established "as a result of a mistake by the government of the United States in Camp Bucca during the process of creating an alliance between Al Qaeda and the Ba'ath party."
Camp Bucca was a U.S.-run detention facility in Iraq.
"Considering that this story happened in an American prison and through a special process, the relationship could not be regarded as a mere coincidence," the narrator of the video said.
The video asserted that the U.S. has provided weapons and funding to the militant jihadist group.
"After the creation of ISIS, which was an outcome of creating an alliance between the Ba'ath party and Al Qaeda in Iraq, the U.S. dropped weapons for ISIS forces and claimed it was done by accident," the narrator said. "ISIS had been enjoying financial adds [sic] from the U.S. and its allies."
The video included print and television news clips to support its claim, including images of former NATO commander Wesley Clark and former Secretary of State Hillary Clinton.
"Look, ISIS got started through funding from our friends and allies," Clark said in an interview he once gave to CNN.
An undated clip of Hillary Clinton showed her saying, "I mean, let's remember here, the people we are fighting today, we funded. We funded."
"Of course, no one should be surprised by U.S. support for ISIS, as this was not unprecedented and American politicians had already admitted having supported Al Qaeda," the narrator of the Iranian video said.
The Middle East Media Research Institute reported that the English-narrated video was also shared on a Facebook page affiliated with Iran's Revolutionary Guard.
Lest there was any confusion as to who was behind the video, the final frames included a graphic showing it was produced by Khamenei's office.
(H/T: MEMRI)