UPDATE 3:15 p.m. ET: Sheriff's investigators say officer Ricardo Galvez's death was the result of a botched robbery. The Downey Police Department did not immediately respond to a request for details.
–
A California police officer and former U.S. Marine was gunned down while inside an unmarked patrol car Wednesday — and it appears as though he was "targeted."
Ricardo Galvez, a five-year veteran of the Downey Police Department, died in what Lt. John Carina described to KTLA-TV as a "brazen shooting."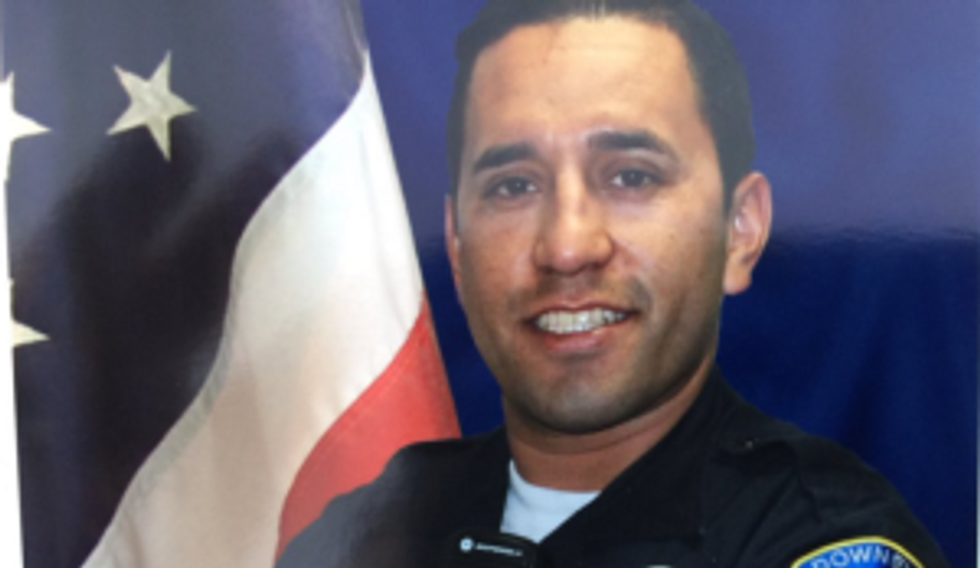 Officer Ricardo Galvez (Image source: KTLA-TV)
"It appears like he was targeted. It doesn't look random," Carina said.
Galvez was reportedly sitting just outside the police station at around 11 p.m. near the end of his shift when at least two people ran up and shot him. Another officer who heard the gunfire pursued the two suspects.
The chase ended about 6 miles from the station where a number of people — men and women — were arrested. It was not immediately clear whether the gunmen were among those arrested.
Carina said it's not clear why the suspects may have been targeting Galvez.
Police are searching for other suspects in possible connection with the shooting. Investigators were reviewing surveillance footage of the shooting in search of more evidence.
(H/T: KTLA-TV)
–
Follow Jon Street (@JonStreet) on Twitter