The majority of Americans side with Republicans and oppose the White House's plan to accept an additional 10,000 Syrian refugees without religious screening, a new Bloomberg poll found.
The poll, which was released Wednesday, found that 53 percent of Americans don't want refugees resettled in the United States; 28 percent said they agreed with President Barack Obama's plan, while another 11 percent said that only Christian refugees should be allowed into the U.S.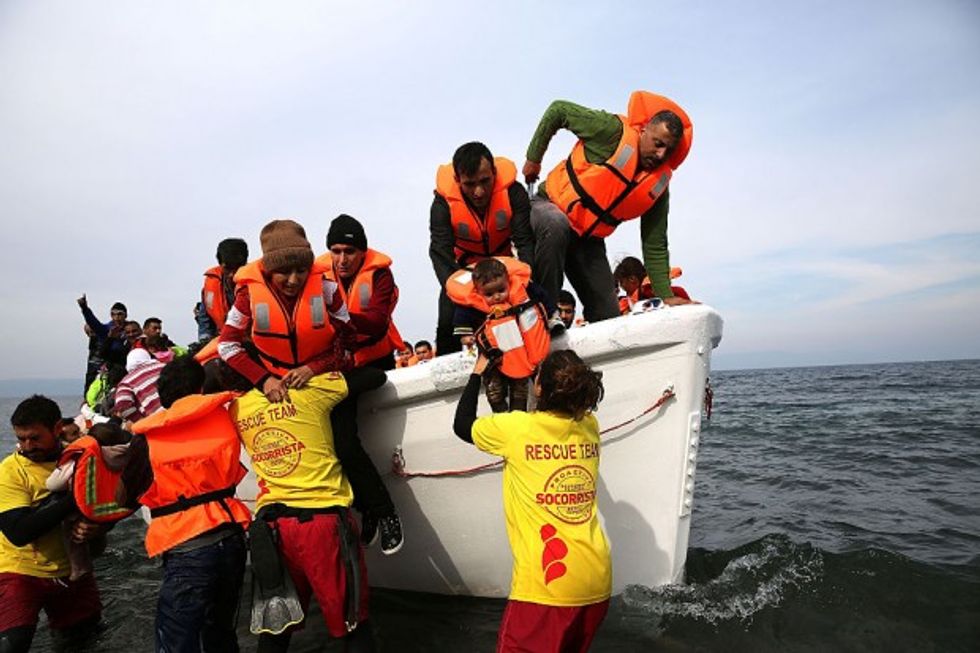 People are assisted after arriving from Turkey on a raft onto the island of Lesbos Oct. 16. (Getty Images/Spencer Platt)
The results were even more telling when broken down among party lines.
The poll found that 69 percent of Republican do not want the U.S. to resettle any Syrian refugees, while just 12 percent said the president's plan should proceed.
Democrats, on the other hand, are much less in agreement with one another, as 46 percent said Syrian refugees should be resettled, while 36 percent dissented.
However, both parties largely agreed that Islam is an "inherently peaceful" religion. Overall, only 28 percent agreed that Islam is not inherently peaceful.
The poll also found that Americans are split in their confidence that the U.S. has enough safeguards in place to prevent a Paris-like attack — 48 percent said they are confident, while 46 percent said they are not.
—
Follow the author of this story on Twitter and Facebook:
[facebook //www.facebook.com/plugins/like.php?href=