Kentucky Sen. Rand Paul (R) announced Thursday his intention to introduce new legislation that would curtail the "restrictive" gun control laws in Washington, D.C.
"For too long the Americans who live in and visit their nation's capital have been prevented from defending themselves and their loved ones," Paul said in a statement. "No longer should our citizens have to choose between safety or visiting Washington, D.C."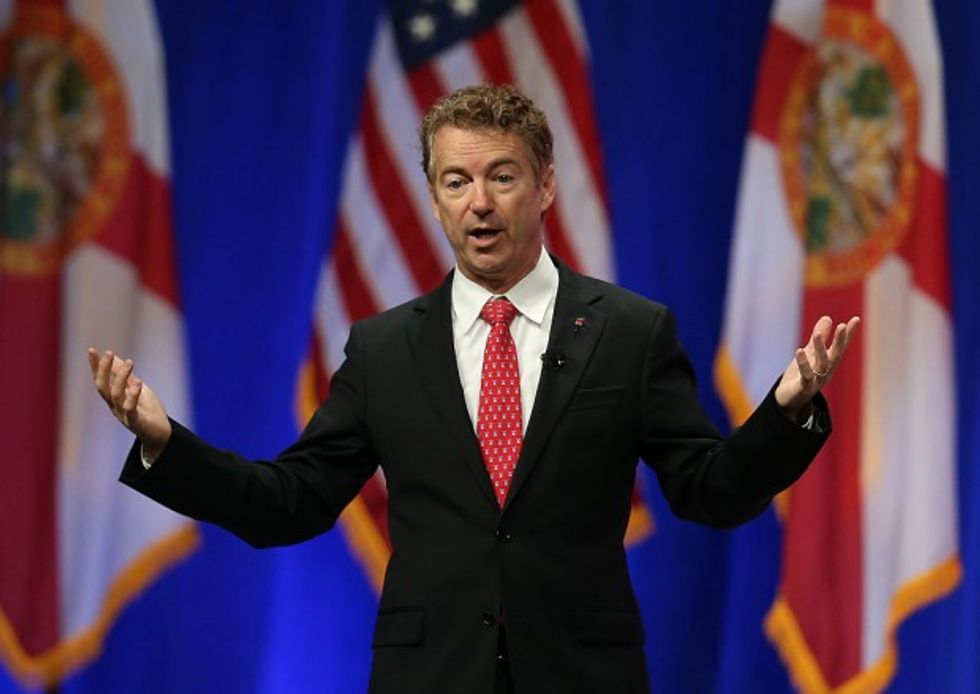 Republican presidential candidate Sen. Rand Paul speaks during the Sunshine Summit conference in Florida, November 14, 2015 . (Getty Images/Joe Raedle)
The Republican presidential candidate's legislation would require the district to issue concealed carry permits to both residents and non-residents, in addition to honoring the "full faith and credit" of concealed carry permits issued in other states.
The bill would also allow for the carrying of firearms on public, "non sensitive" areas of federal property. Additionally, Paul says residents should be able to purchase firearms across state lines.
The legislation also aims to eliminate all existing D.C. laws that restrict firearm and ammunition ownership.
The right to bear arms has been a hotly contested issue in the district for decades, leading up a landmark Supreme Court decision in 2008.
That case, D.C. v. Heller, found that the Second Amendment does, indeed, protect a U.S. citizen's right to lawfully bear arms. The case also found that the Second Amendment right extends to U.S. enclaves such as the district.
But not every resident living in the capital is in agreement with Paul. In fact, a Washington Post poll released Thursday found that more than half of D.C. residents are in favor of reinstating the gun ban that was struck down as a result of Heller.
According to the poll, 51 percent of residents want the citywide gun ban to return, while 47 percent oppose the idea.
—
Follow the author of this story on Twitter and Facebook:
[facebook //www.facebook.com/plugins/like.php?href=