The University of Vermont held a retreat "specifically for white students" last weekend that aimed to illustrate to students the ways in which their "white privilege" gives them an upper hand in society.
The program, "Examining White Privilege: A Retreat for Undergraduate Students Who Self-Identify As White, was sponsored by the public university's ALANA Student Center.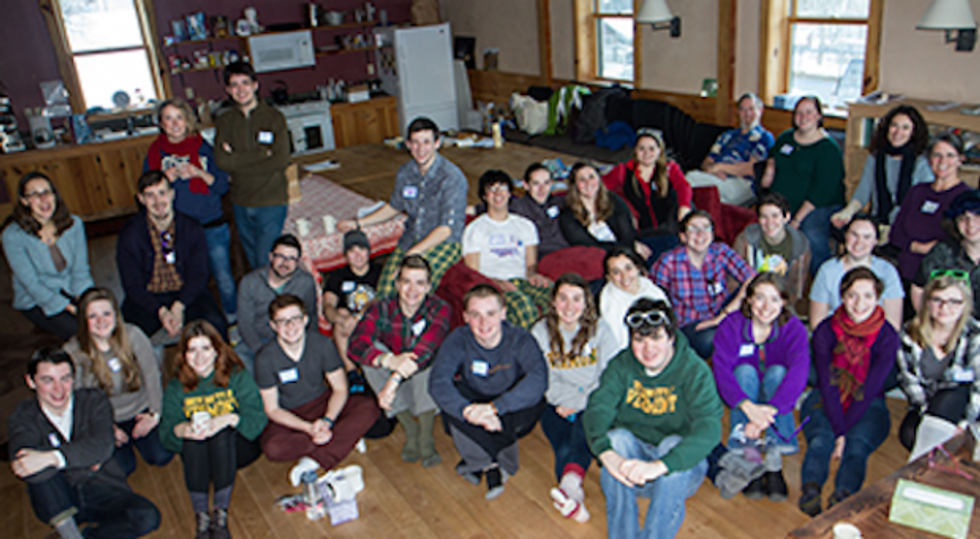 Image source: Univ. of Vermont
According to the school's website, students at the retreat would learn to "recognize and understand white privilege from an individual experience" and "conceptualize and articulate whiteness from a personal and systematic lens."
"What does it mean to be white?" and "how does whiteness impact you?" were among the questions the retreat promised to explore.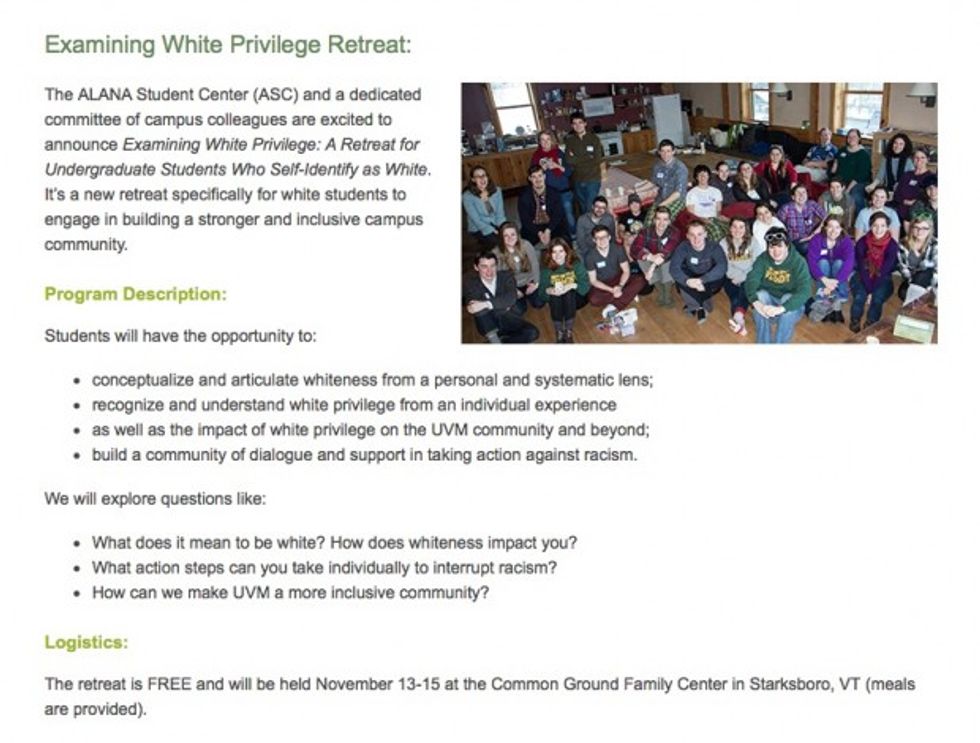 Image source: Univ. of Vermont
The university's website included a number of testimonials from students who had previously attended:
"I enjoyed the Examining White Privilege retreat because it provided a safe space to learn about yourself and others and how we experience and understand privilege and systems of oppression. The activities were engaging and challenged me as a participant to be open-minded and see different perspectives….." - Cora, Class of 2015

"EWPR was a great opportunity to talk about an identity that I had not previously felt equipped to comfortably discuss. Getting the chance to go off campus and talk about systems of power with people I wouldn't have met otherwise made the retreat a valuable experience." - Abby, Class of 2017

"EWPR gave me the chance to explore my own identities more deeply, to learn more about systems of privilege and oppression, and to connect with other students who are interested in discussing social justice and working to create change here on our campus." - Emily, Class of 2015

"The Examining White Privilege retreat helped me to open up to difficult conversations about race in an environment where I felt comfortable asking questions and learning. The most valuable part of this affinity space, as with any, is being surrounded with people who share something in common with you and are willing to talk about what that identity means and how it shows up in our lives." - Nick, Class of 2017
The school promised to cover all expenses for participants, including meals. The retreat was held at the Common Ground Family Center in Starksboro.
As college news website Campus Reform noted, the University of Vermont does host a retreat for "women of color," but it's focus is not on examining privilege but rather on building leadership.
TheBlaze has reached out to the university and will update this story with new information should it become available.
(H/T: Campus Reform)
—
Follow the author of this story on Twitter and Facebook: