At 83-years-old, Elizabeth Laird is known as the "Hug Lady."
Since 2003, she has greeted every single soldier who has passed through Fort Hood in Gatesville, Texas and has given out, by her count, around 500,000 hugs and cards bearing Psalm 91. Today reported that she used to simply shake the soldiers' hands, but when one soldier went in for a hug one day, she changed her entire routine.
But on Nov. 3, Laird was admitted to Metroplex Hospital. She has been battling breast cancer since 2005, and as she refuses chemotherapy, the cancer has left Laird in a weakened state.
Yet even though she remains in the hospital, Today reported that the hugs still continue — only this time she is the one on the receiving end.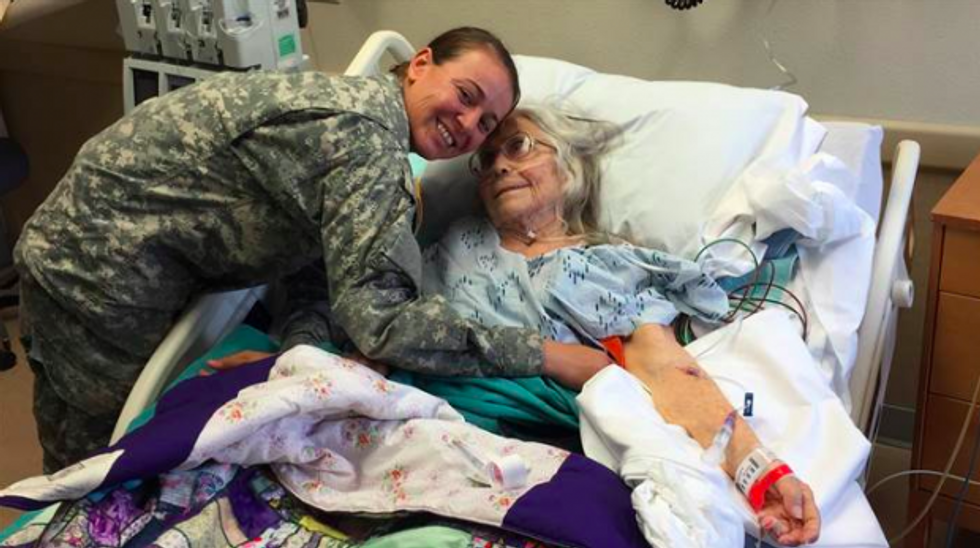 Image via Twitter @TODAYshow
As soldiers come to visit her in the hospital — one from as far away as New York — they are quick to give her a hug and some even bring with them the card with Psalm 91. Many soldiers can even recall the exact day they received a hug from Laird.
"When they enter the room, they give me a hug and then we talk about anything from their family to what it was like overseas or if they got a civilian job upon returning," Laird told Today. "Sometimes the line is so long that we have to turn people away."
"They tell me how much my hug meant to them and how they'll never forget it," Laird said. "A lot of [them were] leaving home for the first time and some of their families couldn't be there to see them off."
Laird enlisted in the U.S. Air Force on her 18th birthday in 1950, Today reported. She used to volunteer for the Salvation Army with her late husband, Earnest, and once the Iraq War began in 2003, she requested to go back to work.
The "Hug Lady" is there, no matter the time, when soldiers come and go from the military post, according to Trish, whose husband received one of the famed hugs in 2006 before being deployed. Since Laird lost her driving license in 2006, Trish has given the woman a ride to Fort Hood every time.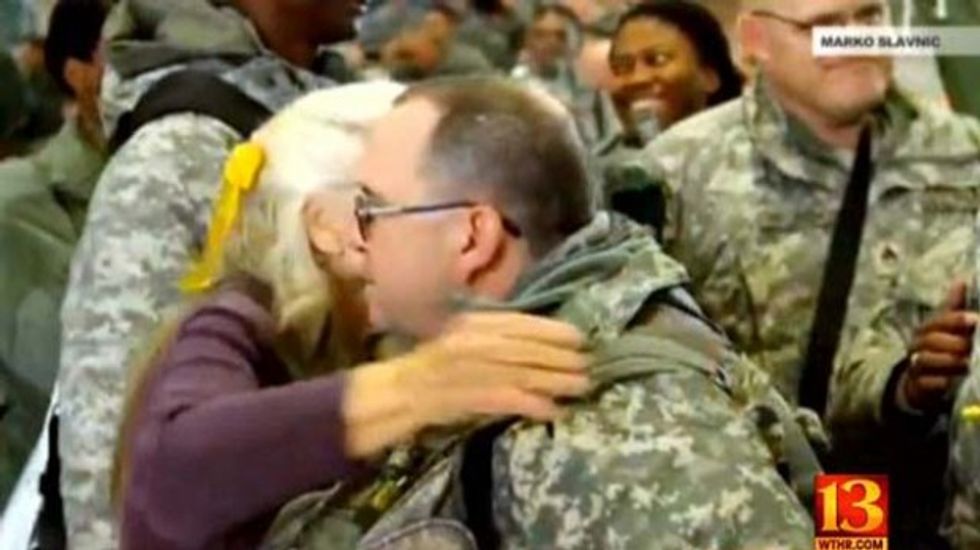 Image source: WTHR-TV
"The Hug Lady is the last one they see before deployment and the first civilian they see when they return," Trish told Today. "She's there at 2 a.m., even if only a couple soldiers are on the flight."
"And I've had a few young men say, 'Oh, my wife wouldn't like this.' I said, 'Oh, if I was young and all, it'd be different. But I'm a great grandmother, therefore it makes it all right for me to give you a hug,'" Laird told WTHR-TV in 2014.
Laird's acts of kindness have not gone unnoticed. Today reported that on Wednesday she received a letter from former President George W. Bush thanking her.
Laird's son, Richard Dewees, has set up a GoFundMe page to help with medical expenses. So far, the fundraising page has raised more than $87,000 in just 11 days.
According to an update on the page, Laird was released from the hospital Friday night and is working in rehab at a nursing facility. The page says that she can have visitors and encourages such.
(H/T: Today)