The Black Lives Matter protester who interrupted the Republican presidential frontrunner's rally Saturday in Alabama was "so obnoxious," according to Donald Trump.
Speaking by phone during a "Fox and Friends" segment Sunday morning, Trump said the protester "started screaming" in a room of 10,000 people all by himself. Trump also referred to the protester as a "troublemaker."
"Maybe he should have been roughed up because it was absolutely disgusting what he was doing," Trump said.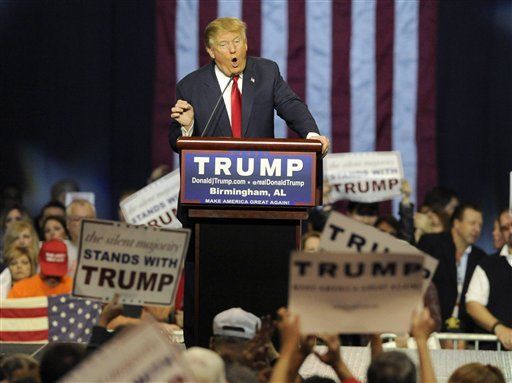 Republican presidential candidate Donald Trump speaks during a campaign stop Saturday, Nov. 21, 2015, in Birmingham, Ala. (AP Photo/Eric Schultz)
The business mogul drew a line between the how the lone Black Lives Matter protester was handled at his event compared to how a group of protesters shut down a rally for Democratic presidential candidate Sen. Bernie Sanders (I-Vt.) in August.
During Trump's rally in Birmingham, Alabama on Saturday, the protester pulled off his sweatshirt to reveal a Black Lives Matter t-shirt and began to shout. Eventually, Trump ordered security to "get him the hell out of here" as others pushed him to the ground. There were reports of people nearby who shoved, kicked and punched the protester.
Mercutio Southall, 31, told CNN that he entered the rally with two other activists and said he felt "swarmed" by the rally's attendees after he began to protest, comparing the altercation to a "lynch mob."
"When you have a candidate going around spewing hatred and racism, that's to be expected," Carlos Havers of the National Action Network, who was with Southall during the altercation, told CNN. "He was really inciting the entire thing."
"He does condone it because he was the one saying, 'Yeah, get them out of here.' He was the one telling the supporters to do what they needed to to get them out of here," Havers continued to say. "We want an apology from Donald Trump himself. We want him to sit down with us and explain why he did what he did and why's he's going around the country spewing hatred and racism."
Southall said he does plan to press charges against those who physically harmed him during the altercation and criticized police officers for not offering medical attention.
"They were too busy trying to get me the f**k out of there. They weren't trying to be nothing but just getting me the f**k out of there. That was their whole concern," Southall said.
Watch Trump's "Fox and Friends" interview below.
(H/T: Mediaite)