Several students at Princeton University have taken a stand to preserve an "intellectual culture" on campus amid racial chaos at the Ivy League school.
A group of 10 students banded together to form the Princeton Open Campus Coalition, one week after the Princeton administration seemingly caved to a number of demands made by the Black Justice League following a 32-hour sit-in in the president's office. To end the protest, the university promised to explore removing the legacy of President Woodrow Wilson from campus and create housing specifically designated for cultural groups.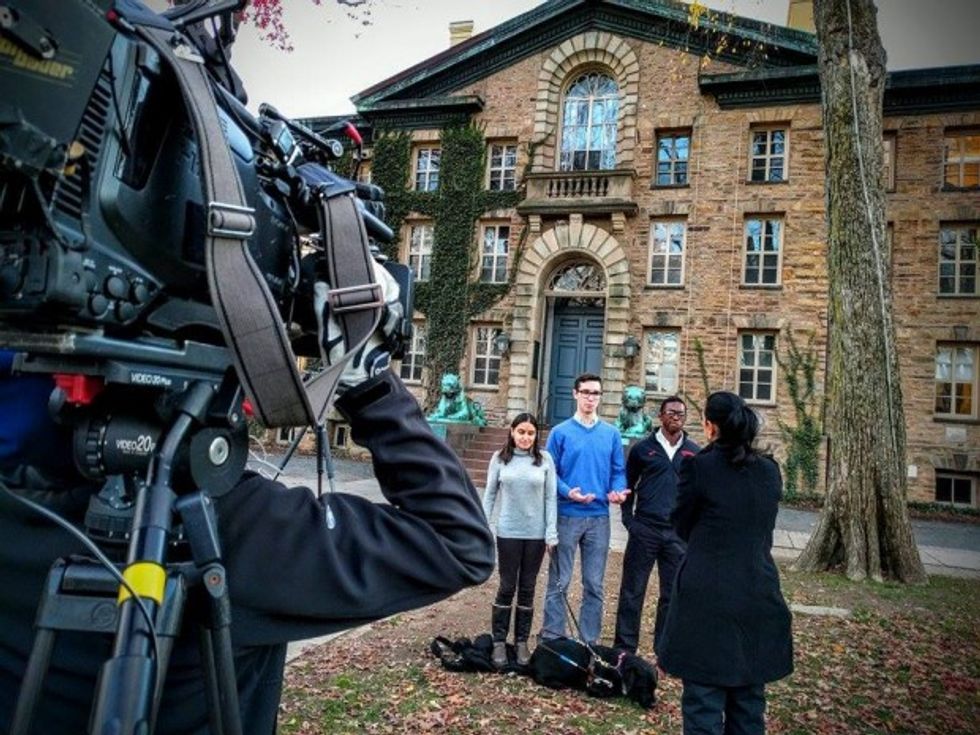 Members of the Princeton Open Campus Coalition speak to CBS News. (Image source: Facebook)
Students with the Princeton Open Campus Coalition expressed concern with the events and asked for a meeting with Princeton President Christopher Eisgruber.
"Academic discourse consists of reasoned arguments. We simply wish to present our own reasoned arguments and engage you and other senior administrators in dialogue. We will not occupy your office, and, though we respectfully request a minimum of an hour of your time, we will only stay for as long as you wish. We will conduct ourselves in the civil manner that it is our hope to maintain and reinforce as the norm at Princeton," a letter published to Facebook said.
[sharequote align="center"]"We...refuse to let our peers be intimidated or bullied into silence on these...important matters."[/sharequote]
It continued, "This dialogue is necessary because many students have shared with us that they are afraid to state publicly their opinions on recent events for fear of being vilified, slandered, and subjected to hatred, either by fellow students or faculty. Many who questioned the protest were labeled racist, and black students who expressed disagreement with the protesters were called 'white sympathizers' and were told they were 'not black.' We, the Princeton Open Campus Coalition, refuse to let our peers be intimidated or bullied into silence on these--or any--important matters."
The students wrote that they opposed efforts to "purge" recognition of Wilson's achievements from campus. They added that "there should be no space at a university in which any member of the community, student or faculty, is "safe" from having his or her most cherished and even identity-forming values challenged."
"It is the very mission of the university to seek truth by subjecting all beliefs to critical, rational scrutiny," the letter said. "While students with a shared interest in studying certain cultures are certainly welcome to live together, we reject University-sponsored separatism in housing. We are all members of the Princeton community. We denounce the notion that our basic interactions with each other should be defined by demographic traits."
—
Follow the author of this story on Twitter and Facebook: