Six Republican candidates would beat Democratic frontrunner Hillary Clinton in general election head-to-head match-ups, and a seventh would tie, a new Fox News poll released Sunday found.
According to the poll, Florida Sen. Marco Rubio would perform the best against Clinton, 50 percent to 42 percent, and former Florida Gov. Jeb Bush would beat Clinton by six points, 45 percent to 39 percent.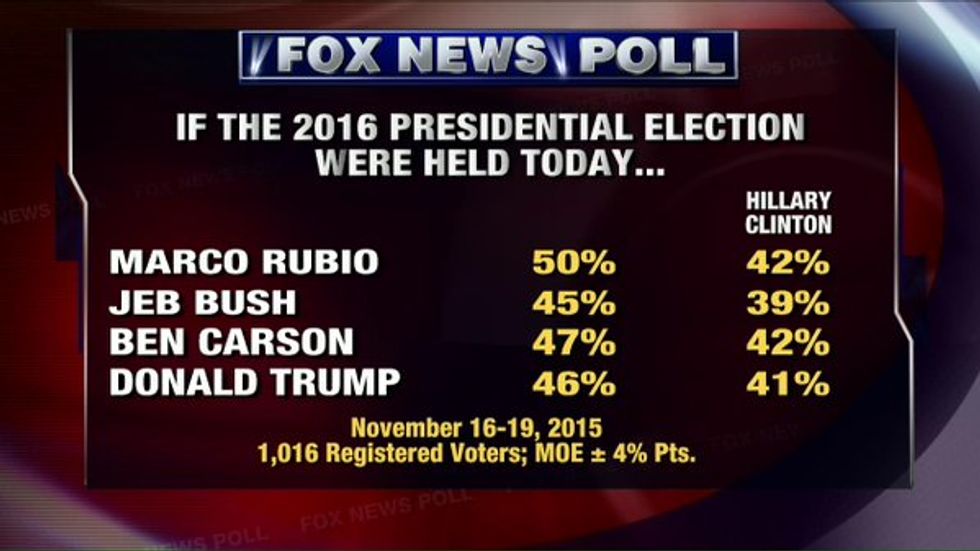 Image via Twitter @foxnews
The poll found that both Donald Trump and Ben Carson would defeat Clinton by a five-point margin, while Texas Sen. Ted Cruz would best the former first lady by four points, 45 percent to 41 percent.
New Jersey Gov. Chris Christie would also win against Clinton, but by a smaller margin — 46 percent to 43 percent.
The only other Republican tested, former Hewlett-Packard CEO Carly Fiorina, would tie Clinton in a head-to-head matchup, the poll said.
In terms of primary election support, Trump led the Republican field with 28 percent. Carson was second with 18 percent, while Rubio and Cruz tied for third with 14 percent each. Jeb Bush rounded out the top five with 5 percent. No other candidate amassed more than 3 percent of support.
On the Democratic side, Hillary Clinton led Bernie Sanders, 55 percent to 32 percent. Former Maryland Gov. Martin O'Malley also received 3 percent.
The survey of 1,016 registered voters conducted between Nov. 16-19 had an overall margin of error of +/- 3 percent. Among Republican-likely voters, the margin of error was +/- 4.5 percent.
—
Follow the author of this story on Twitter and Facebook:
[facebook //www.facebook.com/plugins/like.php?href=