President Barack Obama said the upcoming international talks on climate change in Paris — just weeks after the city was ravaged by an Islamic State terrorist attack — would send a message to the terrorists.
"I will be joining President Hollande and world leaders in Paris for the global climate conference," Obama said Tuesday during a joint news conference with French President Francois Hollande. "What a powerful rebuke to the terrorists it will be when the world stands as one and shows that we will not be deterred from building a better future for our children."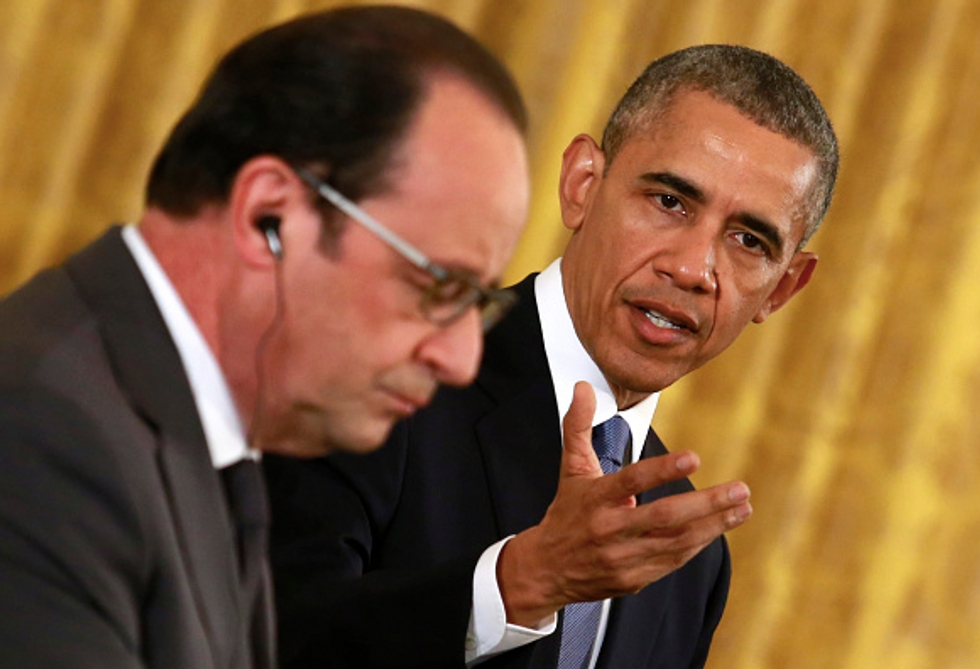 President Barack Obama and French President Francois Hollande, left, hold a joint news conference after their meeting at the White House in Washington, D.C., Nov. 24. (Yuri Gripas/AFP/Getty Images)
Hollande also recognized the importance of 150 world leaders coming to the city.
"I certainly could not imagine that this conference would be taking place against such a background," he said. "At the same time, I think there cannot be a better symbol for response but to hold a conference in Paris where the attacks took place, where we took the right measures in terms of security, protections, as well as in defending our values."
"There is no greater symbol than holding this conference on climate in Paris," he added.
"Never before did France host so many leaders of the international community. They are coming to sort out the climate challenge and, again, to work and to find the right agreements so that we can limit greenhouse gas emissions and make sure that our children and our grandchildren live better, or simply can live," Hollande said. "But they are also coming to express their support to freedom, to the fight against extremism, that radical Islam, which is becoming dangerous."