Documents from several California public universities reveal that activists with campus chapters of Students for Justice in Palestine received thousands of dollars in campus grants for their activities, which included funding for controversial anti-Israel speakers and highly charged political campus events.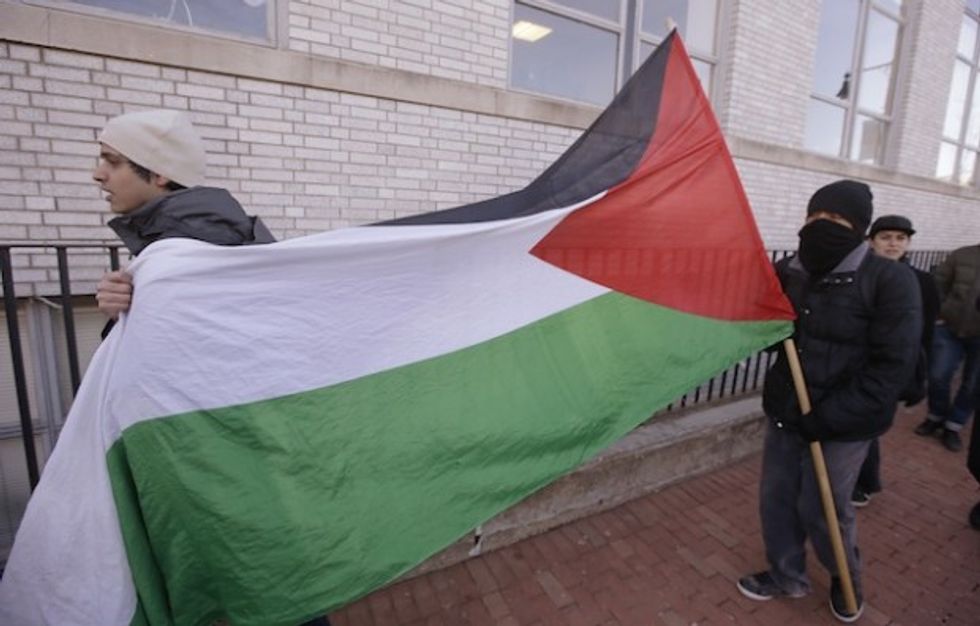 Two Northeastern University students choosing not to give their names carry a Palestinian flag during a protest in support of Palestine after a Northeastern University student organization, Students for Justice in Palestine, was "temporarily suspended for multiple violations of university policy over an extended period of time," according to a university statement in Boston March 18, 2014. (AP Photo/Stephan Savoia)
Among the surprising revelations in the documents: San Diego State University's "Associated Students" organization — which organizes the student government and campus cultural activities — covered travel expenses for students to attend the SJP's 2014 national conference at Tufts University, where invited speakers included Muhammed Desai, the coordinator of South Africa's boycott-Israel movement who just a year earlier defended those who chanted the words "shoot the Jew" at an anti-Israel rally.
TheBlaze viewed documents that appeared to show that the San Diego student association reimbursed SJP activists for round-trip flight tickets from San Diego to Boston for the 2014 Tufts event.
The documents, which were obtained through a California state freedom of information filing and then analyzed by NGO-Monitor — a Jerusalem-based research organization that tracks non-profits that promote a boycott of Israel — included travel grant applications, student association finance committee meeting minutes, grant approval letters, and flight ticket itineraries.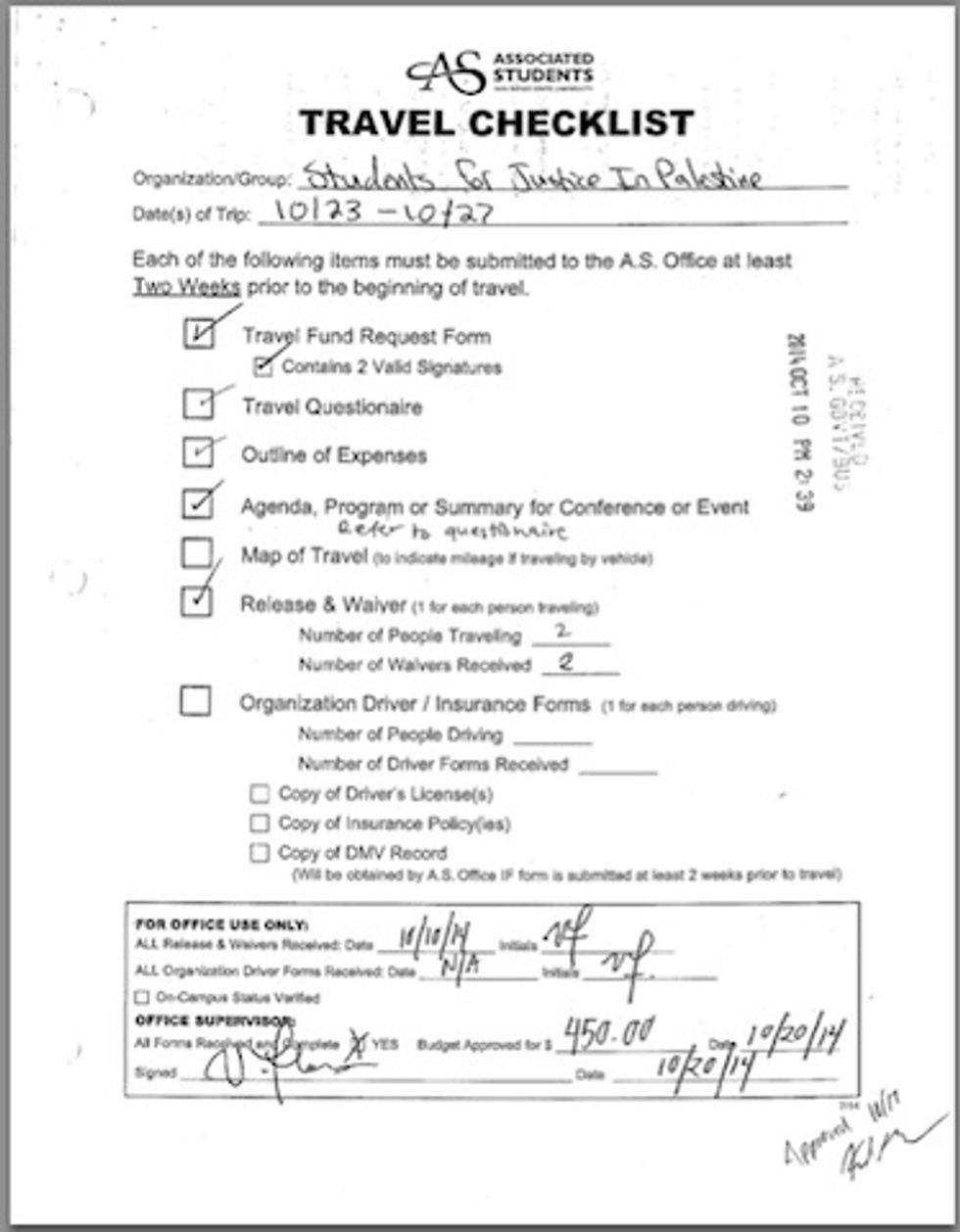 One of the documents obtained from public California universities allegedly showed that the Associated Students of San Diego State University approved $450 for travel expenses to a national Students for Justice in Palestine conference featuring controversial speakers. (Image courtesy: NGO Monitor)
NGO-Monitor reviewed documents from nine public California universities and found that SJP at San Diego State University was also granted a total of $14,000 for its annual "Palestine Awareness Week" events over four years, from 2010-2013.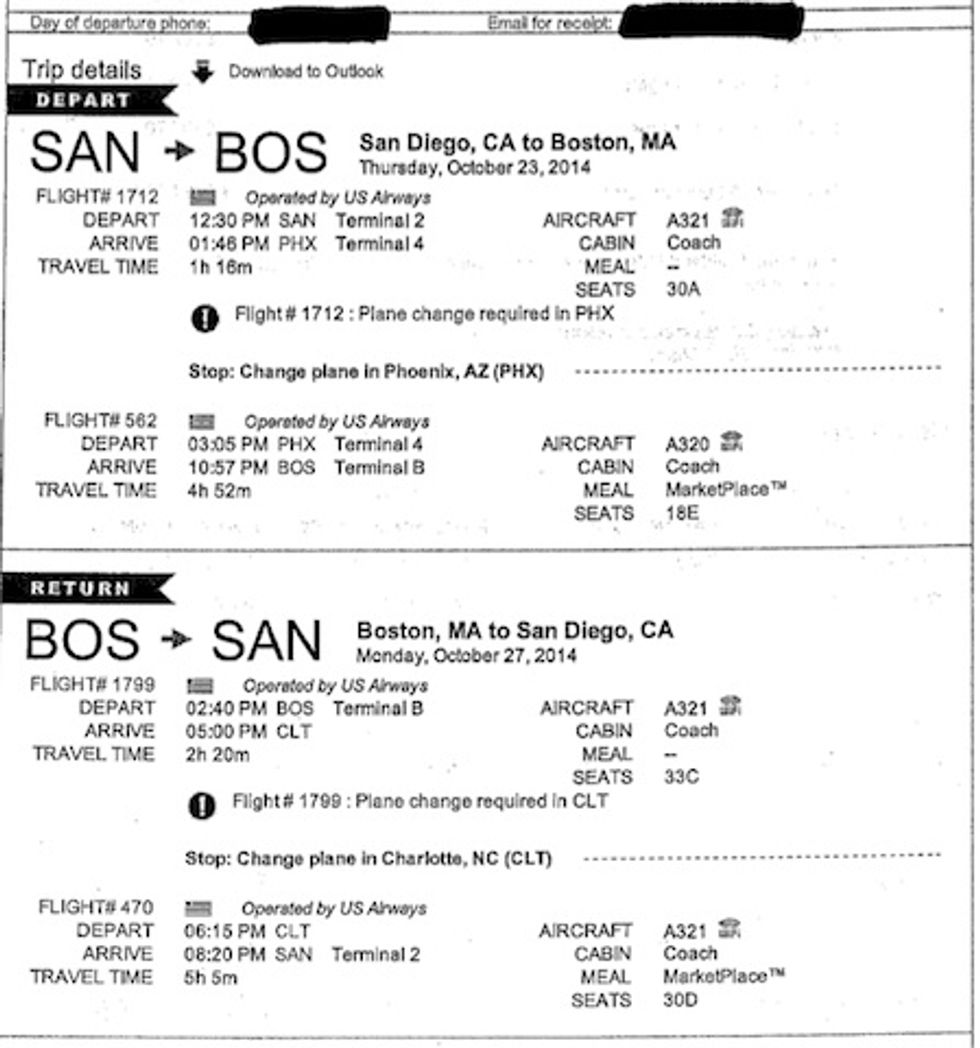 Students for Justice in Palestine applications for travel funding to the conference at Tufts University included round-trip San Diego-Boston flight itineraries. (Image courtesy: NGO Monitor)
Though SJP in San Diego presented its application grants under the title "Palestine Awareness Week," pro-Palestinian activists nationwide commonly refer to the week of anti-Israel street theater events as "Israel Apartheid Week."
Pro-Palestinian campus groups every spring stage events equating Israel with apartheid-era South Africa while downplaying Palestinian violence in order to justify their calls for a boycott of Israel.
Jewish students have pointed to the threatening atmosphere every spring where students are encouraged to pass through mock checkpoints designed to paint Israeli security forces as aggressors.
SJP at San Diego State University was also awarded a $1,100 campus grant for a Nov. 18, 2010, screening of the film "Occupation 101," which the Anti-Defamation League has described as "an anti-Israel propaganda film that provides a distorted historical overview of the Israeli-Arab conflict in order to portray Israel as the perennial aggressor and Palestinians as the eternal victim." Despite objections raised at a 2010 Associated Students funding committee meeting over the "politically-charged nature of this event," the committee went ahead to approve funding for the evening, as seen in this excerpt of minutes from the meeting shown to TheBlaze by NGO-Monitor: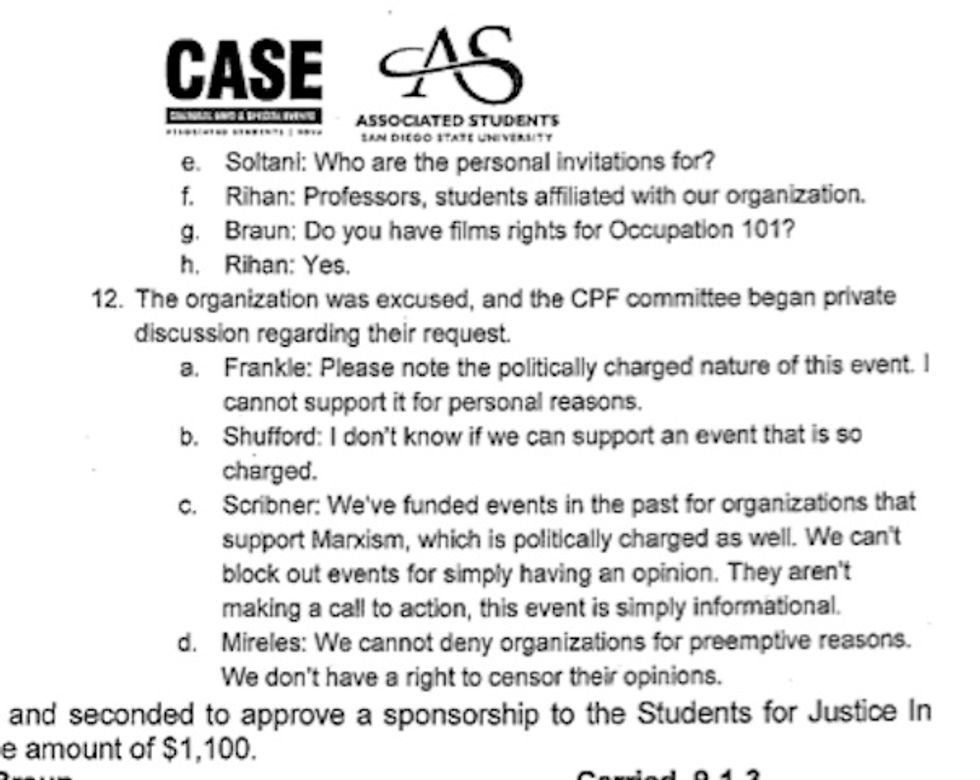 Two members of an Associated Students funding committee raised objections that the "Occupation 101" event in November 2010 would be politically "charged." Still, the committee approved Students for Justice in Palestine to receive $1,100 for the event. (Funding committee minutes September 29, 2010/Image courtesy: NGO-Monitor)
NGO-Monitor learned from the documents it reviewed that speakers whose travel expenses were covered by student activity funds to attend events on the San Diego campus included an activist who participated in a Holocaust denial conference in Iran and several proponents of a "one-state solution," the creation of a bi-national Jewish-Arab state in Israel, the West Bank and Gaza, which critics say would essentially erase the state of Israel.
Other campus speakers whose travel expenses were covered have supported so-called armed "resistance," a word Palestinians commonly use to describe terrorist acts against Israelis.
In a study on the sources of funding for campus anti-Israel groups, "BDS on American Campuses: SJP and its NGO Network," NGO-Monitor reported that SJP at California Polytechnic State received $1,000 in campus funding in 2008 to host a speaker who had previously asserted that "justice and freedom for the Palestinians are incompatible with the existence of the State of Israel."
A former staff director at the U.S. Commission on Civil Rights told TheBlaze that SJP should not be treated like any other student group, but rather as a "hate group."
"On many campuses, SJP functions as a hate group and should be treated that way. Unfortunately, they're often treated like an ordinary student organization like the College Democrats or College Republicans, but that's not what they are at all," Kenneth Marcus, president of the Louis D. Brandeis Center for Human Rights Under Law, a national civil rights organization that fights anti-Semitism on college campuses, told TheBlaze.
Marcus further told TheBlaze that SJP's "primary function is to generate a hostile environment towards Israel and Jewish students on campus" and asserted that SJP is a major player in efforts to muffle of free speech on campus. "The irony is that SJP chapters often insist that they are protected by the freedom of speech when in fact their members often are eager to suppress pro-Israel perspectives. In many cases, an active SJP chapter will result in less free speech rather than more," Marcus said.
Cornell University law professor William Jacobson, who closely follows anti-Israel activity on campuses nationwide, told TheBlaze that it's not at all unusual for SJP to get student activity funding.
"Any place that an SJP chapter is a registered student organization, they're getting the same funding as other groups for speakers, use of campus facilities, etc. I don't think that's unusual at all," said Jacobson, who runs the conservative website Legal Insurrection where he reports extensively on SJP activism on campus.
Pro-Israel groups have also pointed to SJP events supporting violence against Israelis.
The Anti-Defamation League wrote that SJP's national conferences — for which the San Diego student association paid for students to attend — "typically include inflammatory language and rhetoric to describe Israel, and, at times, speakers have glorified the use of violence by Palestinian groups."
The Zionist Organization of America noted that SJP students "commonly chant 'From the River to the Sea, Palestine will be Free,' referring to the Jordan River and the Mediterranean Sea. This cheer calls for the destruction of the only Jewish state as a whole, which is defined as anti-Semitism according to the U.S. State Department."
Desai, the South African activist invited to the SJP event at Tufts, later justified the "shoot" Jews chant, telling a student newspaper in 2013 that the word "Jews" in the chant was not meant literally.
"Just like you would say kill the Boer at funeral during the eighties it wasn't about killing white people, it was used as a way of identifying with the apartheid regime," Desai told Wits Vuvuzela.
According to its 2015 financial report, San Diego State University's Associated Students group "receives contributions from the University and its auxiliary organizations to support [its] operations."
The documents that NGO-Monitor obtained covered the transfer of student activity funds and the granting of university facility use to SJP campus groups at these nine California schools: UCLA, UC Davis, UC Santa Barbara, UC Irvine, UC Riverside, UC Berkeley, San Francisco State, San Diego State and California Polytechnic State. The majority of the documents obtained were from 2010-2015, with some dating as far back as 2001.