Republican presidential candidate Sen. Marco Rubio (Fla.) said in an interview Tuesday that "God's rules" always win when in conflict with decisions handed down by the Supreme Court.
Speaking about Obergefell v. Hodges, Supreme Court's same-sex marriage ruling handed down last summer, Rubio told Christian Broadcasting Network host David Brody that the decision is merely "current law" as opposed to "settled law."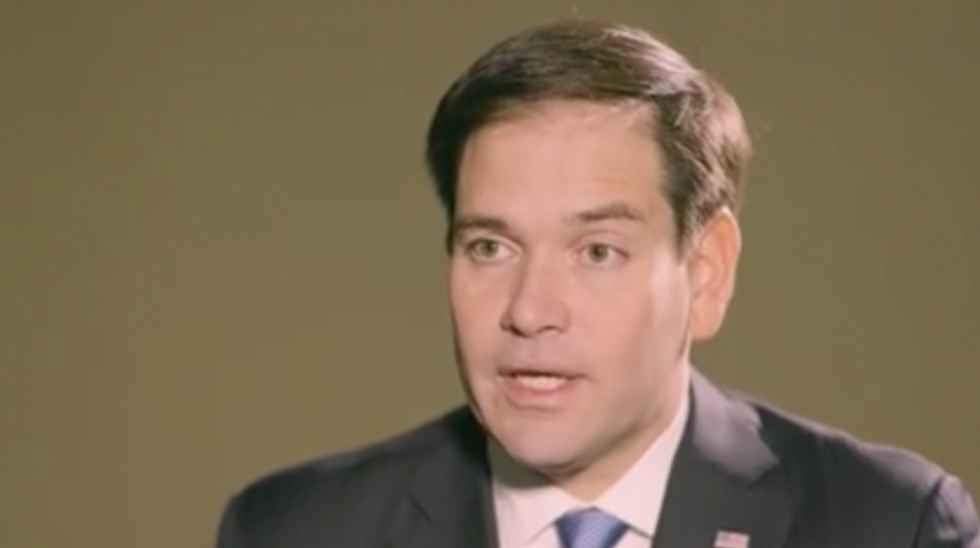 Image via David Brody/Facebook
"No law is settled," Rubio said. "Roe v. Wade is current law, but it doesn't mean that we don't continue to aspire to fix it, because we think it's wrong."
To "fix" the laws that don't align with religious conscious, Rubio said that those who are faithful to their religion should do "everything within the law" to change the laws in question.
"If you live in a society where the government creates an avenue and a way for you to peacefully change the law, then you're called to participate in that process to try to change it," the Florida Republican said.
But when following 'God's rules" comes into conflict with following the laws of the nation, Rubio said, "God's rules always win."
"In essence, if we are ever ordered by a government authority to personally violate and sin — violate God's law and sin — if we're ordered to stop preaching the Gospel, if we're ordered to perform a same-sex marriage as someone presiding over it, we are called to ignore that," Rubio declared. "We cannot abide by that because government is compelling us to sin."
Rubio, who is currently polling at third among the Republican candidates for president, according to the Real Clear Politics, went on to tell Brody that he continues to dissent against the Obergefell decision.
"I continue to believe that marriage law should be between one man and one woman," Rubio concluded. "And that the proper place for that to be defined is at the state level, where marriage has always been regulated — not by the Supreme Court and not by the federal government."
—
Follow the author of this story on Twitter and Facebook:
[facebook //www.facebook.com/plugins/like.php?href=