An 8-year-old Israeli boy on a hike with his family at Tel Beit Shemesh — an ancient city mentioned repeatedly in the Bible — found a small, round ceramic object that he later learned held important archaeological significance.
It turns out the figurine Itai Halperin picked up last weekend was a 3,000-year-old ceramic head depicting a fertility goddess often found in homes in the Kingdom of Judah during the First Temple period, Israel Antiquities Authority announced Wednesday.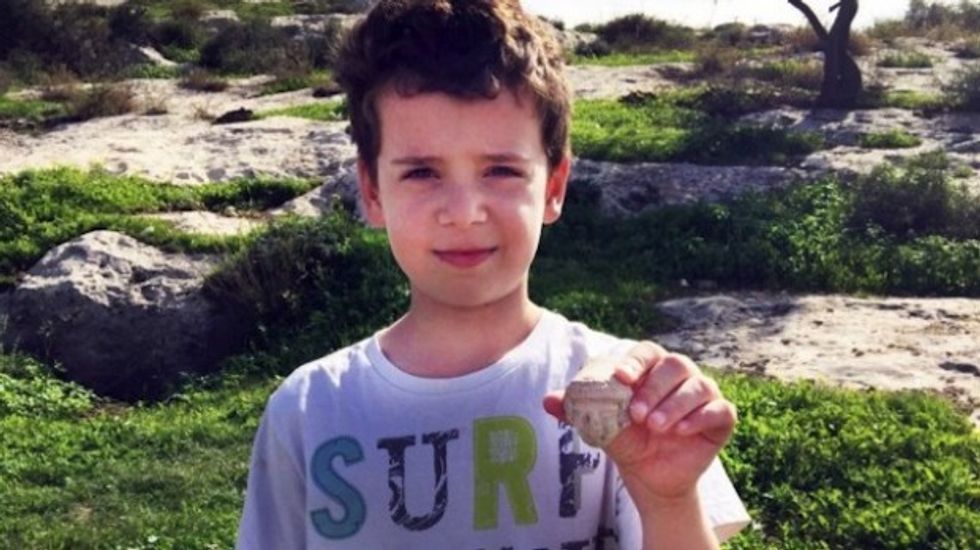 Itai Halperin, 8, holds the First Temple-era figurine he found while he was hiking with his family at an archaeological site. (Image source: Israel Antiquities Authority/Arik Halperin)
"Figurines such as these, in the shape of naked women representing fertility, were common in the homes of the residents of the Judean Kingdom in the 8th century BCE and until the destruction of the kingdom by the Babylonians in the days of Zedekiah (in 586 BCE)," the authority's Iron Age specialist, Alon De Groot, said in a statement, using an alternate designation for B.C.
"It's no coincidence that a statuette like this was found atop Tel Beit Shemesh next to a residential quarter from the First Temple period," Anna Eirich of the Antiquities Authority said in a statement. "Beit Shemesh is mentioned as a city in the area of the Tribe of Judah."
Eirich explained that during the First Temple period, Beit Shemesh, west of Jerusalem, was a large walled-city that served as a commercial and industrial center.
"Assyrian King Sennacherib sacked Beit Shemesh in 701 BCE, and the destruction of the area was completed in 86 BCE by the Babylonian King Nebuchadnezzar," Eirich added.
To express its thanks for Halperin turning over the find, the Antiquities Authority gave the boy a good citizenship award and invited his elementary school class on an archaeological dig.
The boy told the antiquities experts he had recently seen an Indiana Jones film which inspired him to one day become an archaeologist.
Apparently, he doesn't need to wait until he grows up to achieve that goal.
(H/T: Times of Israel, Jerusalem Post)