With millions of Americans hitting stores across the country on Black Friday in hopes of securing the best "doorbusters" imaginable, Google has crunched some numbers in an effort to help shoppers hold onto a little bit of their sanity amid the holiday madness.
The research — based on shopping data collected last year at this time — yields three specific points of advice, according to USA Today.
First, in assessing shopping trends, the tech giant determined that the best times to head out on Black Friday to avoid insufferable crowds are in the morning, late afternoon or evening; the worst time to do so is between 2 p.m. and 4 p.m., as that's when foot traffic is highest.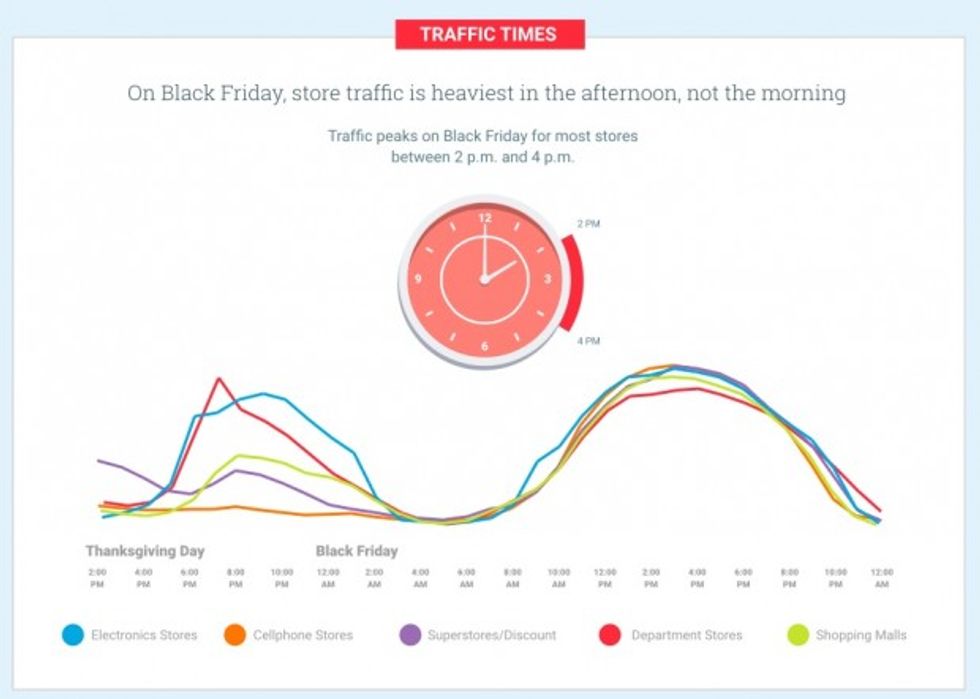 Shopping trends on Black Friday (Google)
Next up, Google's data encourages people to avoid electronics and cell phone stores, as they are the most likely to be overcrowded with shoppers looking for deals.
The third recommendation is to check online first to be sure a product is still in stock. Let's face it: if you're going to run out into the chaos on Friday, it's best to ensure that you have a good chance of getting your intended item.
Read more about these black Friday recommendations here.
(H/T: USA Today)
--
Follow the author of this story on Twitter and Facebook: